I used it for exactly a month today. No miracles though.
Looking at my skin care corner that hasn't been touched much the past year (because my skin couldn't tolerate most things), I admit this purchase was more of an impulse buy out of desperation. I heard so many wonderful things about this cream that I decided to take the risk and give it a try. I figured, if I turn out to be sensitive to it too, I could always pass it along to my brother. It was all done in hopes of giving my face a little help in healing from my ongoing eczema woes.
PRODUCT INFORMATION
MIZON is a Korean skin care brand that is well known for using snail slime extract to improve skin conditions. I know snail slime sounds off putting, but it merely sounds disgusting because of the mental image it conjures up. If you focus on the healing benefits of snail mucin, which includes speeding up wound healing and possibly improving photoaged skin, perhaps you can overlook that preconceived distaste for the product.
The product retails for
USD16.09/SGD23.46 on iherb
. It contains 75g of product.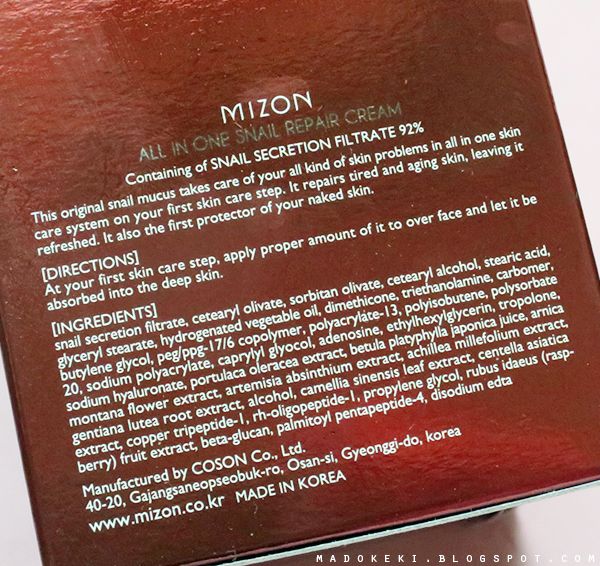 It claims to be made of 92% snail secretion filtrate. I took a look at the ingredient list and it's rather long. Assuming their claim to be true, then there is 8% of "others", part of it is what I would call fillers and stabilizers that make the cream from separating into its individual components. Of the 8%, it also includes plant extracts, polysaccharide, as well as polypeptide. But it's all the way at the bottom of the list, so are they there for functionality? Who knows.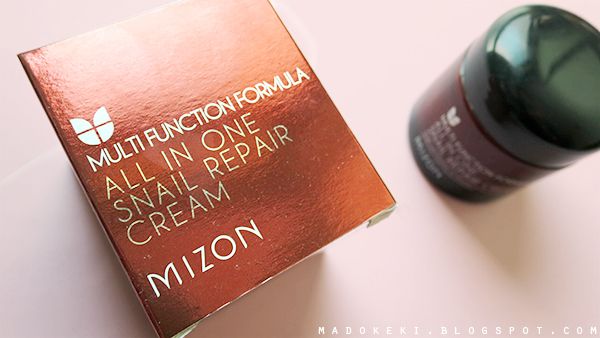 It comes packaged in a protective paper box. So fancy in its foil finish!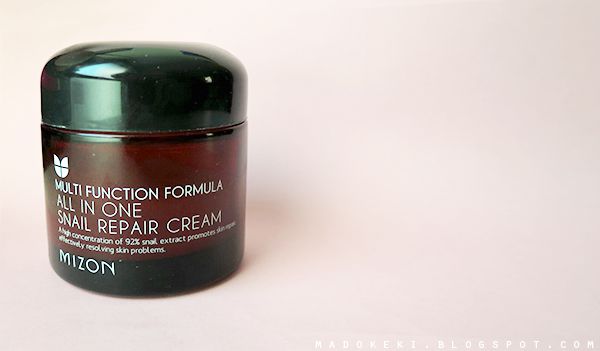 The cream is housed in a brown tinted glass container which is rather weighty.
The container itself has double leakage prevention – an extra plastic lid to keep the products in, and plastic film wrap keep the lid in place. I didn't manage to get a photo of it this time round as I happily opened up the cream before remembering to snap photos. Next time maybe?
PRODUCT DESCRIPTION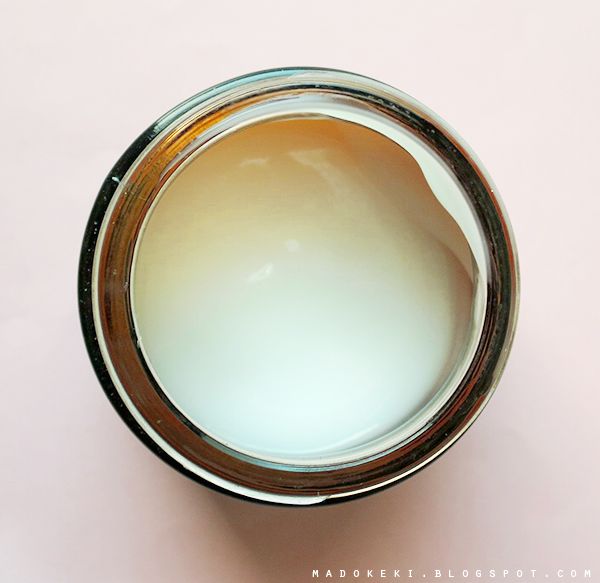 A look into the glass container. Nothing special! What were you expecting?
The cream is whitish, lightweight and has a gel texture. It spreads easily, so a little is enough to cover my entire face. Because it's mostly water, it absorbs very quickly too. It hydrates effectively, but doesn't keep my skin supple for too long, so I usually end with a layer of facial oil (currently using argan oil) to lock in the moisture.
The cream got all over the sides because I lay it on the side to take photos for this entry. It's normally neater than this!
The product is fragrance free. But if I take in a deep whiff, there is a sterile scent to it, perhaps with a tiny tinge of floral scent. It's by no means unpleasant. You won't be able to smell anything after you spread it out on your face.
75g is actually quite a generous amount. I use it twice daily on my face and neck. After 1 month, it's down to half the original amount, so I'd say a container would last me about 2 months.
PERSONAL THOUGHTS
I believe it was some reddit post that got me interested in this product. They've been raving about how much it helps to heal their wounds, get rid of redness, and how it fades their pigmentation after using it for a while. Even though my skin type (dry/sensitive) is different from theirs (dry/oily/acnetic), but mine has a lot of wounds too, albeit a different type. I wanted to try my luck. If 22 bucks can give my skin a boost to have a breakthrough in my eczema recovery (I've been in for the past year), why the hell not!?
The cream didn't irritate me most of the time, unless I broke my skin is flaring. It might sting a little bit, but it dissipates quickly. It doesn't make me itch, or uncomfortable as it sinks in so quickly. I believe this cream is meant to be a "primer cream" for the later skin care products, as such it is only logical that the cream isn't all thick and heavy. I add this to my minimal skin care routine now, before I apply my facial oils to give it that moisture surge.
After years of dealing with eczema, I know well enough that there are no miracles (except steroid creams, which are a no-no for me). But I still hoped nonetheless, that the cream can do something more for me. I really can't tell if the snail filtrate did anything more for me than a regular gel cream does. Maybe it did, maybe it didn't. There isn't any comparison for me. But that didn't stop me from liking this cream. Compared to the other gel creams in the market, the MIZON All In One Snail Repair Cream offers more product for about the same price as its competitors, making it a rather economical choice.
In the past month, my face flared twice even as I used the cream. My skin continued to go through its flare-dry-flake cycle. All I can say is that while the cream didn't help get rid of the inflammation in my skin, it didn't make it worse.
I like that it's lightweight and highly absorbable, leaving behind supple and smooth skin even if it's only temporary. It's intended to be used as a first step in your skin care, so layer it with something else if you want more.
Will I repurchase it? I think I might! But I'll decide again when I'm actually done using it for 2 months.
I believe people with dry and oily skin will have the best results from using this cream. You can get it from
iherb
with my referral link if you wanna give it a try! If you're a US resident, then you can get it at a lower price at
amazon
!
UNRELATED SIDE NOTE
I've been getting myself busy with graphic design and stuff, hence the lack of updates! Otherwise I'm still alive, and healing. Still not able to wear face makeup though. But lipstick, yes! So maybe I'll finally write about a few lipsticks I tried next time.