Heroine Make Smooth Liquid Eyeliner (Swatch and Review)
this eyeliner is so affordable and good, i bought another 1 after i exhausted my first ever heroine make eyeliner.
the first ever liquid eyeliner i used was the body shop liquid eyeliner, those where you have to dip the felt tip head into the bottle containing the ink. not very beginner friendly at all.
the second one was a maybelline impact express eyeliner. i quite like it back then as it was a hard felt tip, it was rather easy to control. sadly, the ink wasn't very water resistant nor jet black enough.
my third has been my favourite so far, which is why i repurchased it.
IN A NUTSHELL
1) jet black
2) very smooth
3) dries quickly
4) lasts all day on my eyelids
5) easy to remove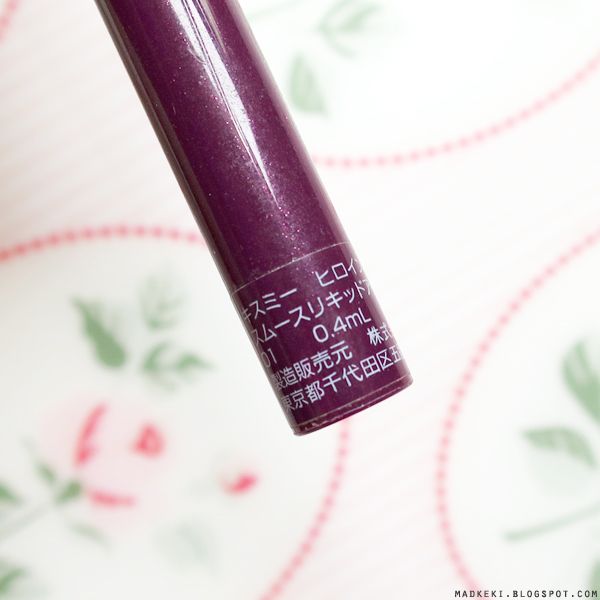 each pen contains 0.4ml of ink, and the previous one lasted me for a year (but i use it sporadically, so i can't give a good gauge of how many uses it translates to).
the eyeliner has a few claims:
1. oil, sweat, tear, and water resistant, able to keep for the entire day.
2. even though it's long wear, it's amazingly easy to remove in the shower (washes off in warm water).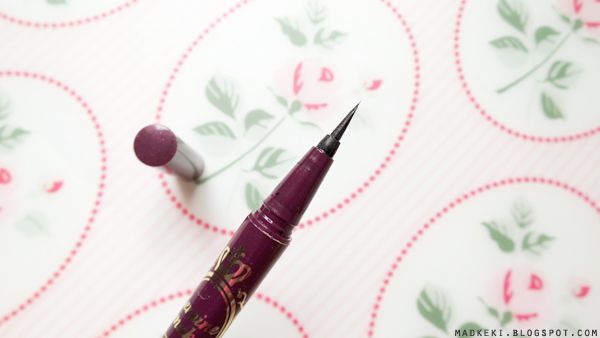 the tip of the pen is as fine as 0.01mm, OH WOW. the tip is actually just a very fine fibre.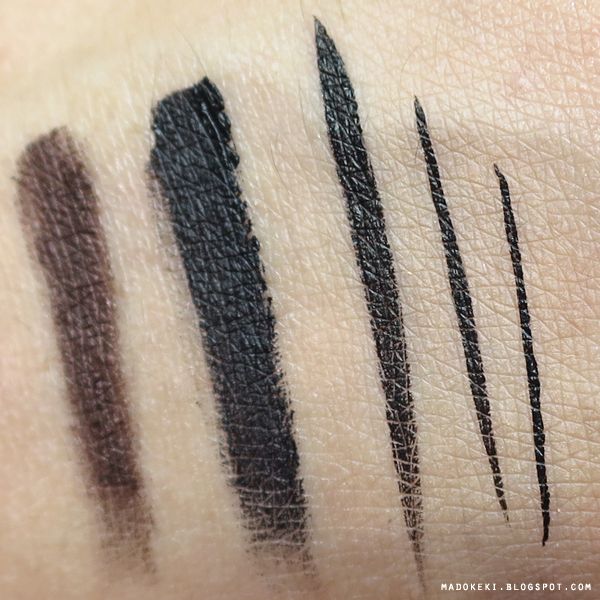 compared against the maybelline gel eyeliners (on the left), the heroine make smooth liquid liner (the three stripes on the right) appears to be a jet black with a glossy finish. the liquid liner are swiped once with different strength (and hence, thickness).
even though it's a liquid type eyeliner, it doesn't seep into my fine lines on my hands (let alone the folds on my eyes).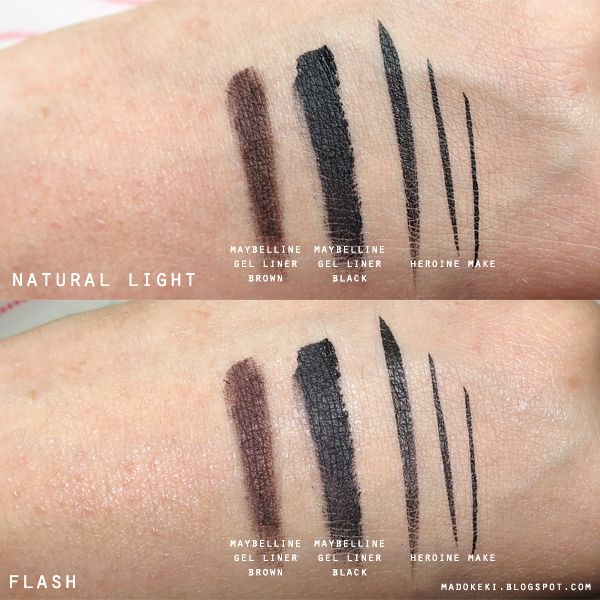 you can see the sheen when under flash photography.
IMHO
to address those claims, it actually does what it says.
the eyeliner is very long lasting on my eyelids
, once it sets it doesn't budge or smudge even though i perspire. i do get some oils on my eyelids of late, but the eyeliner is still jet black at the end of the day.
it dries pretty fast
too, i don't have to worry about it staining my eyelids (but then again, my lash line doesn't get "swallowed" by my double lids). i tried using this on my inner corner, it works fine most of the time unless my eye was tearing up as i line it.
the tear will dissolved the freshly drawn eyeliner as it's still in the liquid state
. otherwise,
it last the entire day on my eyes
. on my inner corners, it does soften up and can be wipe off easily with a tissue paper after the entire day, but if i don't touch it at all, the eyeliner will just stay there on the surface of my skin.
is it really waterproof if you can wash it off with warm water? i tried removing it in room temperature water, it takes some rubbing to smudge some of the colour, but most of the line still remains. it's clear that this eyeliner is not water soluble once it sets.
with warm water, what happens is this - the eyeliner will come off in a "film"
, it's very much alike to the film type mascara that washes off with warm water. i'm not very sure of the exact mechanism, but i suppose it loosens the entire sheet of polymer and it gets washed off the skin just like that. no dissolving involved (as with usual makeup remover), and no stains left behind.
as the name suggest,
the application is very smooth
(unless you dry up the pen that is). if the tip is wet enough, it'll just glide over my skin effortlessly. my past experience with the old eyeliner tells me if it's dry, it'll tug. i also find that some of my eyeshadow do stick onto the pen, it's a good idea to clean the tip between a piece of tissue to get rid of the buildup, or the ink won't flow through as efficiently as it should.
what's worth taking note off is that this eyeliner
doesn't smudge or budge
, but it does crack if you try pulling your skin taut. but please don't do that to your eyes.
due to the fact that
fresh ink does dissolve in my tears
, i only use this eyeliner for my eyelid and part of my inner corner, never used it for tight lining my waterline.
while my gel liner may risk smudging on a very hot and oily day, i am perfectly confident that this doesn't do so on my eyes.
i love to bring this with me when i'm have to stay overnight else where as it's convenient to use. though i'd
be very careful with the storing as excess ink sometimes bubble through the tip for some unknown reason
. maybe it has motion sickness? (just kidding)
the price point is very inviting, at HKD$78, i can't help but want to repurchase this as it's so reliable. but i did try to force myself to try other brands, you'll read about that soon.
i purchased this in HK's sasa.