For Those Confused By The Marketers
i decided to write this entry because i also need to educate myself on the range of mascaras offered by majolica majorca, a brand under shiseido. those fancy names don't tell me much about the actual functions, and the brand is obviously trying to make it difficult for me to differentiate between product packaging because they all look similar in terms of color scheme (with the except of the lash link and lash bone). so here is an illustrated entry on the strengths of each mascara.
on the
official japanese website
, there are only 2 types of mascaras and one base coat. each type comes in two variations: film type (removeable with warm water) and waterproof type.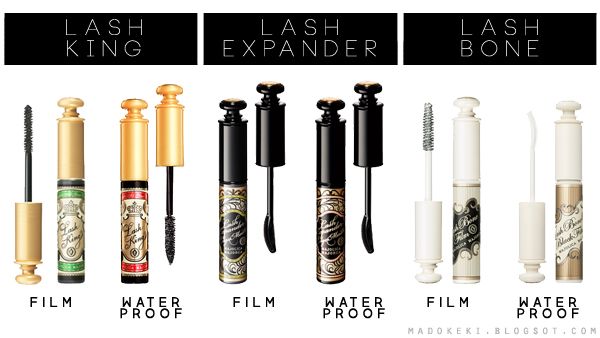 LASH KING FILM | LASH KING | LASH EXPANDER EDGE MEISTER F | LASH EXPANDER EDGE MEISTER | LASH BONE FILM | LASH BONE
LASH KING VS LASH EXPANDER EDGE MEISTER

i've translated the original image (it was in japanese) to english. it's only available on their japanese website, i think they should add this to their other websites too because it's so useful! now you are able to tell at a glance what each mascara does.
the
LASH KING
is meant to give you
length AND volume
, while
making your lashes more fluttery
at the same time. think of it as an all rounder. i'd perhaps liken this to the
maybelline falsies
, since that also promises length, volume, fullness, and flared out lashes. i have a review on the maybelline falsies mascara coming up soon!
the
LASH EXPANDER
(i'll omit the 'edge meister' from here on because the name is too long) on the other hand will give you
length and separated lashes
. this is much like the
maybelline lashionista mascara
, except this comes in waterproof formula. i've actually tried the older version of the lash expander, you can
read my review here
.
the LASH BONE is a translucent mascara base that contains black fibers, meant as a base coat to give you more length and volume. japanese brands seem to love making a lash primer for extra length. kate, visee and integrate have them too.
on the
singapore website
, i spy two extra mascara that isn't shown on the japanese site (anymore?).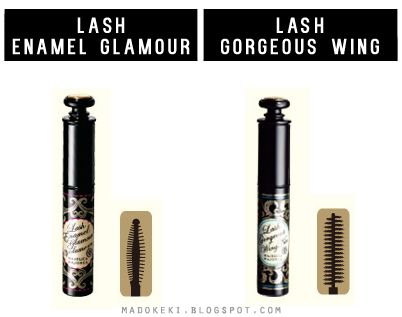 LASH ENAMEL GLAMOUR VOLUME ON | LASH GORGEOUS WING NEO
and look what i found on the taiwanese official website!!! a full on comparison chart! i translated it into english from chinese :D easy peasy!
LASH EXPANDER VS LASH ENAMEL GLAMOUR VS LASH GORGEOUS WING VS LASH KING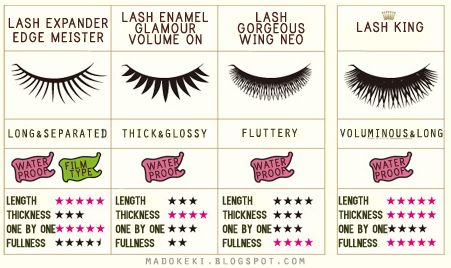 as the film type LASH KING is a new release in japan, it's not updated on the taiwanese website yet, hence showing only a "waterproof" sign. image originally from the taiwan MJ website.
lastly, the LASH GORGEOUS WING NEO has a formula that will make your lashes look fuller and more fluffy. "more hairy" doesn't sound nice even though that was the first adjective that came into my mind. the brush is zig-zagged to separate your lashes in order to prevent clumping even after multiple coats of the mascara (according to them). at first glance it seems similar to lash king, that's because they are similar. but i'll expect the lash gorgeous wing to give you skinnier and more natural looking lashes. you know some times lashes end up looking spidery after multiple coats? this MAY avoid that. just a guess judging from the product description.
IN A NUTSHELL
there are 4 main types of mascaras offered by majolica majorca - length, volume, fullness (the false lash effect), and "all of the above".
take your pick.
after writing this entry, everything suddenly appears to be clearer to me. majolica majorca's mascara collection isn't as confusing as maybelline's in my opinion. the thing is these mascaras have a creative name, which is in line with the entire brand because they dream up fairy tales for each collection they release - just goes to show you how airy fairy this brand is. it'll be odd to see really practical and descriptive names show up in majolica majorca's product lines.
one must learn the facts before they can appreciate the beauty in these product names, and i can finally say i really like the product names after spending hours flipping through the web to write up this entry.
QUESTION
were you confused by majolica majorca's product names just like me? please tell me i'm not alone.
image credit: majolica majorca official
japanese website
and
taiwanese website