Kate Jewelry Mode Eyes GN-1
even though i'm a big fan of kate's eyeshadows, i never really thought of getting this one, until i saw it going for 50% one day. for about SGD10, it's worth the plunge. the colours left were limited, i swatched as much as i could on the back of my hand and this palette seems to give me that sparkly brownish champagne colour that i was looking for.
or so i thought. as it turns out, the lighting in the store was slightly different.
the naming of this palette seems somewhat misleading, perhaps we've all been to condition to link GN to green, but in this case, i THINK it stands for grey neutral. but that's just a guess, because this is clearly not a green palette.
i remember seeing the marketing material for this series before, they claim to have formulated it with special pearl and shimmer, but i don't know if it's actually that useful when it comes to describing the finish of the eyeshadow at all.
one thing you need to know, this palette can make your eyes sparkle like diamonds in the night sky (under the right lighting).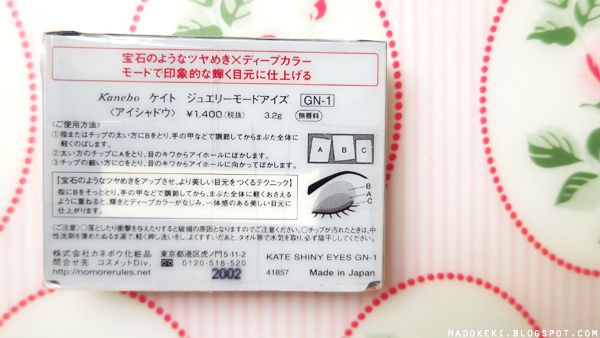 as usual, it comes with a simple instruction on how to use this palette, and as always, i didn't follow their instructions. hahaha! but still, it's a good addition for people who have no clue how to use eyeshadows, at least they have somewhere to start now!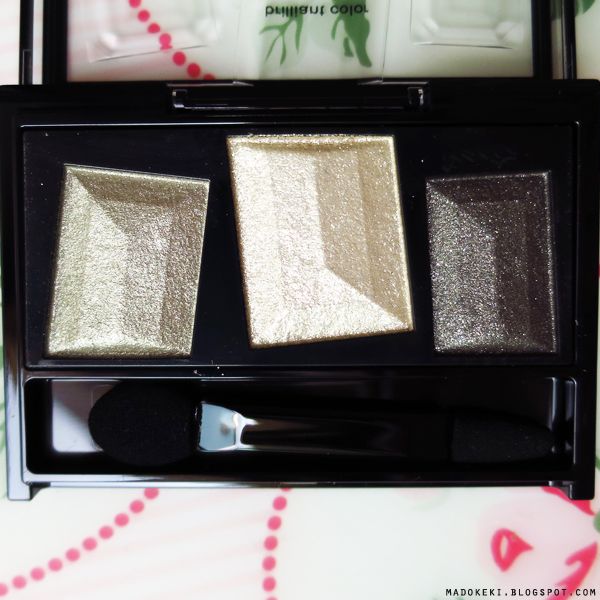 the palette consist of three shades, two high shimmer and low pigmentation colours, and a darker liner shade which is glittery but much more pigmented than the rest. a dual sided sponge tip application (one chubby and one skinny) is included in the package. how thoughtful.
the shades were actually "named" on the palette casing, from left to right, they are the
medium color
,
brilliant color
, and
dark color
.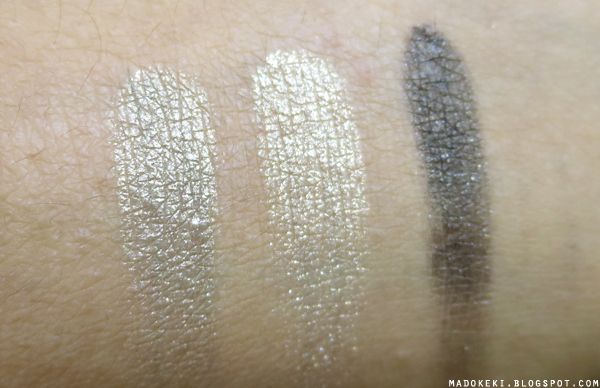 swatched on bare skin, L to R:
medium color
is a shimmery gun metal gray with a metallic finish under normal lighting (it looks crazy sparkly under focused light). i know it looks more taupe-ish on the pan, but once it's on my skin it just looks gray.
brilliant color
is a shimmery greyish champagne with a metallic finish. it may look more yellow in the pan, but once it goes onto my skin it appears as a faint grey. this also look super sparkly under focused light, like a night sky.
dark color
is a satin dark grey, it's not matte, but not overly metallic or pearly too. it contains some silver sparkles but not as overwhelming as the other 2 shades.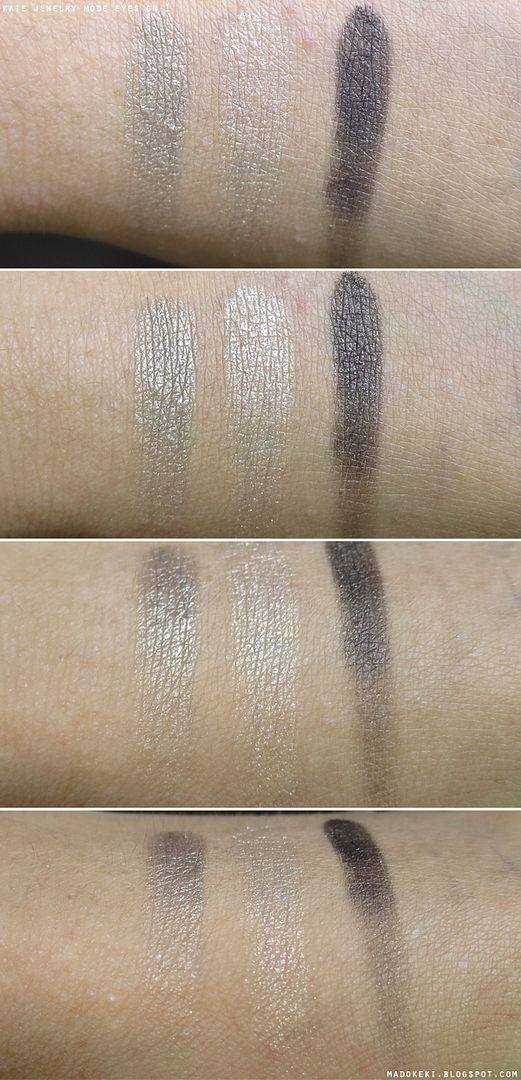 as seen in different angles.
the metallic sheen is only highly reflective when light hits it at certain angles. as you can see from the last image, the colours are most apparent when it's not busy reflecting light like a mirror, it's a gun metal grey trio that can be used to create deep looks very easily. the sparkly shimmer also took over the metallic reflection in the last photo, partly due to the ray of focused light beaming on it from the camera flash. in fact, they have a totally different finish when seen under spot light, be sure to watch the video taken under focused light at the bottom, they gave off the most beautiful sparkle i ever seen.
i honestly do not suggest using it like the suggested instructions, because the reflective nature of the brilliant colour may make your eyes look very puffy if you happen to have puffy lids.
IMHO
as usual, the powders are soft and easily picked up with either my finger and brush. although they aren't as buttery soft as the highlight and liner shade from the
colorcious diamond palette
(btw, these are the predecessor, hence the semblance).
picking these up with a fluffy eyeshadow brush may cause some fall outs. whenever possible, i use my finger. they feel really buttery when i do use the latter, it seems to be the japanese formulation that gave them this buttery-powder texture.
kate's eyeshadow tend to be on the sheer (except for the dark color) and shimmery side as it's more wearable on asian eyes, this is no exception. as you've already seen from the different angles above, these will look quite sheer on your eyes until light hits it at a certain angle and bounce right off to create the metallic look.
i think they've done a pretty good job making such wearable eyeshadow palettes. while swatching the other shades, i find them very similar to the colorcious diamond. if you already own the colorcious diamond, it's almost pointless to get one of these. as a kate fan, i've seen how they recycle colour schemes to release almost similar eyeshadows but in different packaging over the years. for example, the
dual blend eyes in BK-2
i own is almost similar, except for the finish (the latter has a frosted light colour shade)
these are going to be phased out as they were released in 2012. each series seem to have an average lifespan of 2 years. i can't even see them on the official website anymore. don't feel too bad if you really like it, because it's really similar to
colorcious diamond in BK-1
, what's more, you get an additional 2 shades with that palette.
IN A NUTSHELL
1. combination of sheer, very shimmery, and dark shades
2. powder is soft and picks up easily
3. you can give this a miss if you already own a grey palette
4. very similar to the colorcious diamond eyeshadows
MAKEUP LOOKS
medium colour is worn as a base here, with a dap of brilliant colour on my inner corner, and the dark colour on the outer corner and outer third of lower lash line (just a wash of darker colours though).
brilliant color worn as a base, medium colour on the outer half, and dark colour on the outer corner to darken things and outer third of lower lash line..
video
taken under focused light, and
video
taken under natural light. click on the links to watch them on my instagram!
i purchased this eyeshadow palette for malaysian ringgit 26 (which is about 10SGD).