HOLIKA HOLIKA collaborates with GUDETAMA this fall.
There's no lack of collaboration cosmetics in Korea lately, just recently I wrote about
THE FACE SHOP X DISNEY
's collection. Back in March there's
MISSHA X LINE FRIENDS
collection. In between these are a dozen of other collaborations that I didn't get to find out until much later.
Gudetama is a cute lazy egg. I think the laziness really speaks to many of us, since it's acting out our inner most lazy self in an adorable way.
This is a small collection, but interesting nonetheless.
FACE 2 CHANGE PHOTO READY TONE-UP CUSHION | 13900 WON
You'll always be picture perfect with this cushion foundation! It's light coverage retains the natural skin look, while its reflective particles reflect light to make your skin brighter and more luminous. It's also sebum and sweat resistant, ensuring longevity.
It seems like there's only one shade available since I didn't see any other available. It really whitens the skin, but it doesn't look too unnatural in my opinion. As in, it looks like how a person with naturally fair skin looks like.
SWEET COTTON PORE COVER POWDER | 7900 WON
This fine powder keeps your matte and moisturized thanks to the natural plant extracts. On top of using it as a finishing powder, it can also be used on the eyelids as an eyeshadow primer, on the hair as a sebum absorber, also as an deodorant (!? according to their official site!).

I think this is similar to Innisfree's No-Sebum loose powder.
SWEET COTTON SEBUM CLEAR PACT | 7900 WON
Similar to the powder above, this compact powder also absorbs excess sebum to keep the shine under control. However, this is gonna be more convenient since it's in a pressed powder form, making it travel friendly.
JELLY DOUGH BLUSHER | 8900 WON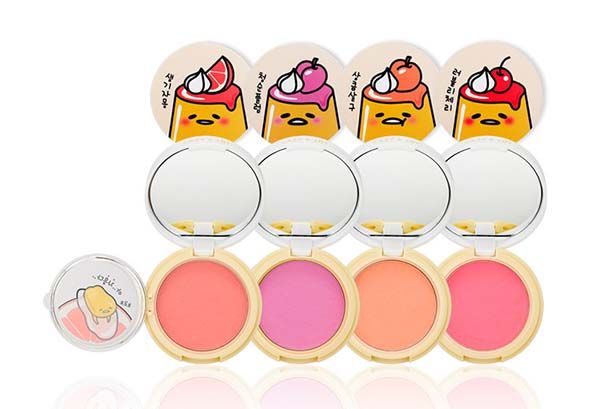 The name of the product describes its texture explicitly - it's soft like a dough?
The blush is formulated with a bunch of fruit extracts packed with vitamin C and antioxidants. I'm not sure how well that transfer to your skin to actually make any significant impact on the conditions of your skin, but one thing for sure, the variety of shades will impart a healthy glow and flush of colour onto your cheeks.
Available in 4 shades.
If you notice the design on the packaging, it tells you the shade colour according to the fruit on the pudding. So we have grapefruit (01), plum (02), apricot (03), and cherry (04). Isn't it cute!?
CUPCAKE EYE PALETTE SHADOW | 12000 WON
An eyeshadow quad consisting of a mix of matte, satin, and shimmery eye shadows, available in two colour variations.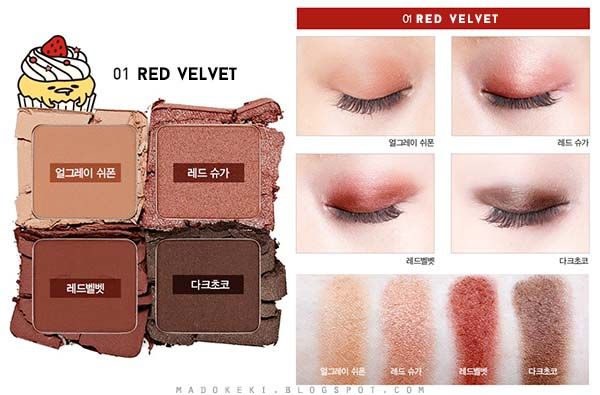 01 RED VELVET is a red toned brown palette, carrying shades of copper and oxidized iron.
02 TIRAMISU is a neutral brown palette, housing shades of gold and mocha.
EGG BUN PUFF | 2800 WON
The sponge is shaped to fit every part of your face perfectly: the sharper end for nooks and crannies like the side of your nose, and the flatter bottom for flatter surfaces like the cheeks and forehead.
DESSERT HAND CREAM | 7900 WON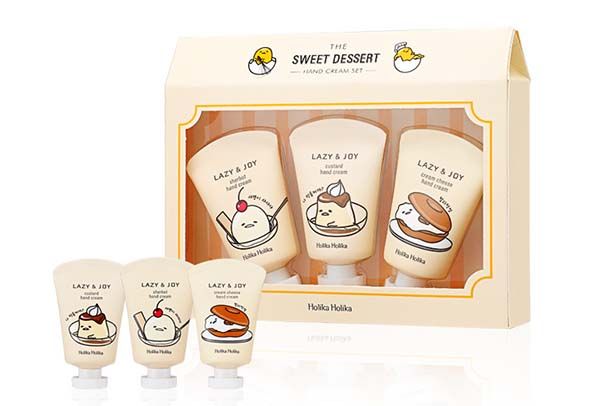 A collection of mini hand creams (30g each), it comes in three "flavours", custard, sherbet, and cream cheese. They are also available individually for 3000 won each.