For those of you who've wondered what's the difference between the products like I did.
my first ever mascara was one from missha, i bought it when i was 16, trying to prepare for my up coming prom dinner. i wish i knew more about make up back then, but hey, everything is a learning journey in itself! every little piece of experience i share with the products i've used along the way help me find out what to look out for when searching for specific needs.
sadly, the missha mascara (i don't even remember what name it's called) turned me into a panda. i probably have another brief encounter with a second mascara, fiberwig by dejavu, which also failed horribly for me (it just can't hold a curl for me! and it also melts and smudges!) from that day onwards, i figured i MUST use waterproof mascara.
one must recall that all these happened about a decade ago. beauty reviews/blogs were rare, and as an unsuspecting teenage consumer, i practically believed the ads when i saw maybelline market their
hypercurl cat eyes mascara
- which was my holy grail back then simply because it performed so much better than my first. you know what, i bought it for two reasons. it is waterproof, which suits my only need at that time, also, it has a beautiful zebra pattern printed on the tube in a coat of blazing pink chrome paint. animal prints won me over.

click on image to read my review and swatch of the mascara!
it's all about relativity. my first mascara sucked - it didn't do nothing for my lashes, can't hold a curl, and SMUDGES!? the maybelline mascara managed to hold curls, ALL DAY LONG. no smudging, no melting. and i really experienced the volumizing effects because i still remember the first time i put it on, i couldn't get used to seeing some dark blurry shadows when i open my eyes.
oh hi, lashes!
these days, i'll expect all these qualities from a normal mascara, so this makes the maybelline mascara really normal in today's definition. but like i said, relativity made it seem magical.
ever since then, maybelline has been my go to brand for mascara. well, at least for the first few years after i started wearing make up. i've only started to experiment with other brands in the recent years, so prior to my beauty blog phase, i'm an exclusive maybelline mascara bit*h. :P
i'm still thankful i didn't think too much back then before buying the mascara. if i knew maybelline has such a huge variety of products, i would have ended up not buying any because i simply can't decide which one i want.
today, i thought i'll try to pass it forward, especially for makeup beginners. i found this wonderful comparison chart from
maybelline japan
, so i translated it into english for your easy reference. it sort of summarizes the main claims and effect of the different mascara. hopefully, this will help you decide which one suits your needs the most?
but honestly, i realize a lot of the different lines appear to be the same products thrown into different packaging. the selection offered in the asia region is still quite understandable, as the products managed to differentiate themselves marginally. i took a look at
maybelline USA's mascara
selection and let's just say.. the dilemma of choice is real. don't believe me? take a look for yourself.
there are two main lines for two specific needs - volum' express for volume, and the other is for length (which doesn't have a specific name).
VOLUME TYPE MASCARA
maybelline volumizing mascara comparison chart. click to enlarge!
i've tried the volum' express hypercurl cat eyes mascara, and the falsies everlasting (also called the false lash everlasting mascara in japan) mascara. purchased the magnum cat eyes waterproof mascara (but haven't tried it yet), and feel like trying the rocket mascara next time.
love the cat eyes, not feeling the hype for the falsies (or did i just get a bad tube? twice?).
LENGTH TYPE MASCARA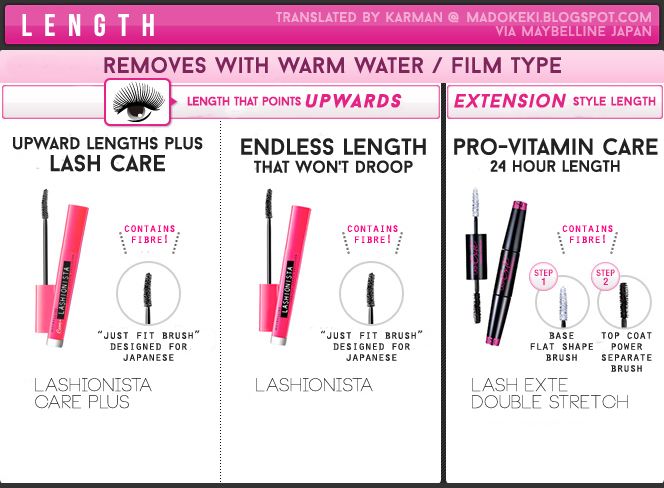 maybelline lengthening mascara comparison chart. click to enlarge!
the lashionista care plus and lash exte is only available in japan. the former contains safflower oil as the hair care ingredient, while the latter contains vitamin B5 (panthenol) and ceramide R to nourish the lashes. it sounds so fancy schmanzy, i don't know why we don't have these in singapore, or hong kong. :(
i've tried the
lashionista mascara
and let's just say, i love it under certain circumstances. when i'm not wearing other kinds of make up, i love it to death because it comes off in the shower. however, when i'm wearing full makeup, it's hard to remove with my eye makeup remover.. but one thing is certain, the length that it creates it well loved at all times.
you can read my reviews and see my swatches here
.
i'm so glad i don't live in the states, because trying to put ALL of maybelline's mascara on a chart depicting their differences and main claims would drive me crazy.
all in all, i love maybelline for their affordable mascara that actually works - lengthens, volumnizes, holds a curl, and doesn't melt or smudge.
p.s. depending on your region, some of these mascaras may or may not be available in your local store. also, they may appear to have a slightly different name.
QUESTION
have you tried any maybelline mascaras? how do you love it?