Have you ever been overwhelmed by variety?
korean brands are notorious for their wide range of skin care products, even for someone like me who've been exposed to so many products, i still feel overwhelmed when i enter their shop to be surrounded by hundreds of DIFFERENT products.
it'd be fine if i knew exactly what each line did, but i don't.
sometimes it's a bad thing to have so many different lines, because people end up in the paradox of choice because they exhausted their decision making ability when fazed with too many products.
i was looking through innisfree's new
online store
and was lost for a while. it's nice of them to group products according to the concerns you have, but they also used their own terms which may confuse those who're not familiar with skin care. i hate to say this, but there are "industrial standards" when it comes to naming items because consumers are used to certain words.
here's a cheat sheet if you are confused like me. i'm merely translating their series into terms that are more familiar to me. i've looked through their ingredients and main claims to group them accordingly.
1. TROUBLE CARE is known as PRODUCTS FOR OILY SKIN (acne and pimples prone)
JEJU BIJA ANTI-TROUBLE SERIES
i don't know what torreya seed does, it's said to have good healing powers (and peeling effect?). i do, however, know that this product contains salicylic acid, effective in melting and clearing excess sebum.
this series comes in cleansing gel, cleansing foam, toner, lotion, and spot essence.
2. PORE CARE is also known as PORE REFINING PRODUCTS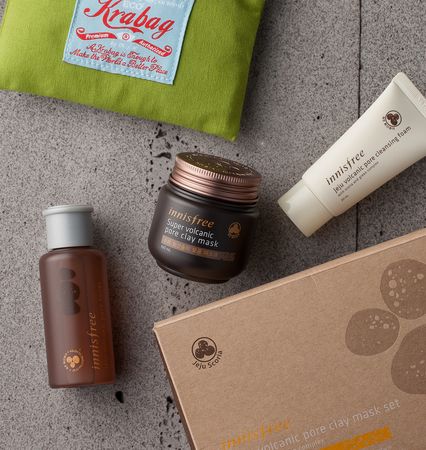 SUPER VOLCANIC SERIES
CLEANS the pores by absorbing sebum and contracting pores temporarily. also contains AHA (lactic acid) to help with exfoliation.
IF PORES DUE TO DEHYDRATION, use moisturizing products below in section 3 to plump up skin to reduce pore size.
IF PORES DUE TO AGING, use anti aging products below in section 4 to improve elasticity of skin to shrink pore size.
3. NUTRI-MOISTURIZING and MOISTURIZING are moisturizers for everyone.
the "nutri" meaning nutrients within the cream, it's not new for companies to infuse food extracts into skin care, assuming dietary nutrients can be utilized by our skin.
GREEN TEA SERIES
contains "fresh green tea water" for moisturizing.
OLIVE REAL SKIN SERIES
contains extra virgin olive oil for hydration and restoration of moisture barrier.
4. FIRMING and WRINKLE CARE is also known as ANTI-AGING TREATMENTS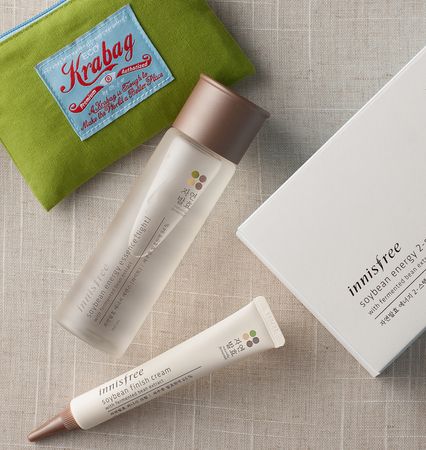 SOYBEAN SERIES
contains fermented soybean to stimulate collagen production in the skin.
ORCHID SERIES
contains orchid extract, a powerful antioxidant. cream is extra nourishing to plump up mature skin. can also be grouped under the moisturizing group.
SEAWEED SERIES (ECO SCIENCE SERIES)
formulated with antioxidants to repair skin barrier and improve elasticity.
5. WHITENING is whitening, nothing fancy!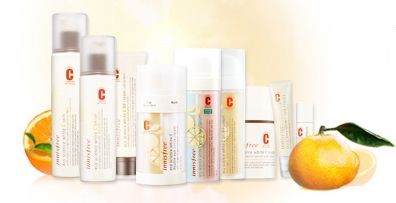 TANGERINE PEEL SERIES (ECO SCIENCE WHITE C SERIES)

formulated with eco-friendly organic jeju tangerine peel extract and green tea, giving you a double-up effect in brightening your skin.
WHITENING PORE SERIES
containing citrus flavonoids, this series will brighten dull skin and suppress melanin production.
to be completely honest with you all, i was overwhelmed by all the products once again just now. i will try to describe how it feels like - frustration and confusion. i'm confused because there're multiple lines that seem to serve similar functions, frustrated because i need to know my stuff before i can actually write about it! after 2 long hours cross referencing the different websites, i think i'm pretty close to categorizing the series above.
to my horror, there are a few more new product lines i saw on the
korean official website
, but my korean isn't good enough for me to understand what those products serve to do, so i left them out of this entry. i suddenly have a lot of admiration for innisfree sales associates as they have to know ALL the products inside out. that's a lot to stomach!
if i were to start a skin care line, i'd make it super simple and easy with just 4 product lines - hydrating, anti aging, and whitening. pore refining, acne/pimples and oily skin can be grouped together as the 4th line. and each line will have only one set of products!
sometimes, less is more.