Top 3 Lovely Pink Blush
get it beauty is a korean beauty talk show where they invite experts from the relevant fields to share insights with beauty lovers. one of the things they do is the blind test, and it is what you think it is.
i read that they changed the format slightly this year. instead of pitting random products against each other, they now pit previous year's champion against new challengers.
let's take a look at the blusher ranking!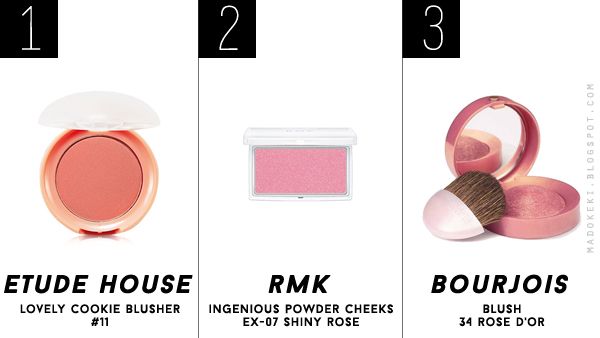 1. ETUDE HOUSE | LOVELY COOKIE BLUSHER | #11 | 8.5g | 6000 won
sebum controlling powder makes the colour stay true and fresh all day. also sweat resistant.
2. RMK | INGENIOUS POWDER CHEEKS | EX-07 SHINY ROSE | 2.6g | 39,000 won
#1 product chosen by professional MUA. pearly effect is reminiscent of the ethereal spring sun.
3. BOURJOIS | BLUSH | 34 ROSE D'OR | 2.5g | 23,000 won
2011 blind test #1. an oven baked blush that is rose scented.
i may try out etude house's blusher one day to see if it's really that long lasting! for 6USD it's very affordable compared to the other two! i love my bourjois blush (
read my review here
) and have been thinking of getting another one :P
tried any of these before?