Kate Diamond Cut Eyes BK-1
as you can see i'm starting to feel a little more brisky and adventurous with my colour choice after dabbling with make up after some time.
i think i can rock this blue palette! (keyword: i think)
this palette come with 4 colours, but i think it's actually 3 in reality, since the diamond shade on the top left is a mere wash of shimmer and glitter. there is next to no colour to them.
as usual, the packaging is the sleek black plastic case and it is embossed on the inside to make the eyeshadow appear to be grooved. it comes with a dual end sponge chip, one side is slimmer than the other to allow for more precise eye lining with the darkest shade.
a look at the website tells me that kate is probably phasing this out soon as well. i didn't know time flew by so quickly. the diamond cut eyes were introduced in spring of 2009, that's a good 5 years from then, when mika nakashima was still the spokesperson (i prefer her to the new one btw).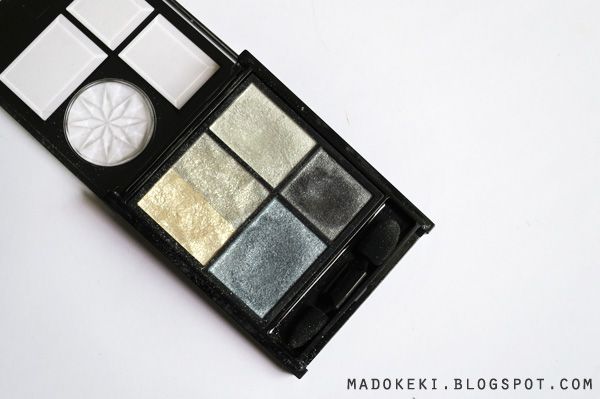 the "diamond" shades were the only one that has embossing on it, it has worn out a little over the years.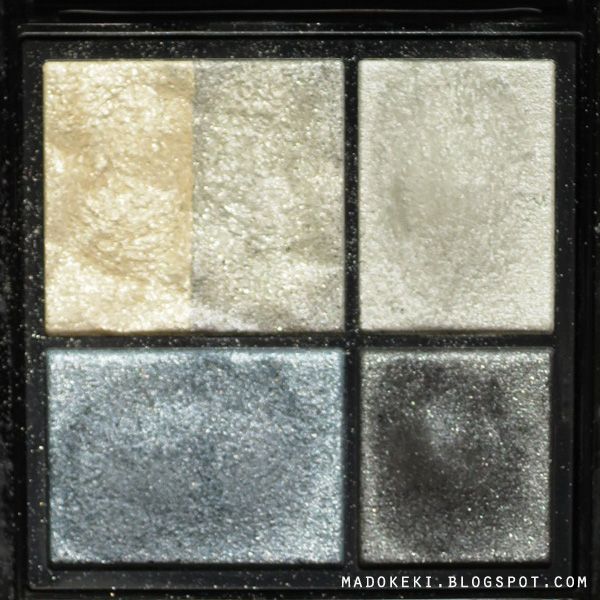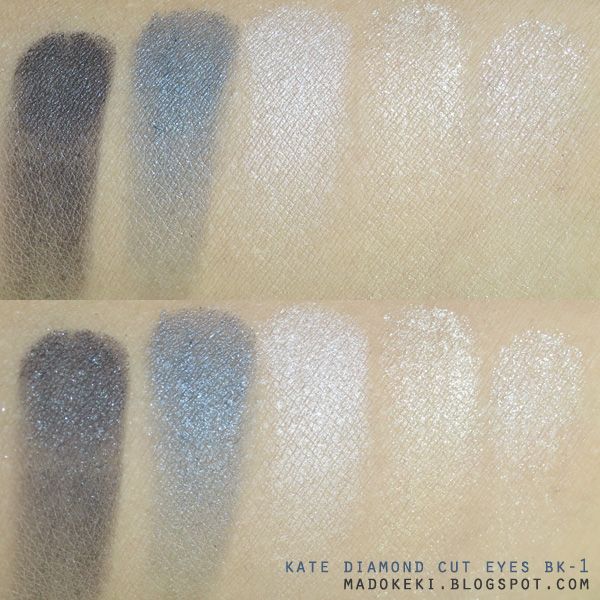 swatched over foundation powder.
(bottom right, bottom left, top right, gold diamond, silver diamond)
the diamond shades has a harder consistency, making it slightly harder to pick up the powder with a brush or finger. the other shades are butter smooth and soft.
from left to right,
the
darkest shade
is a blackish blue with silver micro shimmer. a very gorgeous shade!
the
medium shade
is a slightly greyish blue, with a slight pearly and shimmery finish to it.
the
lightest shade
is a frosted light blue, perfect for highlighting the inner corners of the eyes and brow bones.
the
gold and silver
contains glitter of the respective colours. it appears golden and silver in the swatch, but upon blending out only the glitters remains while the "base colour" disappears.
IMHO:
i admit i bought this palette because it looked really good on mika nakashima in the ads :X
in reality this palette is a little hard to rock as it's not a very common day time colour.
i usually wear this when i party, which serves that purpose very well because i love how the shimmer in the darkest shade brings out the contrast in the colours. ok, let's just say i'm a fan of "understated glam", i like dark bling!
also, the diamond shades adds that mysterious shine to my eyes whenever the lights flashes and hit my eyes. i can already imagine guys seeing my diamond shimmery eyes when they are high in their world, everything seems dreamy and ethereal.
even though i don't wear this palette that often, but i love it whenever i have the chance to wear this. i can't remember a time when i didn't use this palette when i hit the club. hahaha this is officially my club eye shadow palette!!!
i got this for HKD$115 in hongkong sasa.
MAKEUP LOOK