Kate Designing Eyebrow N EX-4 (Swatch and Review)
here comes the product i can't live without after getting it 2 years ago. it's no secret that i love kate. if you're new to this blog, kate is a japanese drugstore brand that's under kanebo's brands. i have never tried kanebo's product, but kate's product are affordable and good (IMHO), and if there's one thing that differentiates it from the other brands such as canmake and za, it is its cool and sleek packaging that i absolutely couldn't resist, since i'm a self declared cool-girl and kate's image just fits my style so much. black is definitely my colour. so yea, please take what i have to say about kate with a pinch of salt - whatever i like about their products are amplified by my liking for the brand. what i'm saying is, when i say something too nice about a kate product, discount it.
this is the only brow product i have, as of 7 june 2014, this is the only brow product that i use across all the different looks i wear. the only constant so far.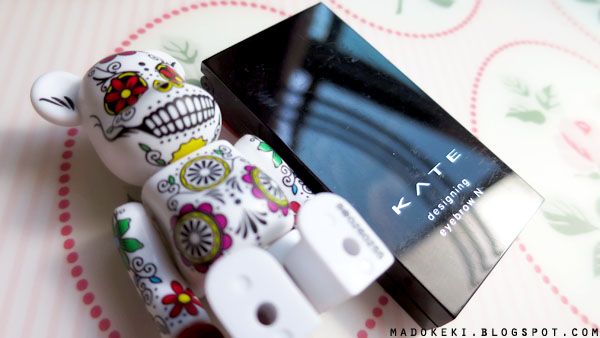 the brand and product name is seared in silver on the black plastic packaging. it seems to be part of the plastic instead of being printed on top of it, so it stays on forever. oh, and that's a candy skull bearbrick from series 26.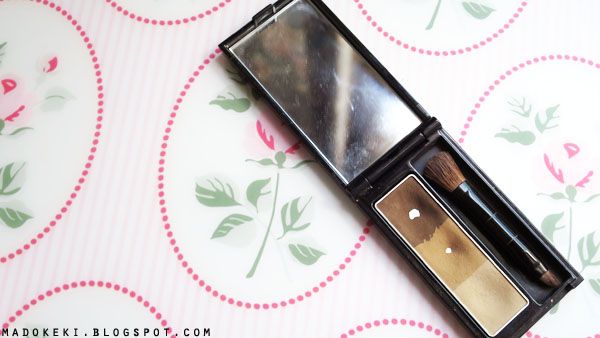 packaged within is a built in mirror and a dual ended brush - one for precise application and the other for contouring and blending.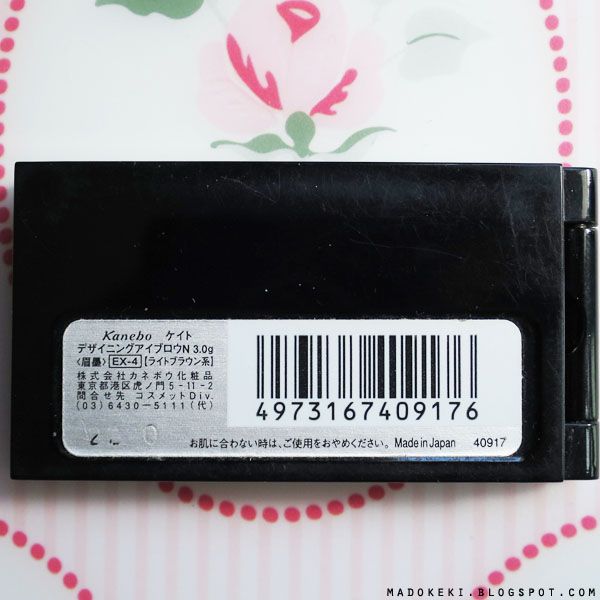 EX-4 is the light brown combination. they have a EX-5 palette that is darker and slightly more reddish.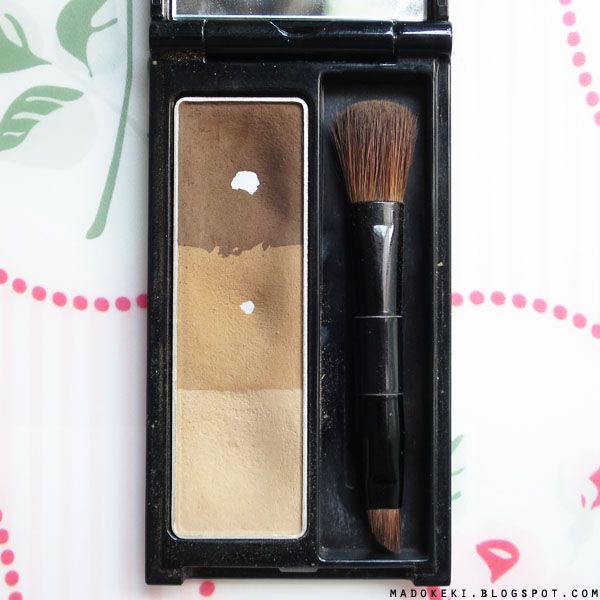 in the pan, the shades have a yellow undertone. there are three shades altogether, the top two are meant for the brows, while the bottom shade is for soft contouring.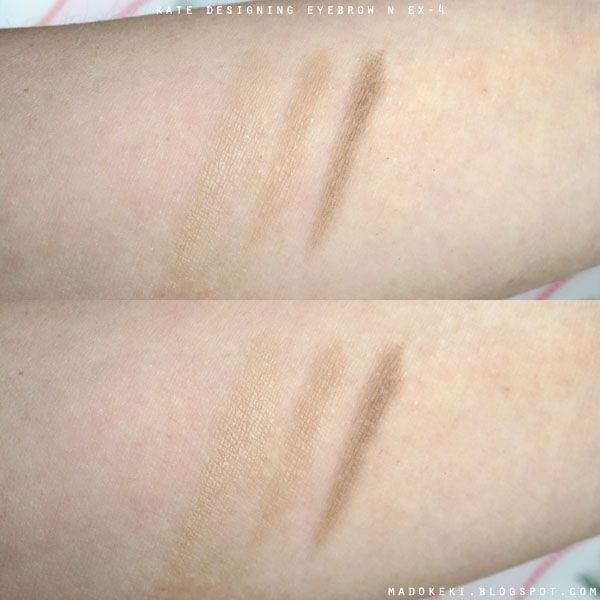 swatched on my arm with the angled brush within. products are on the sheer side, i've actually went over about 3 times to get to this intensity.
the darkest shade
is like dark chocolate.
the middle shade
is more like milk chocolate - slightly yellowish brown.
the lightest brown
is just a warm beige shade.
all of them have a matte finish.
while the powder is a little harder than their eyeshadows, they are incredibly smooth and are surprisingly easy to work with considering they are matte finish (most matte products will apply unevenly, but these apply really evenly).
as i've already mentioned above,
the product is on the sheer side
, you can control how much product to use to achieve a certain intensity.
IMHO:
*take whatever i say with a tinge of salt*

let's talk about the formula first - for eyeshadows, we want the powder to be as soft as possible so that a lot of products gets transferred to the brush. for eyebrow powder, we want it to be slightly harder - hard enough to deposit just the right amount of products, but not so hard such that it is impossible to get any colour at all. the formula of this product does just that! then again, i have no other frame of references, but this product just works for me.
i'm blessed with some eyebrows, so i can simply fill in the gaps with this powder.
however, i've also used this brow powder to extend (read: draw a part of) my brows - the effects are so natural
. you'd think that a powder do not have the intensity of a brow pencil to define the end of the my brows, that's what i thought too initially, until i actually tried it with a slightly stiffer angled brush that is able to deposit more product (in a more precise fashion that can give you cleaner edges) onto my skin. the original angled brush that came with the product is on the softer side, what it means is that you can create a very soft looking brow that has feathered edges - good if you just need to fill in your brows.
if you wanna draw an originally non-existent eyebrow with this product, use a stiffer brush and it'll do the job well.
since it's a powder product, it stays on my skin really well throughout the day. as far as i remember, i've never returned home at the end of the day to a missing brow.
and on to the colour, the middle shade is definitely too yellow if i were to use it on its own (i actually tried that and er.. it's a disaster), but it lightens the darkest shade just enough for me to use it at the head of my brow. perfect shade to get a natural looking eyebrow. the lightest shade is really close to my skin tone, so it's really good for blending out any harsh edges, and it's wonderful for contouring since it's so subtle!
i also use this palette as my eyeshadow
sometimes. japanese eyeshadow palettes are rarely matte, so this is a good matte alternative for me. i love using the lightest shade as my transition colour when i need to do a smokey eye, since it matches my skin tone so closely it is the perfect blending colour.
the fact that it's so versatile (using it for my brows and eyes) totally added to the halo effect even further. hahaha! perhaps you've taken too many pinches of salt while reading my opinions. so, let me add in a dash of vinegar now by telling you the truth - with every product, there's a period of time when you learn to maximize the utility of it. the more utility you get out of it, the more you will like that product. of course, what works for me may not work for you, so keep that in mind when looking for your holy grail product!
i bought this for SGD$17 when watsons was having a sale.
IN A NUTSHELL
this brow powder is good for you if you
1) want to have natural looking eyebrow
2) already blessed with some eyebrows and all you need is some filling up
3) to draw on original non-existent eyebrows. just use a stiffer brush that will deposit pigments more precisely.
4) want a multi-function product that can act as your eyeshadow in times of crisis
MAKEUP LOOK: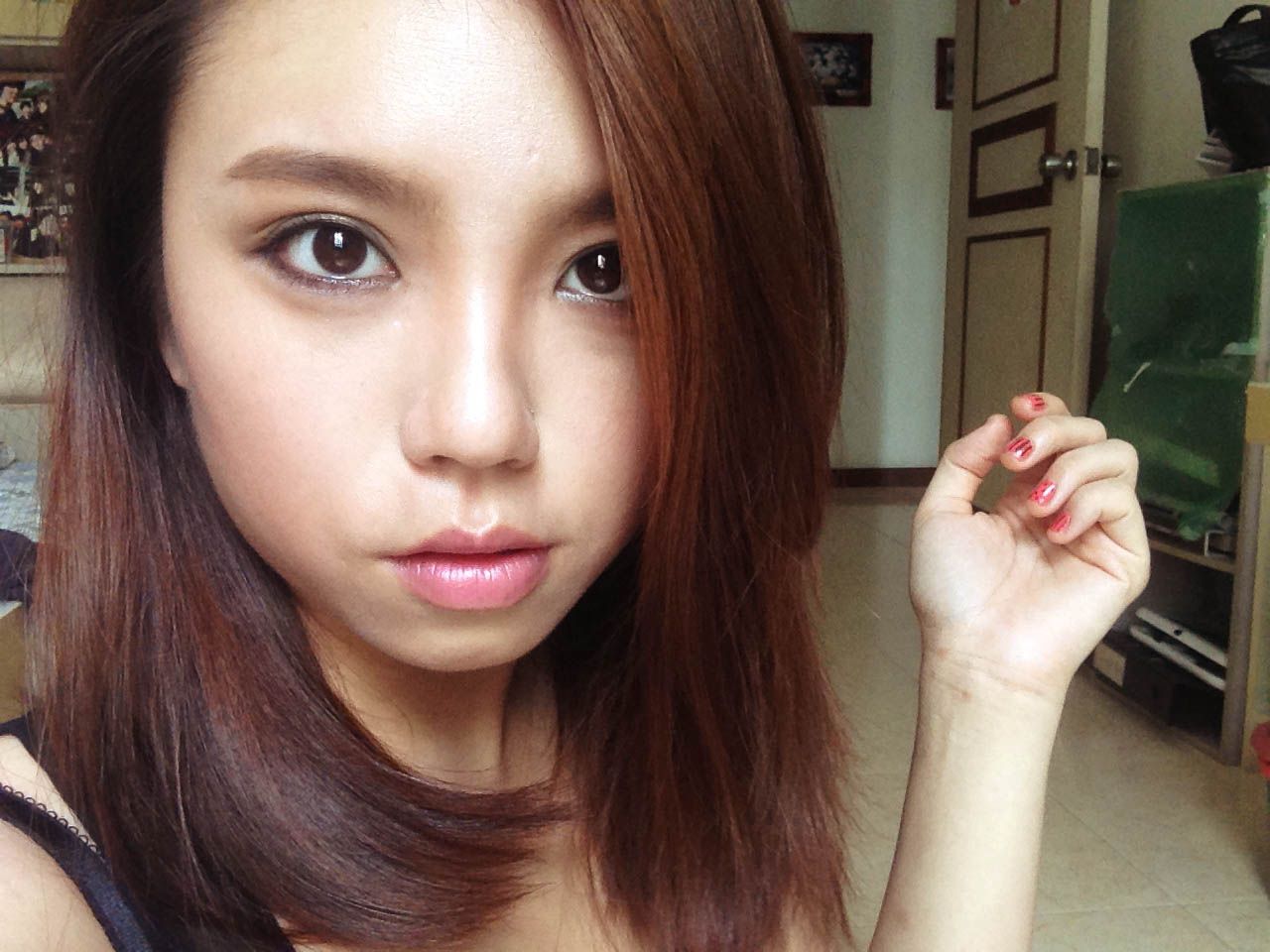 my
song jihyo inspired look
where i used this palette as my eyeshadow to create a soft smokey eye.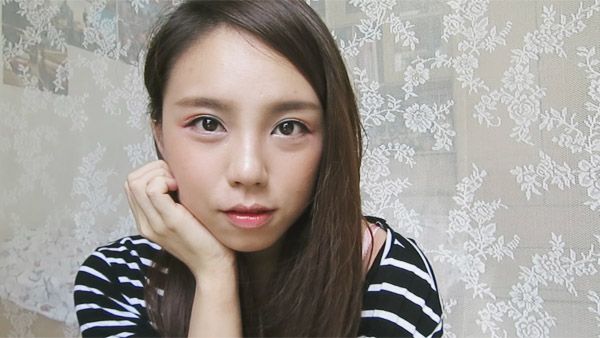 korean style eyebrow
where i used the powder to extend my brows a little to change its shape.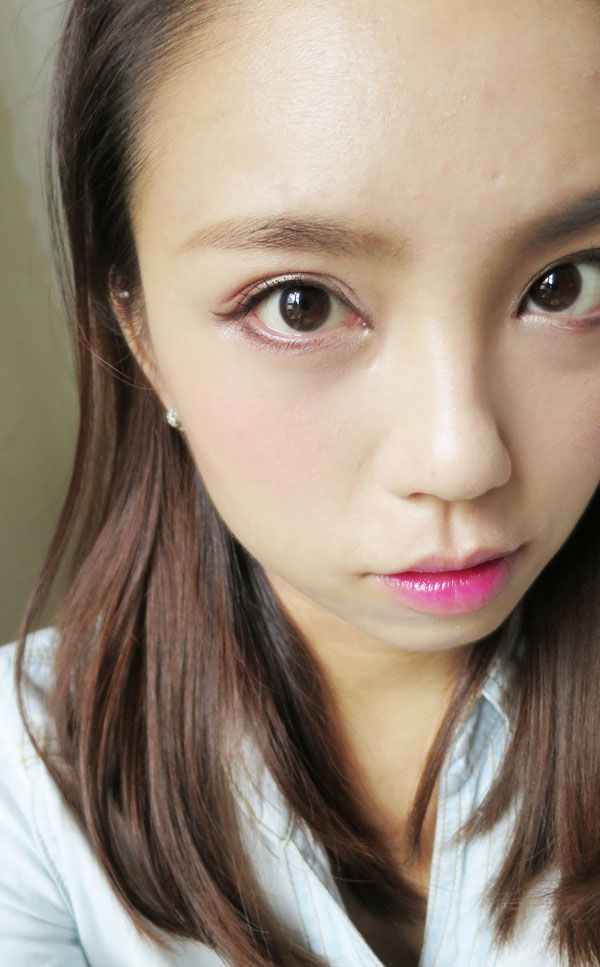 feminine arched eyebrows
where i also used the powder to change the shape of my brows. i literally drew in the tail of the brow (that was nonexistent) to force it to point downwards.

p.s. if you're still reading now, you must be really interested in this product. if you are looking to purchase this, you can get it off adambeauty, imomoko, or ebay. adambeauty has the best price IMO.