L'oreal Shine Caresse 801 Princess
also known as the Colour Caresse Wet Shine Stain in america, this lip product is both a lip gloss and a lip stain. i guess the asian head quarters decided that the name is too long and shorten it to just shine caresse. 801 princess is equivalent to "coral tattoo" in america.
the lip stain aims to provide lasting moisture, while doing what a lip gloss don't usually do - to impart a vibrant and pigmented colour to your lips. in other words.. this is a very pigmented lip gloss.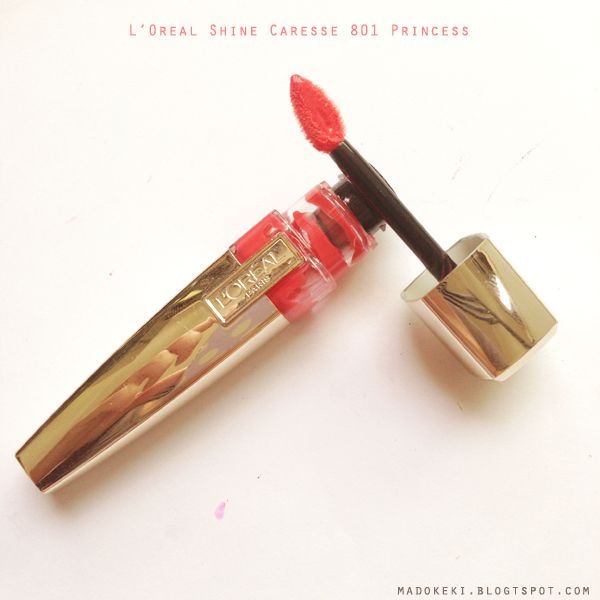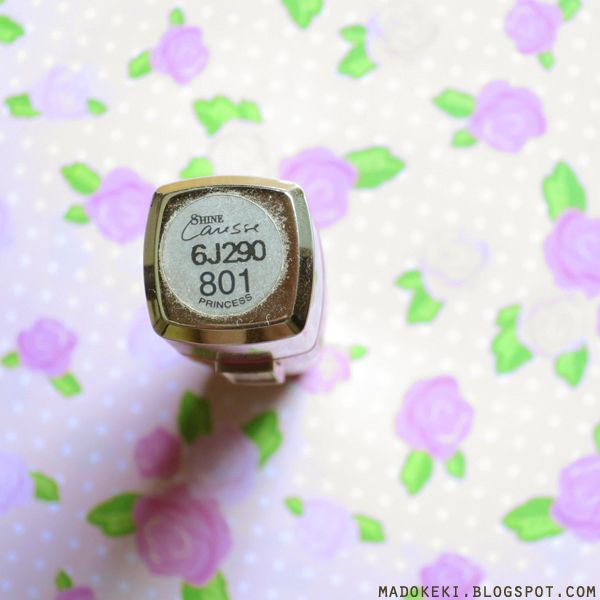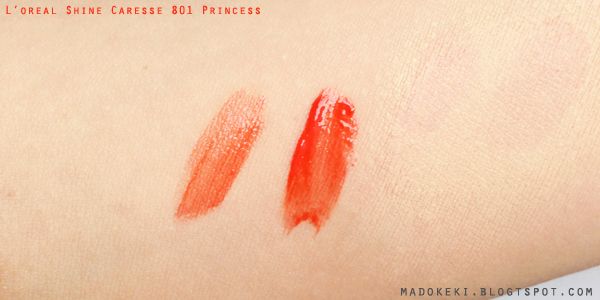 applied thinly and spreaded out on the left, and applied thick on the right.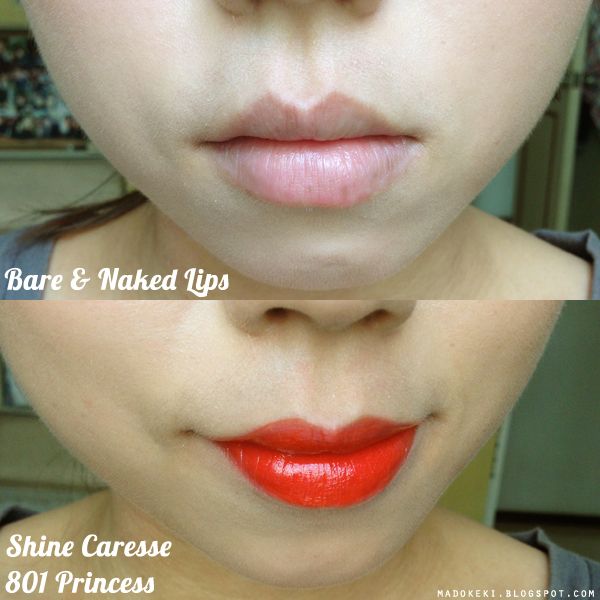 shine caresse 801 princess is a very vibrant orange. it was so vibrant that my camera almost failed to capture it's true colour, because it looks almost red. it actually appears redder whem i'm indoor under fluorescent light.
on its website it claims to give a lightweight colour, but the application is quite tacky in reality, not as lightweight as i thought it'd be (if i were to compare it to the nature republic by flower triple volume tint, the latter is more watery and hence more lightweight). it actually feels sticky and viscous, and yes, it's a hair magnet too. the finish is a glossy finish as expected, judging from the gooey-ness of the product. i don't know what's the usual percentage of water content in lip glosses, but this has 30% apparently, but i don't feel that it helps to keep my lips hydrated throughout the day even though it remains shiny. you know that feeling when your skin feels dehydrated even though on the surface it looks shiny and glossy? my lips just don't feel soft anymore after prolonged wear.
the pigmentation is alright, i like that i can control the level of pigmentation by toggling with the amount of product i wear. if i want to use this as a lip tint, i'll go light handed. conversely, i will wear at least 2 coats when i feel like wearing a bold orange lip.
this is a lipstain, i realized it takes some time for the staining action to occur. i wasn't able to capture the stain left by the product as i cleaned it off too quickly (within 5 minutes). but they do stain the lips after i tried to remove it at the end of the day, only realizing i can't. if you want to make sure you get all of them off, apply vaseline after removing your lip makeup with a lip makeup remover, give it a night before wiping the vaseline off your lips the next morning. you'll realize some of the colours that seeped into your skin will be transferred to the piece of tissue.
this product is scented, the best i can describe it is a lemon tea scent. a long time ago, the body shop used to have a perfume that is called lemon tea, and this smells exactly like that even though lemon tea in reality do not smell like this. but it got lodged in my scent memory as lemon tea from then onwards. i love this scent, and enjoy smelling it from my lips :) well, until the scent wears off (or is it because my nose got used to it?) that is.
IMHO:
i love the scent, i love the initial surge of moisture, i love the wet look, and of course the colour too. and i totally don't mind having to clean this off after a few hours to reapply again to get rid of that hidden dry feeling in the lips. it's weird, because a lip gloss is supposed to be more hydrating than a usual lipstick. maybe i shouldn't be greedy and just reapply when necessary :P
if you're looking for a bold lip colour with a wet and glossy finish, and would like to stain your lips so that you won't have to worry about the colour being uneven, you may like this product.
i bought this from guardian for $18.90 when it was having a promotion.
MAKEUP LOOK