Maybelline Volum'Express Hypercurl Cat Eyes Mascara (Swatches and Review)
a mascara touted to hold curls for up to 18 hours? that's a fancy and bloody eye catching advertising tagline, but i bought it and gave it a go.
this was my 2nd mascara that i ever purchased in my life (a few years ago), and i'll be honest with you - i bought it because of the beautiful metallic-pink-against-black zebra print on the tube. but this is one of the best blind purchase i've ever made because its formula worked great for my needs to keep my short and stubborn lashes curled - for the entire day! and, this thing removes easily with an eye makeup remover, and doesn't melt at all as it's a waterproof formula. this is the mascara that i'll keep going back to for volume and curl.
on its
japanese website
, it says that you don't even need to curl your lashes prior to mascara application, but i don't know about that. it seems like this mascara is only available in asian countries. as far as the claims goes, this
japanese chart
summed it up pretty well - waterproof, 18 hours curl, 3 times volume.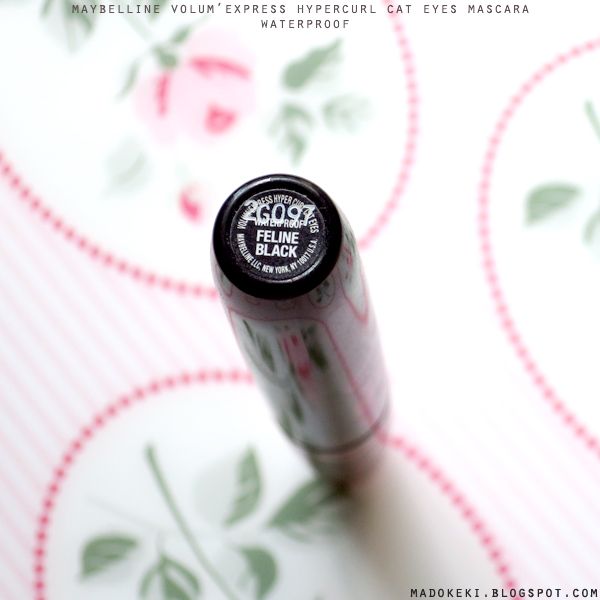 i got the mascara in feline black. i almost never get it in other colours!
THE BRUSH__________________________________________________________________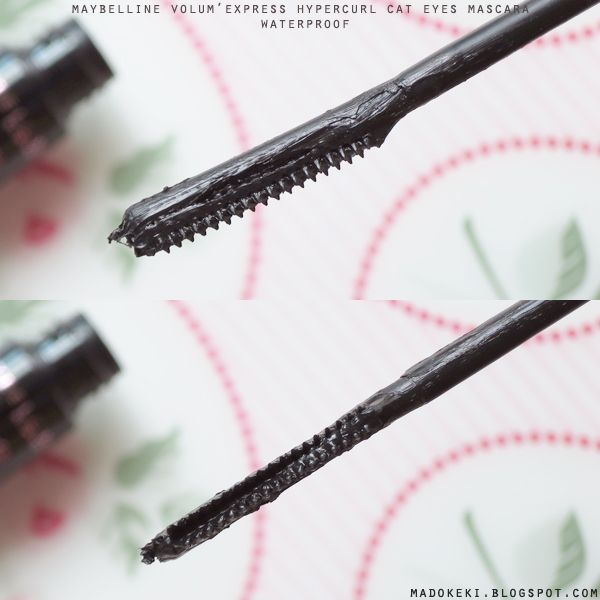 the brush is a comb that has 2 rows of alternating teeth. the groove between the teeth is about 3mm deep, so it collects a good amount of product. the alternating teeth is able to cluster my lashes into tiny bunches. depending on the wetness of the formula, the size of the cluster changes too. the wetter it is, the wider the clusters (as more product gets deposited) and hence the more voluminous the lashes looks.
the formula has no fibres, just waxes, and volumnizing stuff (i guess powders).
THE BEFORE AND AFTER______________________________________________________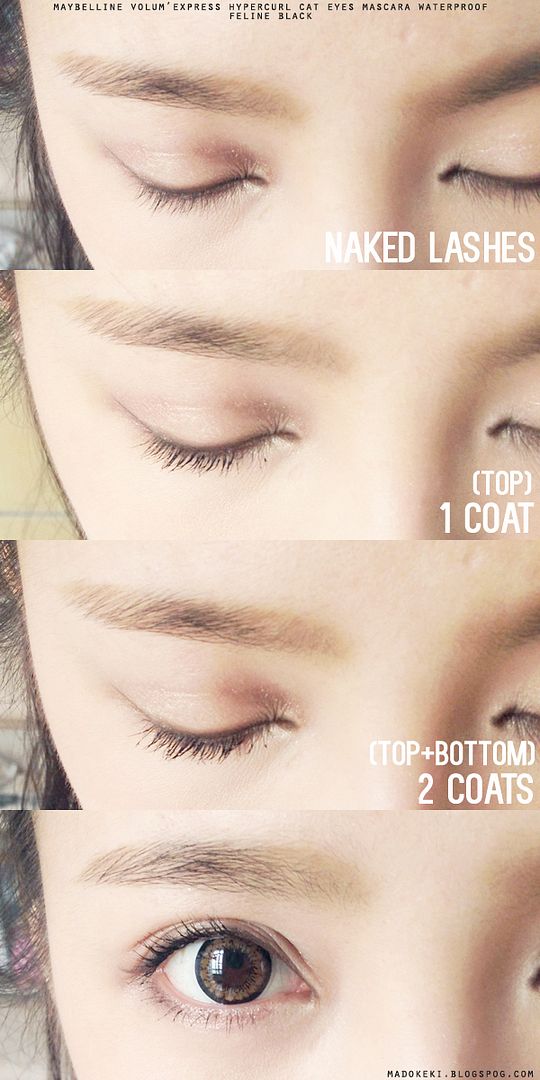 naked lashes vs 1 coat vs 2 coats vs 3 coats, lashes curled (with traditional lash curler) prior to mascara application.
comparison with eyes opened.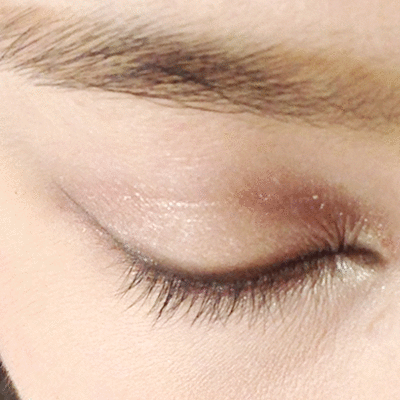 see my lashes grow!
it looks particular luscious in the image with 2 coats on because i've also applied it on my lower lashes, giving rise to the illusion of fuller lashes.
THE CAPABILITIES___________________________________________________________
the mascara is definitely
waterproof
- it never melted or smudged on me even in the singapore heat! even though it's waterproof, it's so easy to remove with an eye makeup remover. in fact, this is the easiest to remove out of all my waterproof mascaras! one of the reason why i love using it so much is due to its ease in removal.
while i can't testify for the 18 hours curl, it is
able to hold my curls for at least 10 hours
(that's the maximum i've worn it for). some mascaras (especially the lengthening type) will straighten my lashes immediately upon application, but this doesn't! my lashes remained curled after application, and it stays that way until i remove it at the end of the day. no drooping throughout the day too.
as for the volume, let's just say it made my otherwise invisible lashes become very visible!
i don't have a micrometer to measure the width increment, but from the 2nd photo you can totally tell the difference between my right and left eye..! my tube of mascara is a little old now, so the formula has gotten drier than it used to. when it was brand new, so much product would get onto my lashes, i couldn't get used to my new found lashes! i actually prefer the drier formula because it helps me hold my curls without giving me too much volume. i like the more natural look!
due to the nature of the product,
it does clump a little if i go beyond two coats
. and i have to make sure i layer on the 2nd coat before the first coat dries out completely. the drying time is normal, if you do smear some onto your lids accidentally, you'll have enough time to wipe it off with a q tip.
as the brush is a spiky comb brush, it gives me
dolly like lashes that are clustered together
instead of the fanned out lashes that some may like. also, after a few layers your lashes will get so thick that you can't slot it into the comb anymore!
IMHO:
this is my second tube, which goes to show you how much i like it - this is a product that really does what it claims, and its something i can always rely on when i'm going out for the entire day. i don't have to worry a single bit about my mascara melting, or my lashes drooping.
what's more, this is a really affordable drugstore brand that i can afford as a student back then. and i love that packaging. :P
these days, i've experimented with more mascaras, but i still find myself reaching out to this old time favourite. i've found another mascara (heroine make volume and curl S) that can give me volume, curl, and gives me one-by-one lashes. depending on what kind of lashes i want that day - dolly or glamourous - i'd use a different mascara for it.
on top of living to all its claims, the thing that made me love this more than any other mascara is its ease in removal. i hate tugging my eyelids that may risk an eyelash fall outs - this is really the easiest mascara to remove. the majolica majorca mascara is a pain in my ass when it comes to removal.
overall, this is something that i really like and swear by.
IN A NUTSHELL
this mascara is good for you if you want
1) dolly like (clustered) lashes
2) a mascara that doesn't melt in the heat, oil, and sweat
3) volume
4) long lasting curls
i purchased this from some toiletry shop for ~SGD$16