Heroine Make, Canmake, Maybelline Haul and Swatch (Video)
before you jump to the conclusion that i haul very often.. i don't. as mentioned in the video, my dad got back from HK so i thought it's a good chance to get some items that i've been eyeing for a while! you probably won't be seeing another haul anytime soon.
this time it's a mini haul from hong kong. i called it a sasa haul, but it's not entirely true because some items were bought from other shops (like colourmix and bonjour).
if you haven't already watched the video! unlike the korean cosmetics, all of the items i tried are unscented (except for the solid perfume)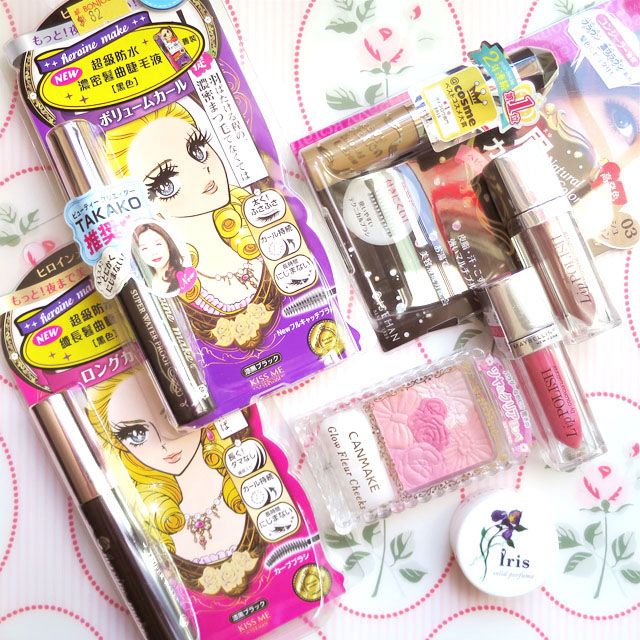 the family photo!
HEROINE MAKE__________________________________________________________________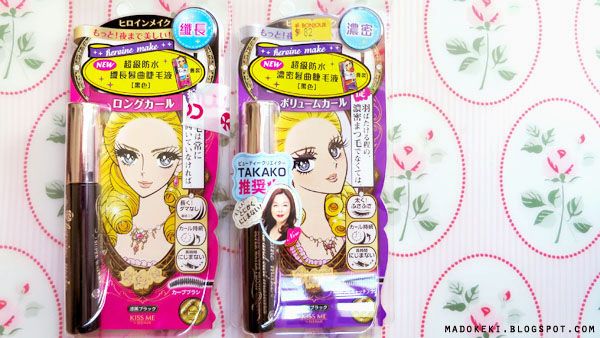 long and curl mascara super WP | volume and curl mascara super WP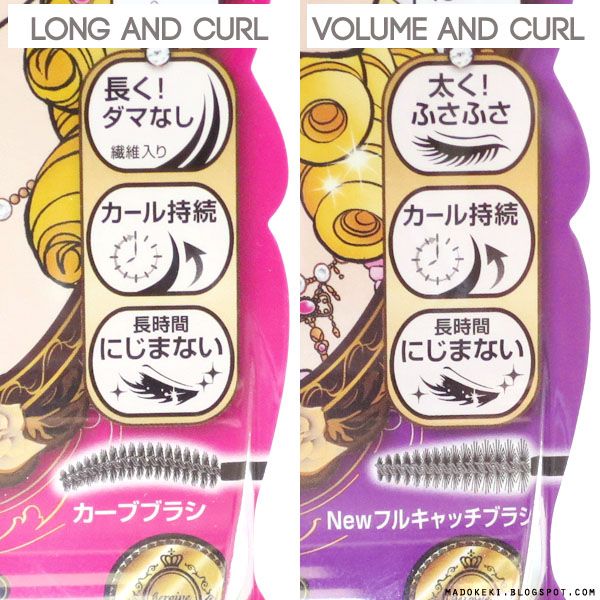 brush design for: long and curl mascara super WP | volume and curl mascara super WP
i haven't opened them yet because i need to clear out some of my stash before i open them up. they have to queue up to be used :'D i bought back ups for a few of my older mascaras so i have to use those first. BUT i will open these soon enough. wait for it.
i already own the third generation, the volume and curl mascara S. hahaha now i'm wondering what the 5th generation will be called.. maybe super duper X.
price: HKD82 // SGD21.90
size: 8g
official website here
HEAVY ROTATION__________________________________________________________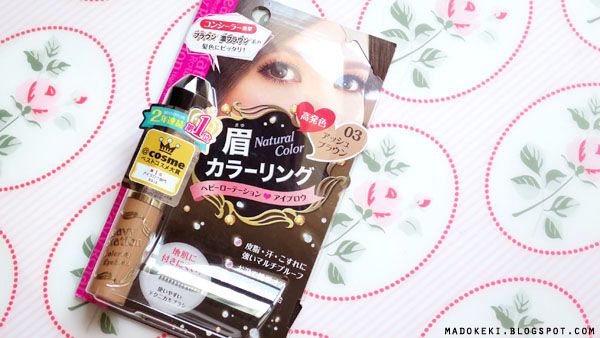 heavy rotation coloring eyebrow 03 ash brown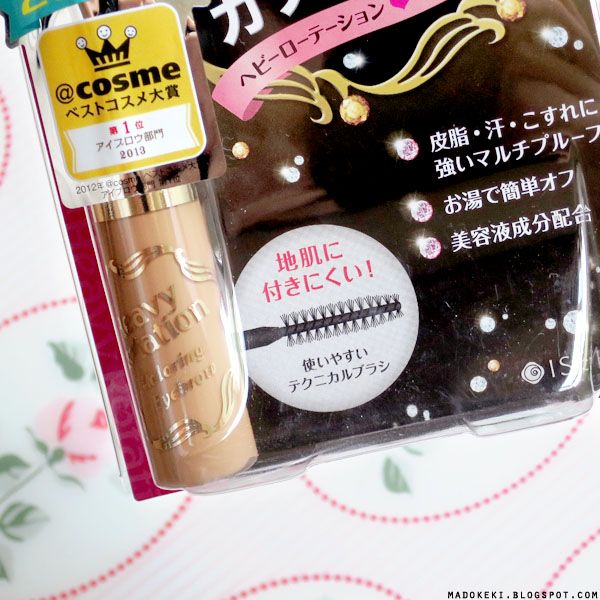 brush design: heavy rotation coloring eyebrow 03 ash brown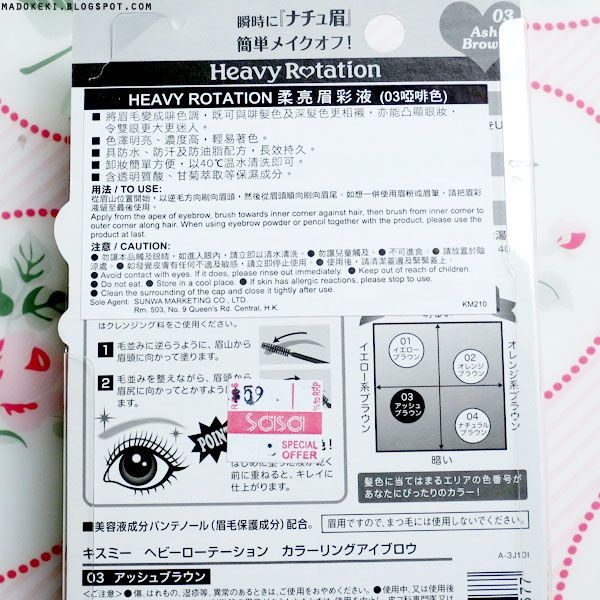 more information: heavy rotation coloring eyebrow 03 ash brown
i used to have a brow mascara from fasio, but it has grown old and it stinks (omg germ alert) so i have been left without one for quite some time, which doesn't actually bother me because i'm no longer into that super light brow look. but deep down i'm still more inclined towards japanese style makeup, i wanted to keep one handy. i was debating between kate's eyebrow mascara and the heavy rotation. this won because.. of that cosme ranking. hahahahahha why not try something new, right? after all i've already owned so many kate products, time to expand my stash.
i haven't opened it yet because i don't want it to have the same fate of my previous tube. i'll use it in my future tutorials, so you'll see it in action soon enough!
i got it in 03 ash brown, which is a more yellow tone and darker shade (if you can refer to the image above, there's a small chart that shows you the difference between all the colours. it goes from yellow to orange from left to right, and bright to dark from up to down)
price: HKD59
size: 8g
official website here
CANMAKE___________________________________________________________________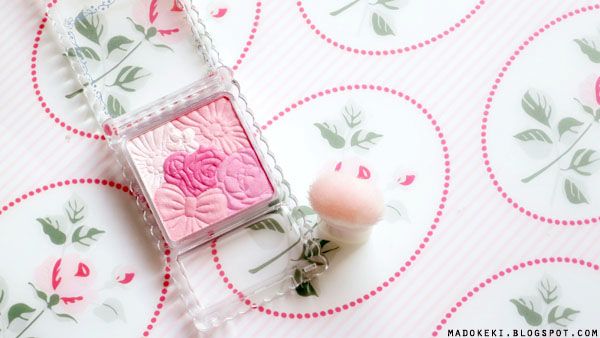 glow fleur cheek 04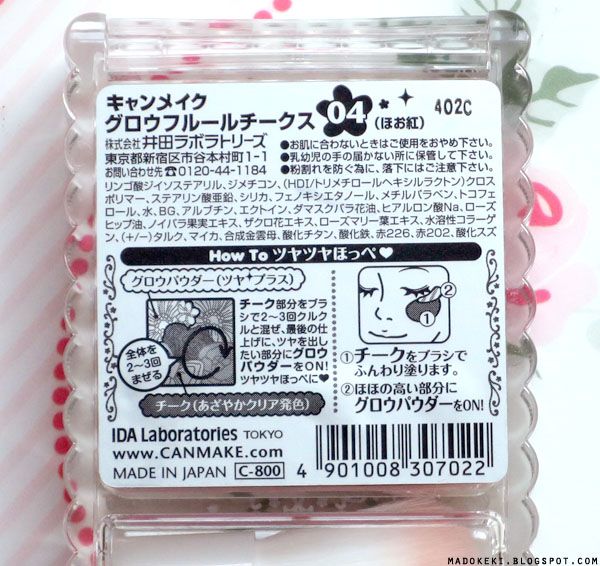 more information:
glow fleur cheek 04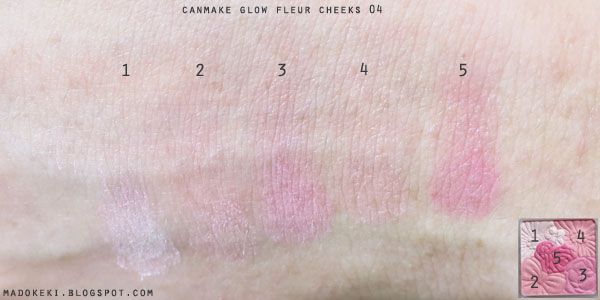 swatched: glow fleur cheek 04
i think canmake's product development manager saw the anna sui blush and drew inspiration from that. they look too eeriely similar - if i de-pot this and laid them both next to each other, i'll probably pass both off as the same product.
i got this in 04, strawberry fleur. what a suitable name, because i do think it reminds me of strawberry milk! shade 5 and 3 are pink and the more pigmented ones, with 5 having the stronger colour. 2 and 4 have a peachy colour, while 1 is a very light pink. all tends to be sheer and pearly, with micro shimmer.
on the back of the packaging, they suggest swirling the brush 2-3 times around shades 2-5 to apply onto the cheek as a blush, and to apply 1 on the protruding parts of the cheeks as a highlight.
price: HKD96
size: 5g
official site here
MAYBELLINE________________________________________________________________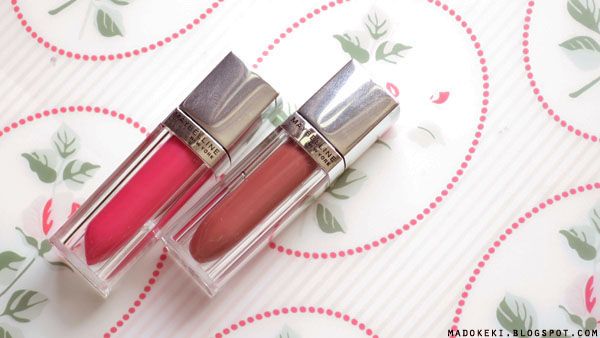 lip polish glam 2 | glam 14


lip polish, lip elixir, they're the same thing with a different name. i got them in two shades, glam 2, and glam 14.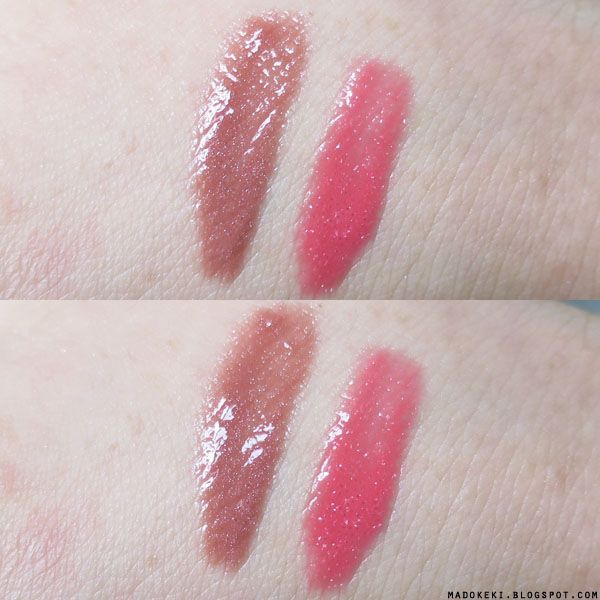 lip polish glam 14 | glam 2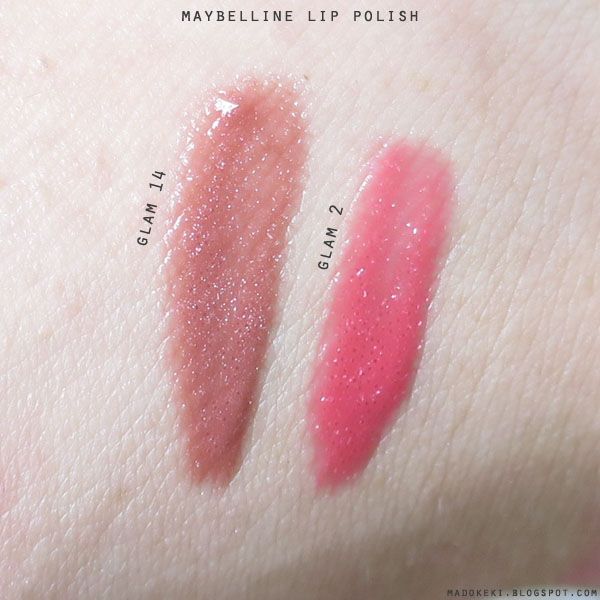 lip polish glam 14 | glam 2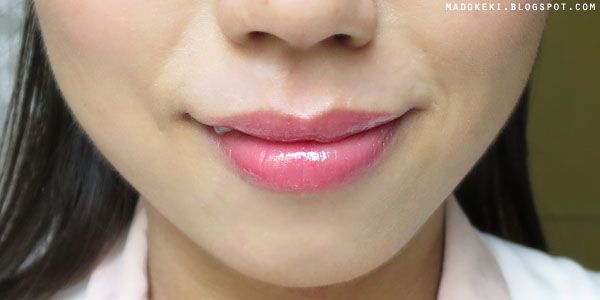 lip polish glam 2 on my lips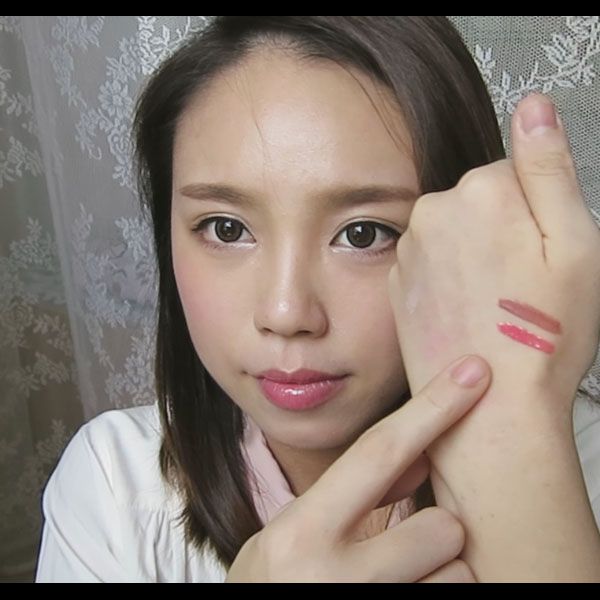 screen shot from my video! a comparison of how glam 2 looks like on my hand and my lips.
glam 2 is a vibrant hot pink while glam 14 is a nude beige colour. maybe some will call it taupe. it's a 3 in one lip product - lip stick, lip balm, lip gloss. whatever, to me it's just a pigmented and slightly more moisturizing lip gloss. it's texture is slightly heavier and creamier than a usual gloss.
see above swatch and watch out for the shimmers. VERY SHIMMERY. those little dark spots on glam 2 are the glitters that were reflecting light away from the camera. at first i thought i have some infestation (they look like insect eggs!!! URGH) going on, scared the crap out of me.
my first impression of this lip product: a tad too heavy for my liking, easily results in uneven application. however, thanks to the thick-ish formula, the product is very moisturizing and hydrating.
price: HKD89
size: 5ml
official site here
CRABTREE AND EVELYN___________________________________________________________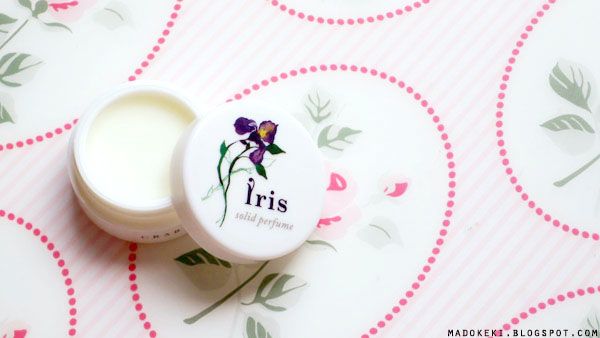 iris solid perfume.
this is not a purchase! my dad gifted it to me :D since it's a solid, it's very travel friendly, and the scent lingers quite well on my skin too. a very soft floral scent, very relaxing.
i can't seem to find this product on its website though!? is this old? hmm, whatever! it smells good :D
price: ??? dad threw it in as a gift :D
size: 2.3g
official site here
BEFORE AND AFTER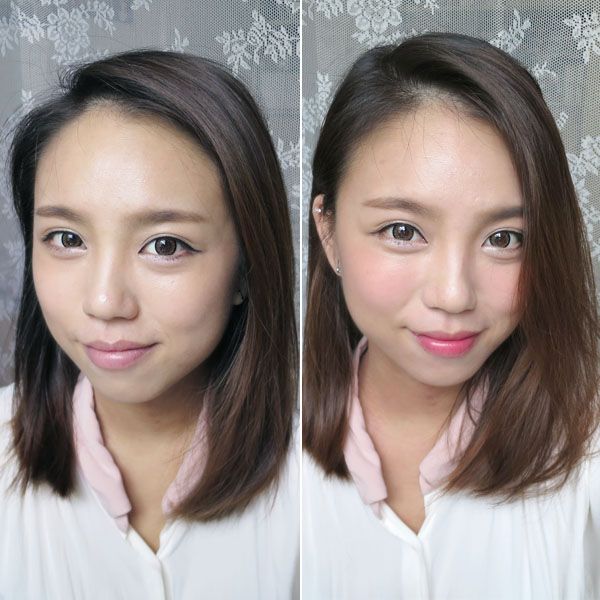 wearing the canmake glow fleur cheek (too heavily) and maybelline lip polish in glam 2 (blotted)
i blotted the shine off, the lippie stains a little as you can see in the photo! a glowy hot pink! also, even though i commented that the blush looks very sheer when i swatched it on my hand, they are actually quite pigmented when i got it on my cheeks. i think 1 swirl will probably be enough.
saw any product that you would like me to try first? let me know!
xoxo
karman