Heroine Make Volume & Curl Mascara S (Swatches and Review)
volumnizing mascaras are a must in my arsenal because they makes my lashes visible to the naked eye. the heroine make mascara is my second volumnizing mascara and i always compare it to the
maybelline cat eyes mascara
since they are supposed to perform the same task. anyway, that'll be another post on its own.
it claims to add 30% volume to your lashes, keep your lashes curled and separated, and its water and sebum proof! i didn't think too hard before picking it up because its price point of $78HKD makes it very affordable to try.
am i sold? YES.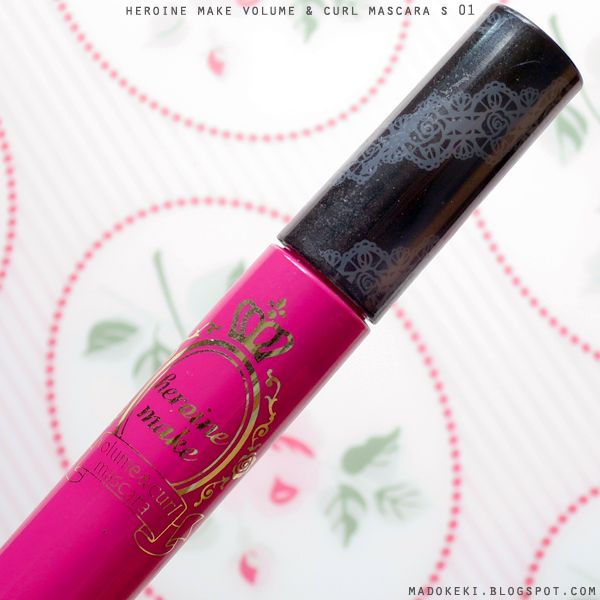 it comes with girly prints on the tube. i love the little details!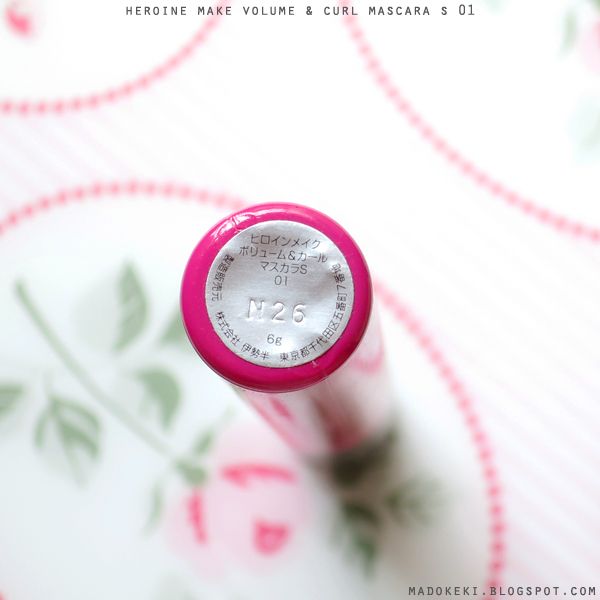 they come in two colours, black and brown. i picked up black (01) of course.
THE BRUSH__________________________________________________________________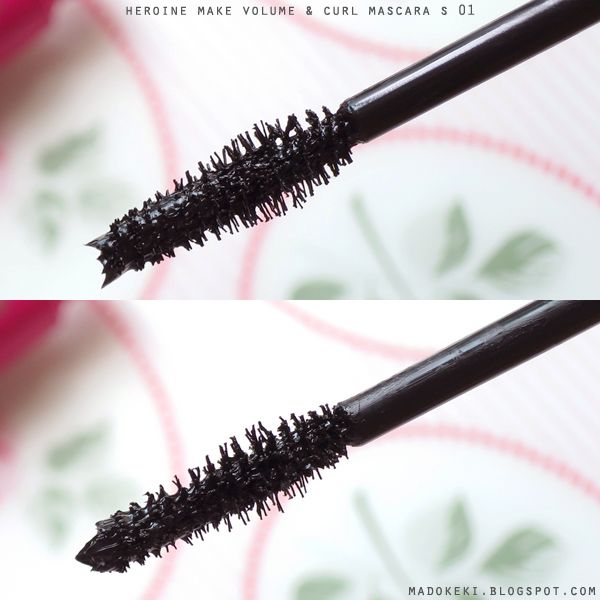 the brush is slightly different from the usual brushes out there. first, it has a tapered tip, and it's perfect for reaching the corners of my eyes where my lashes tend to be shorter, also, it makes it easier for me to apply mascara to my lower lashes too. it actually looks a little like a kite shape.
secondly, the you may have noticed that in the bottom image that the brush isn't uniformly cylindrical in shape. the sides are actually slightly longer than the top and bottom, giving it a flatter cross section. what this means is your lashes can be in touch with more product when you use the flatter side to apply the mascara, as most of the product is lodged in the centre of the brush. i think it's a pretty awesome idea! due to its design, i like to load up the mascara first using the flatter side, and then proceed on to using the longer sides to brush through my lashes to distribute the product evenly.
on it's
official website
, it says that there's a groove on the brush. let's just say i never noticed the groove, turns out, the groove is just the part with shorter bristles.
THE BEFORE AND AFTER______________________________________________________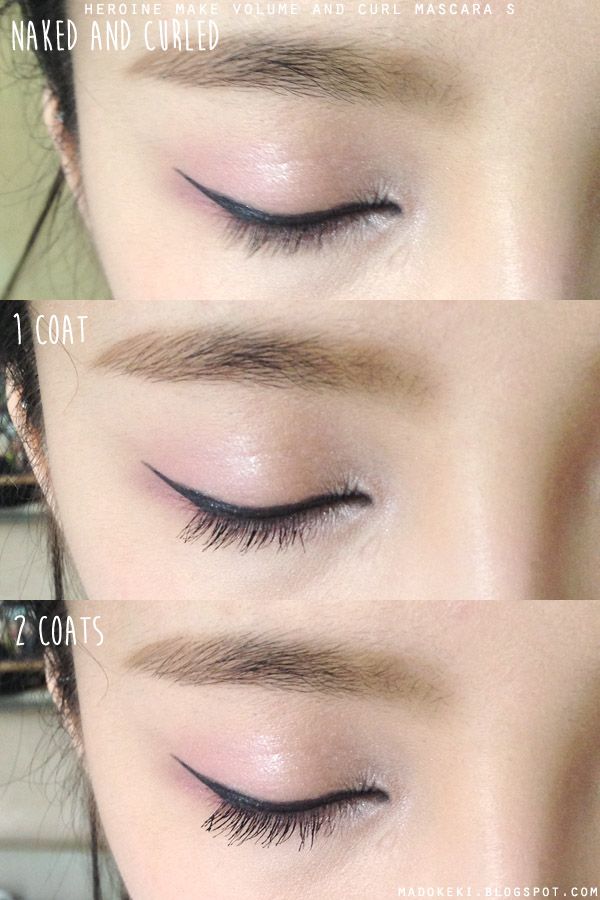 naked lashes vs 1 coat vs 2 coats, lashes curled prior to mascara application.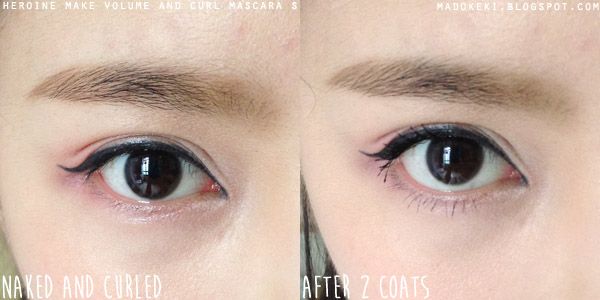 comparison with eyes opened. (urgh, sorry about the eyeliner getting in the way.)
i stole this off my instagram :P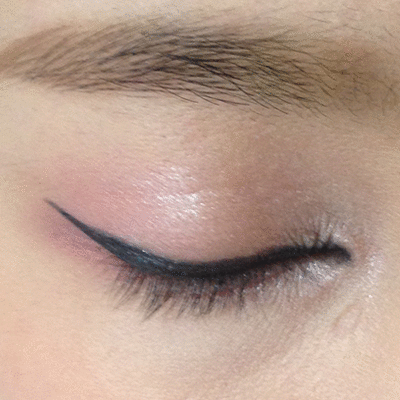 THE CAPABILITIES___________________________________________________________
the
volumizing power is quite apparent
, as my lashes went from barely visible to "staring in your face" (it's more obvious for my lower lashes!).
*yay! i have lashes!*
however, i can't attest to the claim of increasing the volume by 30% though. i enjoy the way it adds bulk to my lashes while still looking natural.
as the brush is rather dense, it is able to do a good job at
separating my lashes
to give it a one-by-one feathery effect (as compared to the clustered effect from the maybelline cat eyes mascara). even though it doesn't contain any fibres, it seems to have
lengthened my lashes a wee bit
!
i always curl my lashes prior to mascara application. this mascara is
able to hold the curl for the entire day
, but it didn't surprise me as it's a waterproof formula after all, so this is part of the waterproof package. since it's
waterproof
, bye bye panda eyes! i'm talking about sweltering heat of 30 degrees celcius in singapore! if this
doesn't melt off in this heat (and my sweat)
, it has definitely passed my test.
speaking of curling my lashes, i tried using this mascara before i curl them with an electric lash curler. i'm happy to report that it
doesn't melt off and end up clumping with each other after the heat treatment!
lashes stay curled the entire day too!
if i wait till the first layer is fully dry before applying the second coat, the lashes feel as though it's stuck in the brush. therefore i make it a point to load up the second coat before it dries out completely, this can prevent clumping.
lastly, it is
relatively easy to remove with an eye makeup remover
, however, i find the maybelline cat eyes mascara the easiest to remove despite both being waterproof formula.
IMHO:
i have actually neglected my other volumnizing mascara for a good while after i got this one because it just seems to volumnize so much better (because it's fresher, hence it deposits more product onto my lahses). what i love the most about this mascara is the separated lashes it helps create! the brush design also makes it really easy to use on my lower lashes and hard to reach corners. curls do last all day, and my lashes actually feels soft instead of rock hard. it's slightly harder to remove as compared to the
maybelline cat eyes mascara
, but it's still considered easy to remove (by letting the cotton pad sit on my eyes for 10s before swiping it off).
all in all, the quality i'm getting is more than what i paid for. LOVING IT!!!
IN A NUTSHELL
this mascara is good for you if you want
1) separated lashes that looks feathery and somewhat fluttery
2) volume
3) curl
4) some help in the length department
5) a reliable mascara that doesn't melt off your eyelashes
i bought this for HKD$78 in hongkong's sasa.