Top 3 Eyeliner Pencil For Deep, Clear Eyes
what is "get it beauty"? and why do their blind test matter to me?
get it beauty is a korean beauty talk show, i first heard of them through their "get it beauty self" beauty videos on youtube :P it's similar to taiwan's 女人我最大 to a certain extent, in which they will invite experts from the relevant fields to share insights with beauty lovers.
one of the things they do is the blind test, and it is what you think it is.
i read that they changed the format slightly this year. instead of pitting random products against each other, they now pit previous year's champion against new challengers.
i like any ranking that's powered by the community, because the chances of picking a bad item is lower if most people find it to be working well! it's kind of a herd mindset i suppose, but it's helpful for foreign products because there're little reviews available online for some of the korean brands. i take these rankings into consideration when choosing new items to try.
let's take a look at the eyeliner ranking!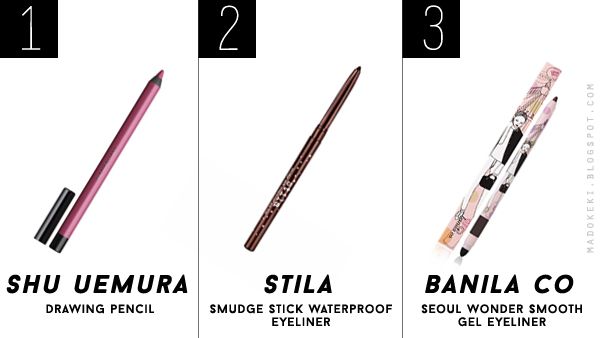 1. SHU UEMURA | DRAWING PENCIL | 1.2g | 27,000 won
long wearing and has a huge range of colour selection.
2. STILA | SMUDGE STICK WATERPROOF EYELINER
| 0.28g | 27,000 won
previous year's #1!
can be used without the worry of touching up as it lasts all day.
3. BANILA CO | SEOUL WONDER SMOOTH GEL EYELINER |
0.5g | 12,000 won
the soft gel eyeliner is easy for make up beginners to pick up. also comes with a built in sharpener to get ultra precise lines.
firstly, korean domestic brands are much more affordable. secondly, stila is hella expensive! for the same price you can get shu uemura which gives you almost 4 times the amount of product. i've never tried any of them, paying ~27USD for an eyeliner is blowing my mind.
have you tried any of the above? are they really as good as their ranking?