Maybelline Lashionista Mascara (Swatches and Review)
another lengthening mascara! this time it's a film type lengthening mascara from maybelline. i heard how it's able to create endless length (without clumping) so i got it when i saw it on sale just to try it out. this mascara contains fibres, but what's so special about it is the lightweight formula.
i believe this mascara is only available in asian countries, as the american maybelline website didn't have any information on this. i found it on the
japanese website
though.
i can't really read too much japanese, but it claims to create "long upward" lashes, thanks to the formula!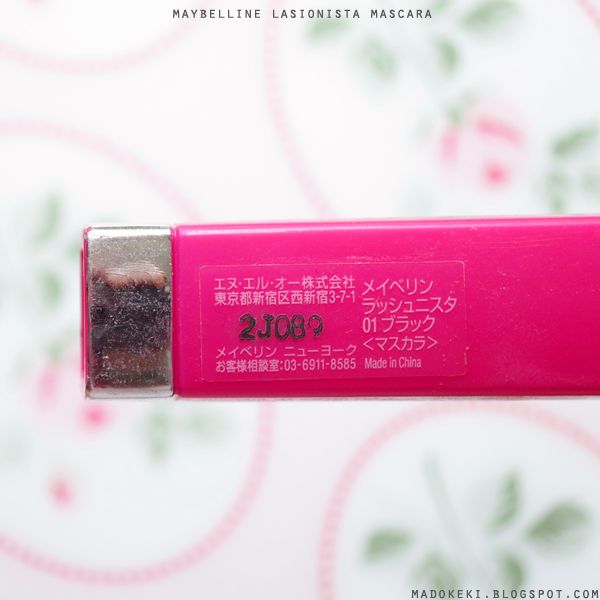 i picked up the mascara in black.
THE BRUSH__________________________________________________________________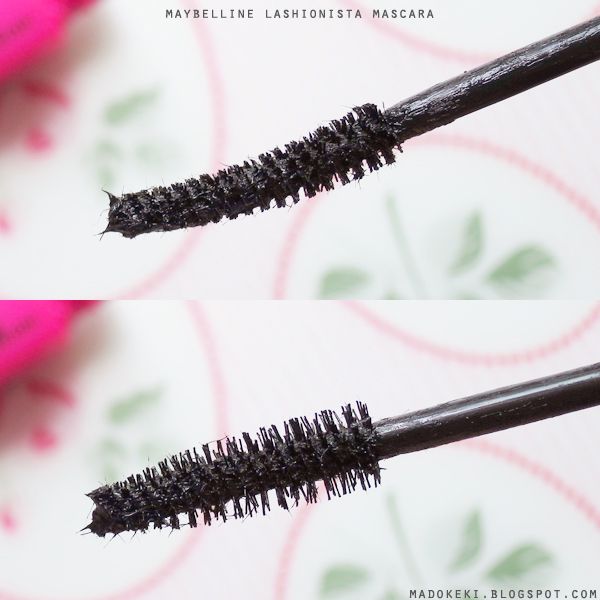 the brush has a spoon shape (but they didn't call it the spoon brush on the website). apparently the brush design is made to fit the japanese (they called it a "just fit brush") population! i don't know about that.
the tip of the brush has shorter bristles, so it's easiest to get more product from the tip of the brush than from the other end, where the bristles are longer.
according to the instructions, you're supposed to use the concave part against your lashes.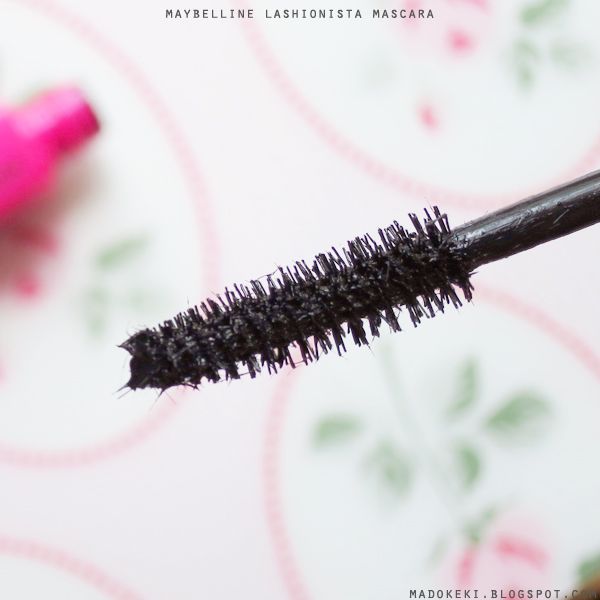 visible fibres on the brush. maybelline claims that they're 4mm. a micrometer, anyone?
THE BEFORE AND AFTER______________________________________________________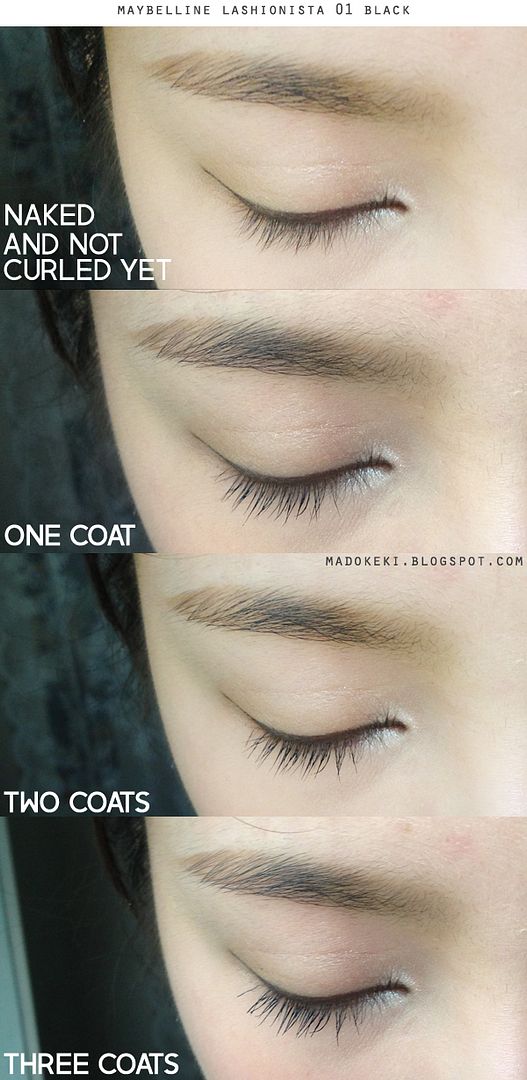 naked lashes vs 1 coat vs 2 coats vs 3 coats, lashes curled prior to mascara application.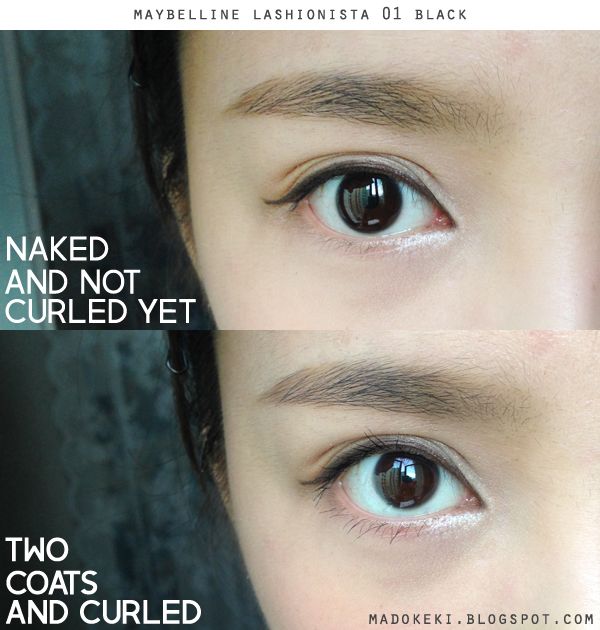 comparison with eyes opened.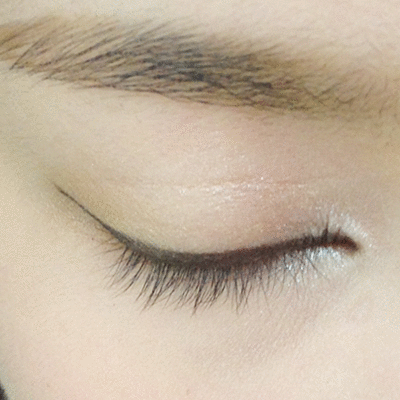 see my lashes grow!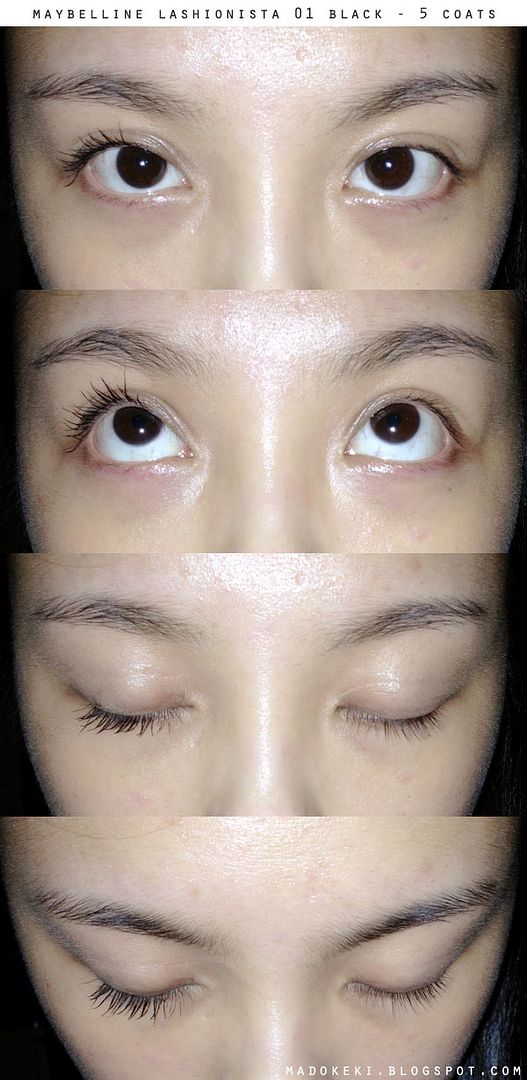 five freaking coats of mascara later - lashes still looks natural (NOT spidery or clumpy), but much more visible and longer. note: lash was not curled prior to application.
THE CAPABILITIES___________________________________________________________
the
lengthening power is pretty amazing
, because it really does live up to the claims of "endless length". i don't usually go over 2 coats because beyond that as there's a clumping alert (even if i were to layer it on before the previous coats dries out compeltely). but
this mascara never clumps
, i can keep going on if i want to. from the gif you can see that it lengthens the most in the first coat. the subsequent ones starts to add a little more volume to the lashes than length.
my lashes are still soft even after 5 coats.
as the brush
does a good job at separating the lashes
and coating them fully. my lashes actually look like they're
one-by-one
even after the 3 coats.
even though i forgot to curl my lashes before taking the "before" photo, i curled it right before i applied my mascara. my experience with it is this -
the mascara will straighten any curls that i achieve with the lash curler
. BUT, if i push my lashes upwards with my finger, they actually stay in place and becomes curled! of course, it doesn't stay that way too long, but i'm quite amused by the fact that it does that. i think it's partly because half of my new found lashes are actually fibres, and since they are so lightweight, they are
able to hold a curl just by me pushing them.
if you look at the photo of me wearing 5 coats of mascara, you can see that curl in effect as i didn't curl my lashes before that. by brushing the mascara in an upward motion, it deposits fibres and build it upwards too. i think that's what helped it create this 'curl', and i assure you, whatever curled part you see are actually fibres.
as this is a
film type mascara, it washes off in the shower with warm water
. it does come off when i use an eye makeup remover, but that will take some rubbing, whereas in the shower, it's almost effortless.
the first film type mascara i used was deja vu's fiberwig and that little thing melted off my eyes.
lashionista DID NOT MELT
!!! WOOHOO!
IMHO:
what i love most about this mascara is that it doesn't clump even after many layers, which is essentially the key to getting really long lashes with any fibre type mascara. i feel that the draw back for most lengthening formula is the threat of clumping from the repeated layers of mascara being applied, since the fibres are built by layering them upon each other. this mascara solved that problem for me. i can go 5 layers with this mascara and my lashes still look natural (instead of spidery).
the only thing i didn't quite like is that it straightens my curled lashes. yes, i can push it with my fingers to point it upwards, but i like strong curls. however, i don't mean that it creates a kink. there is a curl, just a very smooth one that looks extremely natural. i just prefer stronger curls especially when i have eye makeup on.
in fact, the first few times i wore this, i really feel like they look so natural to the point that they look like my own lashes. this departs a little from majolica majorca's lash expander frame plus, because that mascara don't give me this kind of smooth curl. i like that i'm able to control the impact of this mascara by controlling how many layers i wear. usually i wear 2 coats for no makeup days just to lengthen it a bit, and when i want to go gungho, i go for 3 coats, very seldom 4. but now i'm wearing 5 coats (because i'm curious just how many layers it can go before it starts to clump) and it still looks great as hell.
i can see why this mascara rose to be the best selling mascara (in japan). the natural length it creates is really like no other. but it does take a bit of patience if you want really long lashes, just keep in mind that there's really no limit when you're using this mascara :)
IN A NUTSHELL
this mascara is good for you if you want
1) natural looking lashes that are long and light weight
2) a mascara that doesn't melt in the heat
3) natural curl
4) your mascara to come off in the shower
i would really recommend this mascara to people who already have full (or semi full) lashes to begin with. if you have very sparse lashes, it'd be better to use a set of natural falsies and build this mascara on top of it if you desire more length.
i bought this for SGD$15 when it was on sale in watsons.