Etude House Look At My Eyes & Look At My Eyes Cafe
i got my gf to pick up some eyeshadows from etude house when she was travelling to korea a while ago (this is part of my
haul
). i picked out 6 shades from their
website
excruciatingly as i was struck with the dilemma of choice. with so many shades of pick from, and being spoilt by the ready-to-use japanese eyeshadow palettes, it was hard for me to pick out shades that i think will go along well with each other.
i think i did quite a good job picking out the shades by sticking close to their undertones :D I THINK.
etude house eyeshadows may be a little confusing for those of you who are new to it. there are three product lines in the "look at my eyes" series.
look at my eyes cafe
- matte eyeshadows
look at my eyes
- metallic/shimmery eyeshadows
look at my eyes jewel
- frosty eyeshadows
i got 3 matte shades (look at my eyes cafe), as well as 3 metallic/shimmery shades (look at my eyes)

look at my eyes cafe, from left to right:
BE102 honey milk | BR401 cafe latte | PK004

look at my eyes, from left to right:
BR401 | BR402 | OR205 fever orange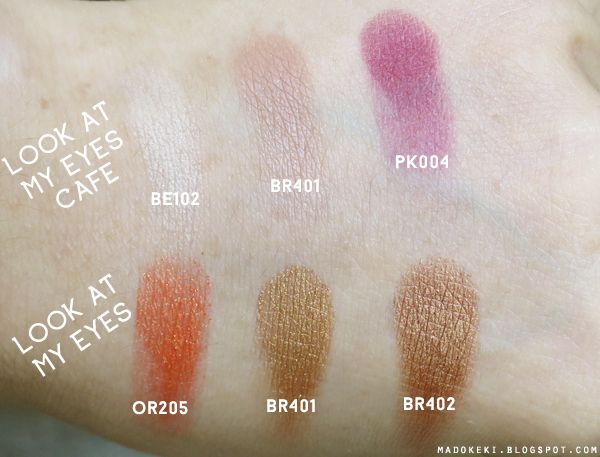 swatched over bare skin.
LOOK AT MY EYES CAFE///////
BE102:
an off white (slightly yellowish) shade with matte finish.
BR401:
a light brown with some pink to it. matte finish.
PK004:
a wine colour with matte finish.
all the matte shades are finely milled and goes on easily (using a brush). with finger, the PK004 appears blotchy.
LOOK AT MY EYES///////
OR205:
orange with golden micro shimmer. applying with finger (or wet brush) helps retain most shimmer, whereas a dry brush will get rid of most shimmer, leaving behind a wash of orange. the result is a slightly reflective shimmery finish.
BR401:
yellowish golden packed with fine golden shimmer. metallic finish.
BR402:
reddish toned brown packed with very find shimmer of the same shade. metallic finish.
both BR401 and BR402 are the softest and applies the smoothest out of all the shades. OR205 is slightly harder in texture and doesn't get picked up as easily as the other two. the metallic finish is most obvious if applied with fingers for all three shadows.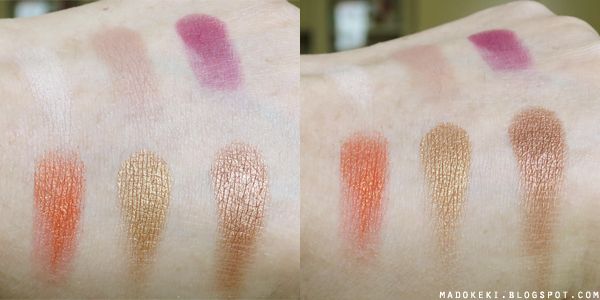 swatched over bare skin, as seen in different angles
you can definitely see the obvious metallic sheen to the two brown shades. they are the most reflective of all, followed by OR205 which have a more shimmery look. the matte shades are obviously matte :P
IMHO:
i haven't mentioned the price yet, they retail for 3500won (each) in korea!!! BEST BUY EVER!?!?
they offer a REALLY HUGE selection of colours. of course, if you're hoping to look for some really exotic shades like peacock turquoise.. you'll have to look at the higher end makeup brands.
the texture of the shades are all wonder to work with, with the exception of the look at my eyes BR401 and BR402 being extraordinarily soft and buttery. all the rest are not bad in my opinion.
but using the orange shade may be a little tricky though, depending on the finish you want. for a light wash of colour, a dry brush is best. but if you want the shimmer, stick to your finger or a slightly damp brush.
MAKEUP LOOK
look at my eyes cafe BE102 over entire lid, BR401 on outer half of lid.
inner half of lower lid is dusted with the shimmery champagne shade from the
lavshuca melting eyes palette
.
catrice made to stay highlighting pen
over entire lid, look at my eyes OR205 on outer corner and outer half of lower lash line.
can't wait to make more looks with the eyeshadows!