Bifesta BRIGHT UP Cleansing Lotion (Review)
you may be puzzled by the name "cleansing lotion", because this is clearly a watery liquid. once again, japanese toners are called lotion. this is a makeup remover + skin care lotion. they claim that it's ok even if you don't rinse your face with water after that because it won't leave your skin feeling stripped. this is a water based makeup remover, and it reminds me a lot of the bioderma sensibio/crealine micellar solution.
they have 4 different types of cleansing lotion, each targeting a different concern. i chose BRIGHT UP because.. i'm into whitening and brightening. nuff' said.
contains AHA (i guess it's lactic acid) for gentle exfoliation and melanin inhibiting ingredients, but i can't find the ingredient list for this.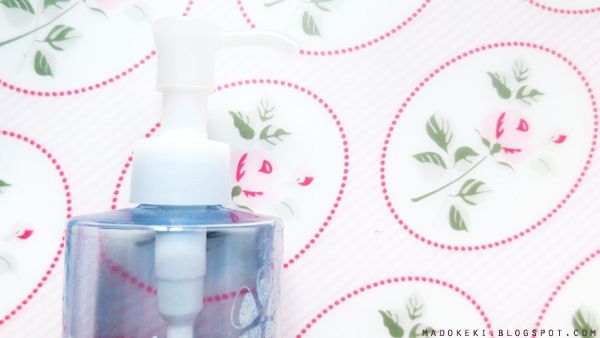 comes in a convenient pump bottle.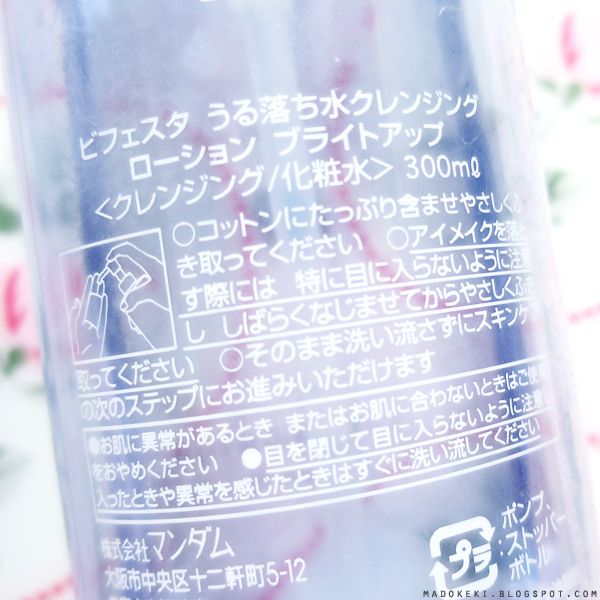 it is suggested to pump it onto cotton pad.
if you don't already know about bioderma
micelle
solution, it's a "water" that can remove even waterproof makeup. sounds amazing, isn't it? this is just like that, except it is as a fraction of the cost.
i've personally tried the bioderma solution, i would rate the both of them the same because they remove my facial makeup just fine, i don't remember any significant difference that would justify the huge difference in price. in that aspect, the bifesta cleansing lotion has won a place in my heart. it lifts off my facial makeup in a single swipe across my face!
as for waterproof makeup, let's not push it, ok? i think there's a reason why there's a separate eye makeup remover that's being sold. for someone who doesn't use any waterproof mascara, i think this makeup remover alone will be sufficient for you. i'll leave my eye area to the eye makeup remover as i use waterproof mascara, and there's no point in me using this to try to remove it simply because 1. i need to tug more than i have to, 2. i need more time to remove it than if i were to use a dedicated eye makeup remover.
even though they say it's fine if i don't rinse my face with water, i still do that because it does leave behind a strange tightening feeling when i skip on the rinsing. you know the feeling of turning into a raisin? hahaha i don't know how that feels like, but that's the only thing that came into my mind. rinsing decreases that feeling, but doesn't get rid of it entirely. the micelle water does take away some of my oils too.
IMHO
i really like this makeup remover, as i'm the type who prefers to use cotton pads to wipe off my makeup. it's easy to use and pretty fuss free, hey, at least it doesn't drip all over! i can just throw off that cotton pad after i'm done - no need for further massaging with water to emulsify the oils before washing it off.
i think this makeup remover does a pretty decent job at removing my makeup, doesn't leave my skin overly dry (as compared to other makeup removers i've tried in the past), and doesn't leave behind an oily feeling (since this is a water based product! YAY!).
BUT, if the makeup remover happens to enter your eyes.. it does sting a bit. makes my eye water. it is very important to
remove your contact lens before using this
. i had a really scary experience with it once - my contact lens stuck to my cornea for a while before loosening up again. i can't tell you how scared i was T.T
i use this to remove my facial makeup. i'm a cleansing freak, i use this after my eye makeup remover to remove any left over products around my eye area (of course, on my face as well).
IN A NUTSHELL
1. removes non waterproof makeup easily.
2. good for cleansing the entire face.
3. not that efficient in removing waterproof eye makeup.
4. stings the eye if it enters.
5. MUST REMOVE CONTACT LENS FIRST.
i bought this for HKD45.5 in HK watsons while it was having 30% off. SUPER GOOD BUY, i already bought a backup.