My Basic Skin Care Routine
Another request to share my skin care routine! i did a pretty thorough one here, but this is really just part of it because i do have a slightly different routine for my different needs (basic hydrating, deep cleaning, oily skin, dry skin).
before you read on, it may be useful for you to know more about my skin type. i have normal skin. i don't really like the term "normal/combination" because i feel like it's a marketer's term coined to make people buy more products than they really need. the truth is, every person with a set of normal functioning skin will have more oils on the T zone and the inner cheek area because they are just more active there!
and i truly believe a person with very oily T zone paired with very dry cheeks is probably dehydrated.
i never had acne as i used to have drier skin when i was younger. my skin is also sensitive as i have atopic eczema when i was younger.
watch my routine here!
CLEANSING TRIO________________________________________________________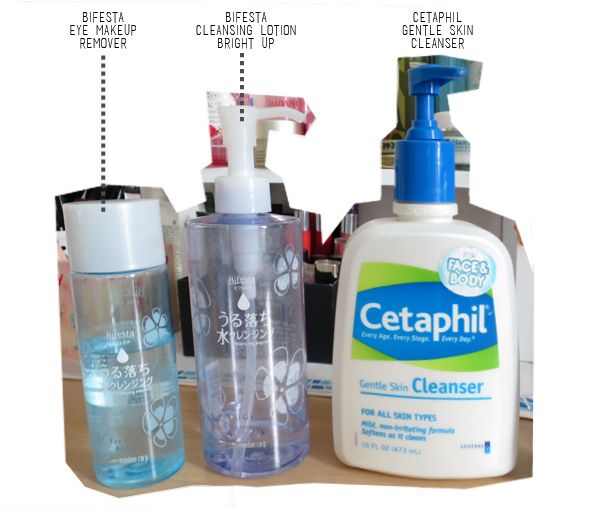 part of my cleansers.
i want to talk about cleansing before i introduce the other products i use because cleansing is the most important step for me. especially so since i wear make up. if i don't clean properly, all that gunk is gonna be trapped in my pores!
i stick to the double cleansing method - using a makeup remover to remove my makeup, and then following up with a cleanser to clean away any remnant products gently. it's much better than trying to remove everything in one step with a harsh makeup remover or cleanser.
1. bifesta eye makeup remover
it's a must to use a dedicated eye makeup remover to get rid of waterproof makeup (especially the mascara). with the help of a cotton pad, leave it on your eyes for about 10 seconds before swiping it off. this helps to soften and dissolve the mascara, allowing you to get it off without tugging and rubbing hard.
i think a two phase eye makeup remover works the best because it can remove the waterproof and non-waterproof material at the same time, and it doesn't feel too oily.
2. bifesta cleansing lotion (bright up)
for my face, i prefer using the micellar lotion with a cotton pad as it helps to exfoliate my skin gently. this formula also contains some lactic acid (for exfoliation of old skin cells, hence the name 'bright up' as removing dull skin cells gives you a brighter look). as it makes use of micelles to remove dirt, it can remove both waterproof and non-waterproof makeup, albeit not as efficient in removing mascara as the eye makeup remover.
i make sure to rinse my face with water to remove any surfactants from my skin.
3. cetaphil gentle skin cleanser
the last step in my cleansing ritual is the gentle skin cleanser. it's a soap free formula so it's really very gentle. i love the feeling it leaves me with after i rinse it off - soft and moist. the emulsion doesn't remove too much oils from my face, keeping the water and oil in balance.
SKINCARE PRODUCTS______________________________________________________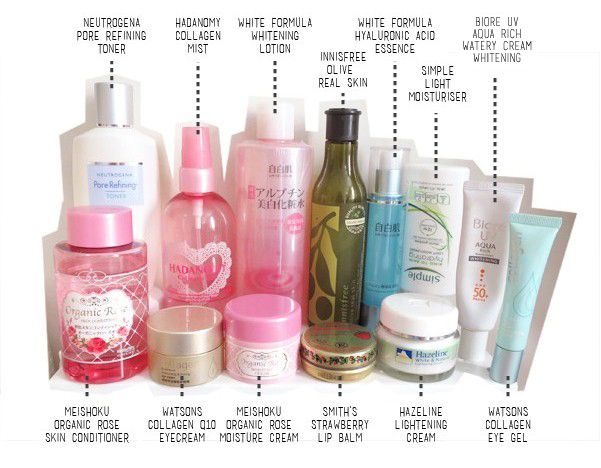 this is my complete arsenal of products, but i don't use them all at the same time. it looks pretty cool like that.
MORNING ROUTINE:
1. wash face with water
since i already cleansed my face prim and proper the night before, i don't see a need to over clean my skin in the morning. my facial oils are my natural moisturizer, so i prefer to keep them on my face. then again, my face isn't THAT oily.
2. hadanomy collagen mist
i use this as a "pick me up" after i wash my face with water. it's cooling and wakes me up too! i stop here if i am gonna stay home for the day.
3. watsons collagen eye gel
as the skin around the eyes are the thinnest, they are prone to dehydration and wrinkles!!! a gel formula makes it suitable for day time as it's not oily.
4. simple kind to skin hydrating light moisturiser
if i have to wear makeup, i'll layer on this light moisturizer as it makes my face really smooth and well prepared for my makeup. it doesn't feel heavy at all.
5. biore UV aqua rich watery cream whitening
MUST. WEAR. SUN. BLOCK. i only wear SPF50 if i am going to be out for the entire day. it's not use for the sake of preventing myself from getting tanned, aging prematurely, or skin cancer. the fact that i use whitening products makes it a MUST to use a sun block or the UV damage i receive is higher than a normal person not using any whitening products. this is because whitening products disable melanin, our natural protection against UV rays. if you're using whitening products without sunscreen, good luck to you.
NIGHT TIME ROUTINE:
after washing my face with my cleansing trio, i'll start layering products on my face.
1. neutrogena pore refining toner
this stuff is my first try at deeper cleaning. it contains AHA (glycolic acid) for exfoliation, and BHA (salicylic acid) to dissolve and remove oils in the pores. i like to use it with a cotton pad to aid exfoliation.
2. meishoku organic rose skin conditioner
i use this as an astringent as it contains witch hazel extract, and the rose scent is too lovely. they suggest using a cotton pad, but i prefer to use my hands as i've already rubbed my skin with it in the previous step.
3. white formula intense brightening laser toner with arbutin
third toner is a whitening and hydrating toner. it contains arbutin, vitamin C, and mandelic acid for brightening, and hyaluronic acid for hydration. this stuff is slippery, i like using my hands to pat it into my face until it's fully absorbed.
4. watsons collagen q10 moisturising and firming eye cream
since i can afford to have an oilier (and more nourished) skin, i like to save my creamy formula for the night time. whipping out my anti aging eye cream to gentle massage and relax my eyes.
5. simple kind to skin hydrating light moisturiser
using my light moisturiser to seal everything in again. the effects isn't as good as using a sheet mask, but it's the next best alternative as it forces the products to go in one direction - into my skin. that's an effective mass transfer :P
6. smith's strawberry lip balm
last but not least, gotta give my lips some love too with this strawberry scented lip balm. yummylicious and ready to sleep!
that's all for my basic skin care routine! if you like this series, let me know and i'll make a few more!
are there any skin questions that you have been wondering but can't answer? maybe i can help! leave a comment and i'll try to help you!
xoxo
karman