White Formula Intense Brightening Laser Toner with Arbutin First Impression
anything with "whitening" will catch my attention because i'm constantly trying to brighten my skin tone. this is something new in the market, in fact, at the time of purchase it was still unavailable in singapore. i had to ask my gf to get it for me from hong kong.
white formula is a brand from taiwan, and their lotion/toner has gotten really good reviews on the urcosme.net ranking, hence i wanted to give it a try. at a price point of HKD$88 for 290ml, i have nothing to lose. if this doesn't work as a whitening toner, it'll still be good enough for just hydrating.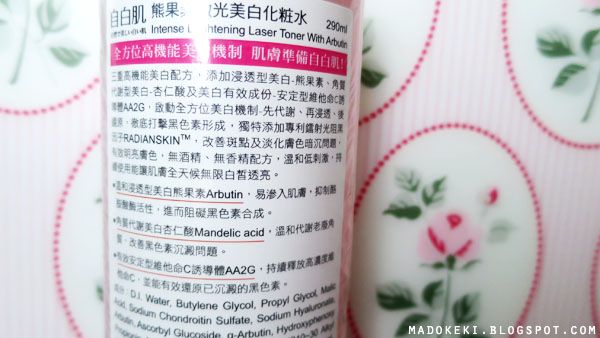 on the back the product description.
let me do some translation!
"a highly efficient triple action whitening formula, it contains arbutin for penetrative whitening, mandelic acid for exfoliation type brightening, and stabilized vitamin c inductor AA2G, an effective whitening ingredient, activating an all round whitening mechanism - exfoliation first before penetration into the skin to reverse the darkening process, getting rid of melanin formation completely. There is an addition of patented compound RADIANSKINTM to correct spots and to brighten the skintone. Does not contain alcohol, fragrances, it is gentle to the skin. Consistent usage will result in bright and clear skin all year round.
- gentle penetrative whitening ingredient arbutin, it is absorbed into the skin easily to inhibity tyrosinase to prevent melanin production.
- exfoliative whitening ingredient mandelic acid genltly removes surface epidermis to improve melanin accumulation problem.
- effective and stabilized vitamine c inductor AA2G will release high concentration vitamin c continually to reverse melanin that has already formed."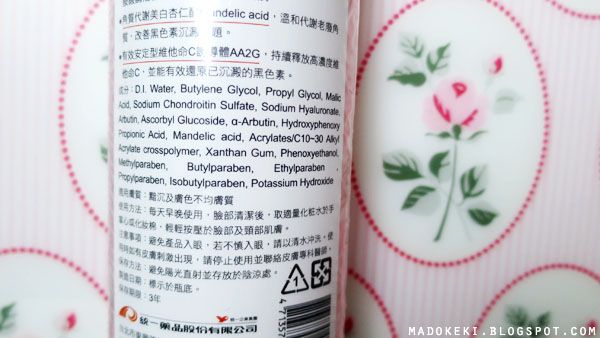 i took a look at its ingredients, the top ingredients are
water, butylene glycol, and propyl glycol
, all are
humectants that will help retain moisture on the skin
. butylene glycol is probably what makes the formula so slippery.
malic acid
is quite high up in the ingredient list, an alpha hydroxy acid, it
helps in removing dead skin cells
, serving a similar function as
mandelic acid
. and then there is the usual sodium hyaluronate the water magnet. i believe sodium chondroitin sulfate is also there to attract water to the skin.
the
skin whitening agents
are
arbutin, ascorbyl glucoside (AA2G), and alpha-arbutin
.
comes with a slew of preservatives (all 4 parabens plus phenoxyethanol).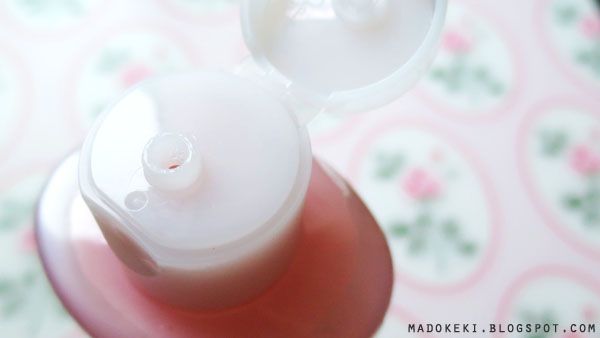 the bottle has a small open that dispenses enough product by flipping the bottle over quickly over your palm.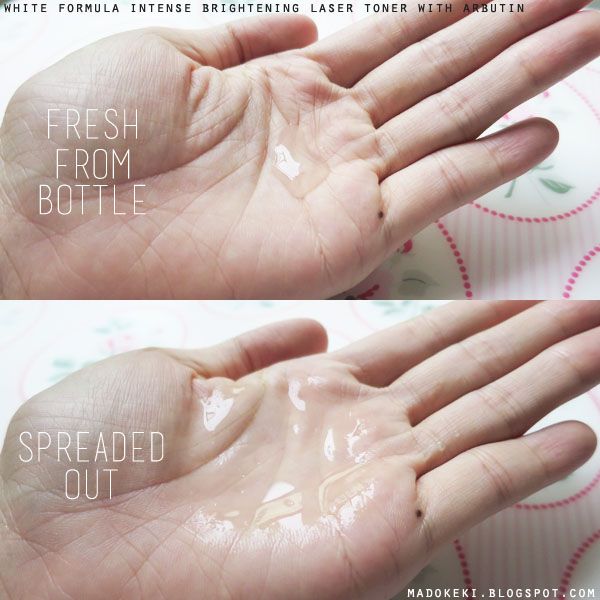 it may look watery on my palm, but it's actually slightly, just a tiny bit viscous. the lotion is extremely slippery, making it feel like it's very moisturizing.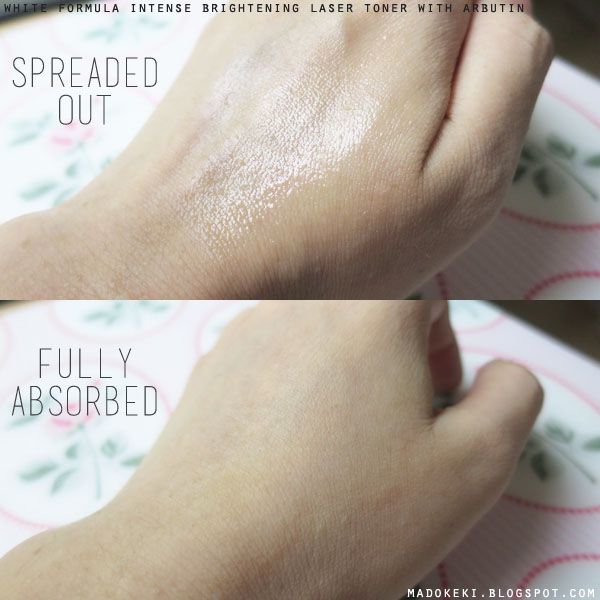 even though it's very slippery, it is easily absorbed into the skin with a few pats. there is a slight stickiness to it, when i apply it on my face and pat it with my palms, it will resist me from pulling it away from my face.
IN A NUTSHELL
texture: slightly viscous, very slippery, spreads easily and absorbed quickly.
after-feel: a slight adhesive feeling, skin feels soft and hydrated.
fragrance: no fragrance.
IMHO
so far i've only used it for less than a week, and i really like how it feels on my skin. my previous lotion is the
hadanomy collagen lotion
, which is quite meh when it comes to hydrating. but the white formula lotion, even though it's touted as a whitening lotion, it is HIGHLY HYDRATING. it's too early to tell the whitening effects at this point in time, and i can only report the immediate effects that i feel, and it's moisturizing capabilities surprised me. my face feels so soft and supple after using it! i will top this up with a cream (either simple moisturizer or hadanomy gel cream).
i also like that it's not entirely watery, it's slight viscosity means it doesn't drip all over my palm when i spread it open. also, when i pat it onto my face, i feel that the texture helps it spread over my skin more evenly, whereas if it was watery like water, it tends to congregate into droplets.
full review will be up in at least 2 months time for me to observe any differences.