Shiseido Senka Whitening Lotion (Fresh) EMPTIED!
now that i've emptied this bottle of toner, it's time for another entry on it to give you my full thoughts on this. if you haven't seen my partial review on it before, you can
read it here
, i wrote that after i've used it for 6 months.
4 months later, i finally used up the last drop of it.
i didn't take a photo of the ingredients because it's all in japanese.
but i found it from
ratzilla
:
active ingredients: l-ascorbic acid 2-glucoside and disodium glycyrrhizate
other ingredients: sodium acetyl hyaluronate, sodium hyaluronate, royal jelly extract, water, dipropylene glycol, alcohol, butylene glycol, glycerin, methyl gluceth-10, PEG-20, PEG/PPG-14/7 dimethyl ether, potassium hydroxide, PEG-60 hydrogenated castor oil, sodium citrate, triethyhexanoin, polyglyceryl-2 diisostearate, disodium EDTA, benzophenon-5, citric acid, citrus aurantium dulcis (orange) oil, lavender oil, methylparaben.
even though the formula contains alcohol, it doesn't actually dry out my skin. it is acting as a "key" to open up the skin so that the ingredients can enter the skin. moreover, the myriad of hydrating agents (sodium acetyl hyaluronate, sodium hyaluronate, dipropylene glycol and butylene glycol) already countered the drying effect of ethanol.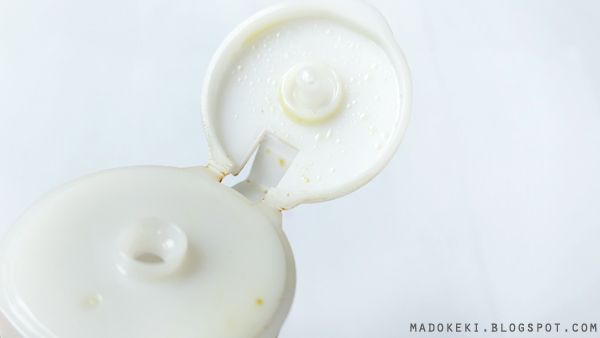 i took this photo not just to show you the opening of the bottle, which is a small hole which would dispense enough product for your face when you flip the bottle over momentarily. i wanted to show you the yellow marks on the bottle cap.
i have no idea what is it, but i can tell you that the solution in the bottle is actually colourless. my guess is that it has oxidized over time upon contact with air. somehow it reminds me of my vitamin c powder, which turns yellow over time too. this made me think that the vitamin c in the bottle is actually pretty stable, considering they didn't turn yellow unless they are exposed to the outside world!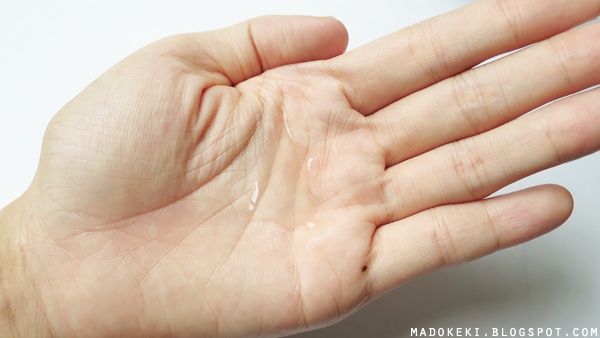 this was one of the last few precious droplets of lotion i have before i ran out of it. it is watery and does have a slight alcohol scent to it. other than that, there's a slight sweet smelling scent to it, it's very mild and you won't be able to smell it unless you unscrew the bottle cap and shove your nose into the bottle.
IMHO
this bottle of lotion lasted me for a good 10 months. sometime after the 6th month, i cut down to using it just once a day. i assume if i use it twice daily, it'd have only lasted me a total of 8 months.
because it's so watery, getting evenly on my face was a little challenge, as it may drip if i have too much lotion on my palm.
i've already mentioned my experience with it in the previous entry. and now.. drum roll please..
VERDICT
the whitening and brightening effect didn't amaze me. at first i did notice a slight brightening, but after my skin tanned a little, it failed to return me my original skin colour. :( maybe it's due to me using it only once daily (at night), but the hydrating effects were ok! and i do like the slightly cooling sensation upon applying this and patting it all over my face.
for HKD$89, it's a good hydrating toner to get, but don't expect it to work wonders.