Catrice Made To Stay Highlighter Pen 010 Eye Like!
this is my first try at catrice's cosmetics. this highligher pen caught my attention as i have been looking for a pink coloured pearly highlighter pen for a long time!!!
it comes in 3 shades, 010 is slightly pink, with 020 is more of a golden pearly shade, and 030 a silver pearly shade. the plastic pen casing matches the colour of the product within which makes it an easy way to identify the different colours easily at one if you tend to have a huge collection of highlighter pen/pencil liners.
i would prefer them to print the product code on the casing itself instead of the barcode sticker on the cap though.
the highlighter pen is a twist out pen, making it a breeze to use this pen instead of shaving it with a pencil sharpener! (this is definitely a plus point for me, because this is the reason why i didn't get the nyx jumbo pencil instead)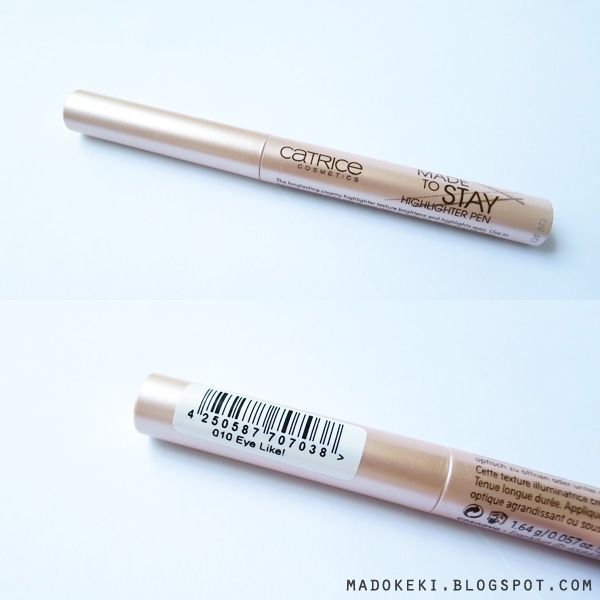 the product contains 1.64g/0.057oz of products.
the product is chubby and round, very soft depending on the ambient temperature.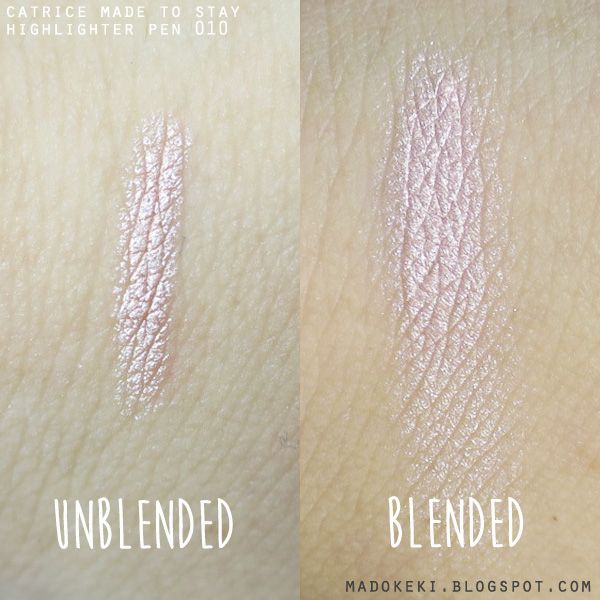 the product applies extremely smoothly, it glides over my skin and deposits just enough product.
no tugging involved! maybe it has got something to do with the warm temperature in singapore, making this product slightly softer than i would like it to be.
010 is a pink metallic shade.
when blended out, it gives a diffused highlighted look, still retaining much of its metallic appearance, which makes it perfect for highlighting the inner corners of my eyes, the lower eyelid, and even my water line!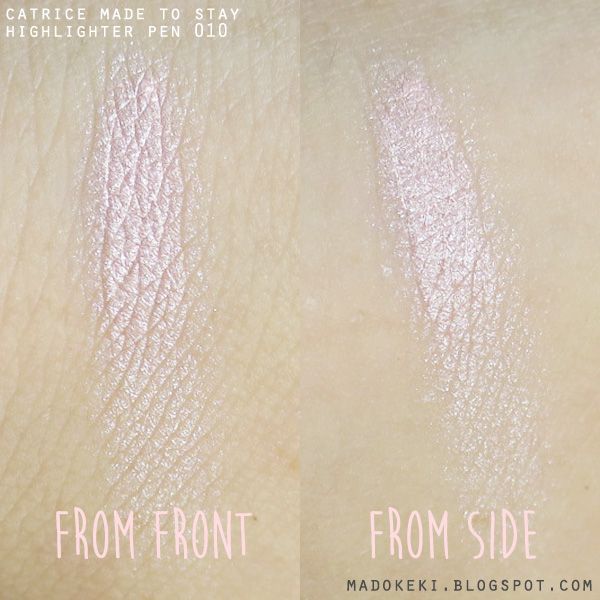 you can see it's metallic look when viewed from the side. it reflects light in such a brilliant manner!!!
it feels like adding light onto my eyes, seriously.
IMHO:
by now you must be wondering, what about the "made to stay" claim in its name?
IT DEFINITELY HOLDS UP TO IT!!! once it sets, it does not budge until i remove it with a makeup remover.
after swatching it on my hand, i tried rubbing it with my finger and it says "no bueno".
tried it with a piece of tissue paper, some of it came off in chunks after some tugging. there's no way i'm going to use this much force on my eyes!
i also wore this out for the entire day and there's no sign of it fading or whatsoever.
HELLO, megawatt eyes!
i got this from guardian for SGD$7.50.