Chanel Rouge Coco Shine 79 Saga
let me take a moment to admire this cute little lipstick. it's the first high end lipstick that i ever owned, so there's definitely this novelty to it that has yet to wear off even though it's almost a year.
the rouge coco shine is a series of lipstick that aims to give you high pigmentation without that heavy feeling on your lips. its formula is surprisingly light, even though it applies sheer, the colour is definitely intense and vibrant. and that sheen? yes, it comes with the package. what you'll get is a lightweight, pigmented and shiny lips.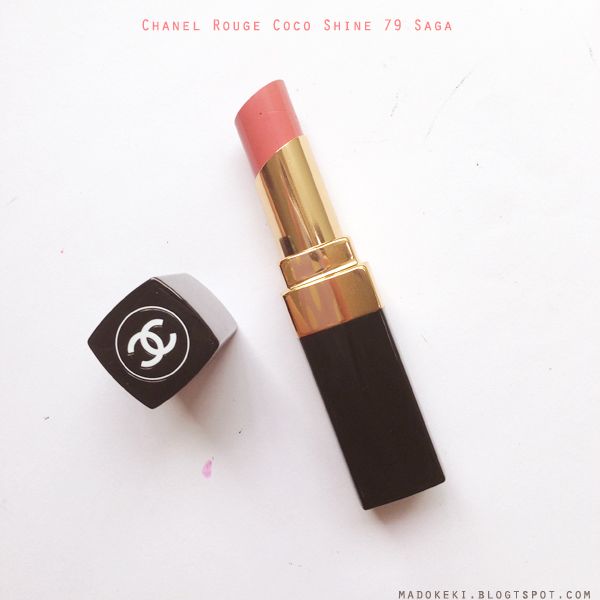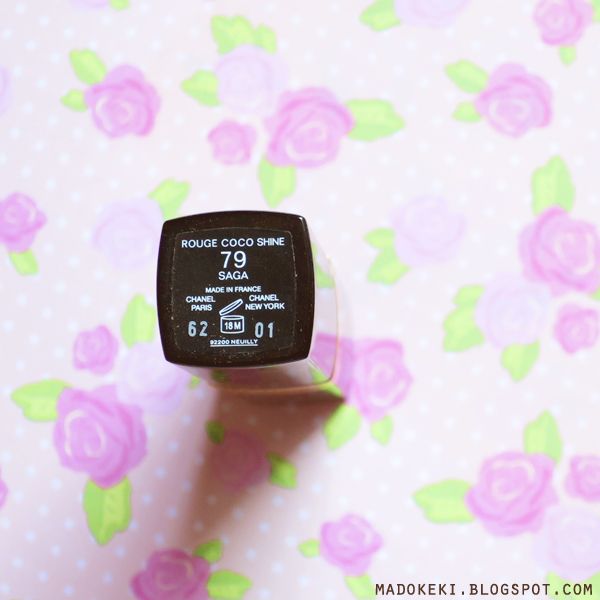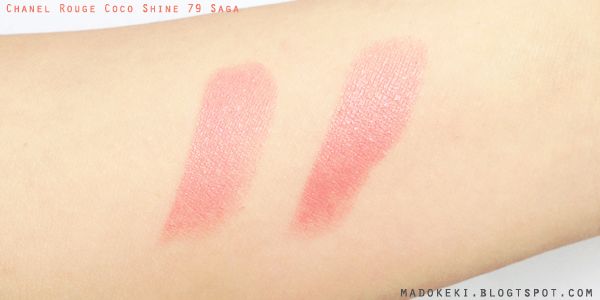 one swipe on the left, and 2-3 swipes on the right.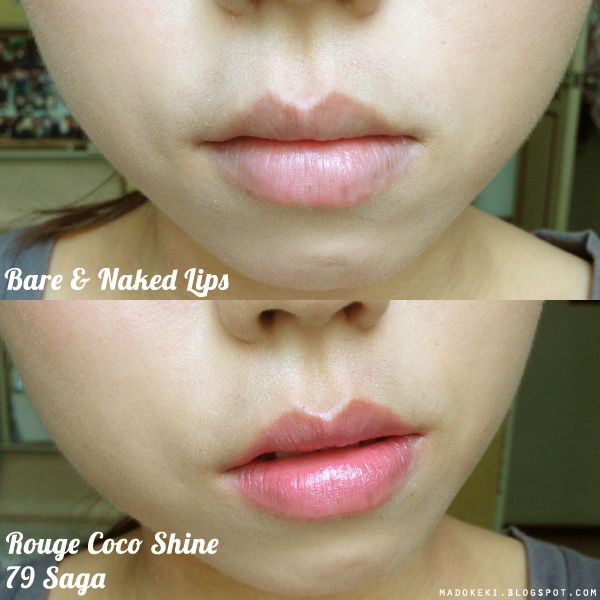 79 saga is a rose pink, leaning on the warm side, and under strong sunlight it may lean towards a blue based pink for some reason.
the level of pigmentation must be really high for the colour to show through so well when so little product is deposited on my lips! the application is amazingly light - it glides on smoothly like a piece of butter that melts upon touching my lips due to my warmth, leaving behind a trail of colour and sheen. i think i would describe the lipstick to be "weightless", as though a layer of pigments is coated on the surface of my lips without the additional fillers to help them adhere. whatever they did, they did it right.
the sheen makes the lips look slightly shiny without the stickiness that is usually associated with shine, which is definitely a thumbs up for days when i do let my hair down. it's not sexy to get small strands of lipstick stain all over my face.
there's a rather pleasant scent, i said "rather" because it smells foreign to me, maybe i'm just not used to europian cosmetics. *flips through my makeup box and sniffed around* turns out.. that scent is a rose scent, a much milder version of the bourjois blush, and thus much more acceptable in my books. the bourjois blush was so heavily scented i took a while getting used to it.
IMHO:
as far as pigmentation, sheen, and it's sheer formula goes, it gets a thumbs up from me. after all, for the higher price tag, i would expect them to deliver their claim. i wouldn't say that it's fantabulous because i did expect this. as for hydration, just don't expect it to be as moisturizing as a lipbalm. for a lipstick, it's considered quite hydrating, it lasted me at least 2 hours without making my lips feel dry (while other creamy lipsticks do feel dry after the same amount of time). i guess chanel found a near perfect balance between colour payoff, moisturing capabilities, and the consistency of the lipstick (i really love that it melds onto my lips and leaves behind just enough products, not too much or little, unlike the revlon lip butter and colorburst lipstick).
i think this may be the main difference between high end cosmetics and drugstore cosmetics. the pigmentation is more concentrated, so you need lesser product to get the same colour payoff, resulting in a more lightweight application.
if you have money to burn, and if you're looking for a lightweight lipstick that is sheer yet gives you a pop of colour, this may be what you're looking for! if you don't have money to burn, you can treat yourself to this lipstick on special occasions like your birthday because.. this lipstick packaging looks too pretty. :P actually, i don't think anyone needs any reason to buy something like that. it's a want after all :X
i got this lipstick as a gift from my best friend.