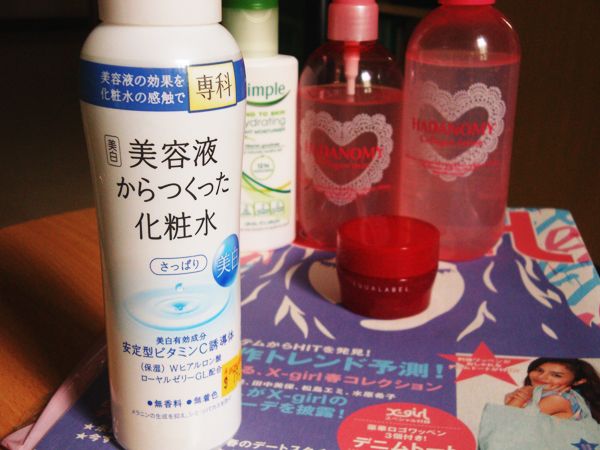 my first ever whitening product in my skincare routine!
i decided to buy this after reading good reviews on both cosme.net and urcosme.com (japanese and taiwanese beauty review portals!).
ok, i admit the main reason why i bought this was because it is dirt cheap for the effects it claims to deliver.
price: HKD$87
i don't think i can find anything more affordable than this.
it being this easy on my wallet means i can use it generously with cotton pads as instant face masks for a last minute pick-me-up.
the main whitening ingredient in this lotion is the stable vitamin C derivative.
vitamin C on its own is an anti oxidant and oxidizes very easily.
i think there's some truth in it.
the lotion is usually clear and colourless you see..
but there are drops that will leak out of the opening and over time i realize those droplets will have a tinge of yellow! which looks exactly like how my oxidized ascorbic acid (vitamic C) crystals!
so yea, i think the fact that the lotion is colourless means it's still "fresh" (active ingredients still alive!).
it claims to be as effective as a serum (they define a serum as something that is small enought to penetrate the skin easily),
but lightweight as a lotion.
i'm not sure about the first, but the latter surely is true.
it's a clear fluid that's as viscous as water,
smells a little like alcohol to me,
absorbs quickly with some light patting.
best thing is it doesn't leave my face feeling sticky after that!
i've been using it for 5 months already,
sometimes twice a day, lately it's been reduced to only once at night.
i use it right after cleansing my face at night, since it hydrates and whitens.
i pile on my other hydrating lotion and creams after that so seal everything in. :)
i noticed my dark spots lightening up after the months of using this product.
it is quite unnoticeable, which was probably why it took me 5 months to realize it.
however, i find my face and neck to be brighter these days.
i used to be quite dull and yellow in the first few months of 2012,
but not anymore!
i'm not as fair as i used to be, but definitely not as sallow as compared to a few months ago.
don't expect this to give you instant whitening effects though.
it's a lotion afterall, the effective ingredients can't penetrate that deeply into our skin.
for those kind of effects, you might want to try serums (especially those that will burn a hole in your pockets).