Revlon Super Lustrous Lipstick Matte 010 Wine Not
i got this lipstick when i was in the fall state of mind, even though singapore does not have autumn, but my mind was obsessed with the typical fall colour - wine. some call it ox blood, or a deep berry shade. but wine suits it to a T, it's a deep reddish purple shade, and this is in a matte formula! SO FALL.
the revlon super lustrous lipstick line needs no further introduction i guess. it's supposed to be super moisturizing, as the name suggest.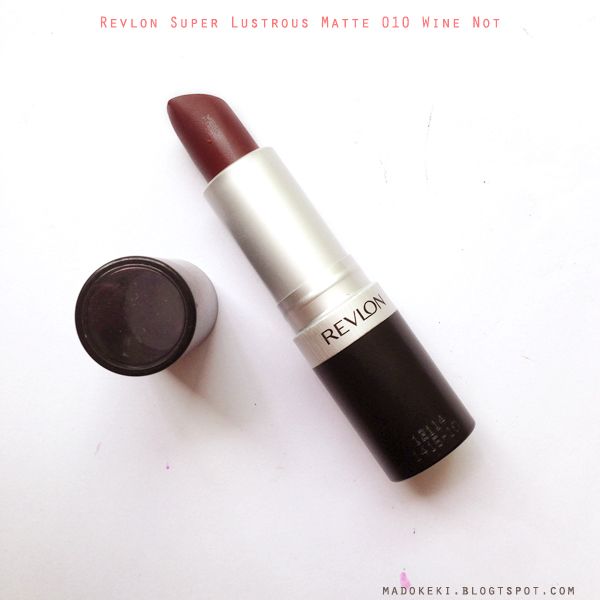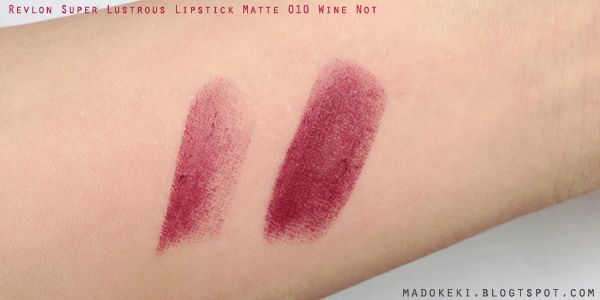 one swipe on the left, 3 swipes on the right.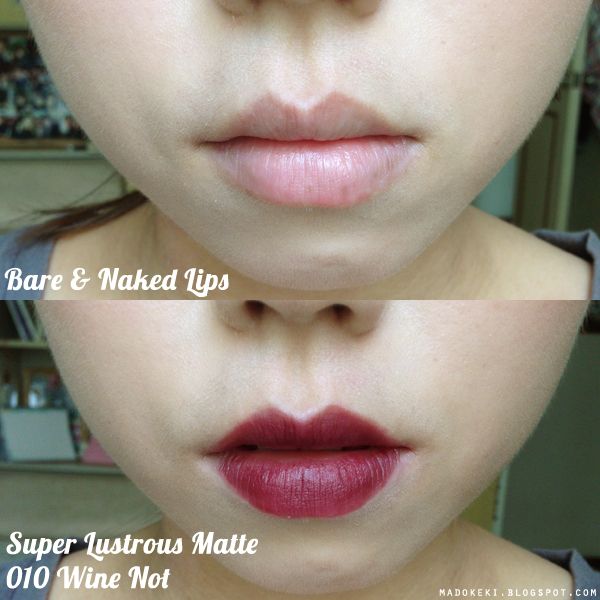 010 wine not is a deep raisin shade - reddish and purplish, with a hint of brown. it resembles the red velvet cupcake's interior colour. this lipstick is in matte finish, and boy, it really is matte.
application is pretty smooth - it doesn't tug, neither does it glide like butter. it deposits a thin layer of pigments, which can be built up based on your liking. it doesn't glide like the matte balms do, maybe that's why it only deposits a small amount of product with each swipe. the colour may emphasize dry skin, and may apply uneven on dry lips.
the lipstick is unscented.
IMHO:
i love this colour, that's the reason why i bought it in the first place. it took me some time to get used to the application as it wasn't as smooth as the other lipsticks (but it's still pretty smooth consider it's a matte lipstick. and i was comparing it to the creamy and shine formula that i own), once i got used to it, there's nothing to stop me from loving this lipstick. the matte formula makes it harder to transfer to cups (due to the lesser oil content), which means the lipstick stays on my lips much longer than the shine formula lipsticks. the other thing i like about it's smooth (but not buttery smooth) application is that it won't over deposit the products, which gives me more control over the colour and intensity.
but it may apply unevenly (after i blot my lip balm off). i don't know if it's my lips or the product :/
i usually have some lip balm on before i apply any lipsticks, and how much i have on will affect the colour that gets transferred to my lips. hence, it's best to blot off any excess lip balm prior to applying this lipstick if you want a fuller look.
however, this is not going to be moisturizing enough if i intend to wear this throughout the entire day. reapplication would be much appreciated by your lips, especially with a thin layer of lip balm before applying the lipstick again. i did try to add a layer of gloss over it, which defeats the purpose of it being matte, but sometimes i like to switch things up :P
each product have their own drawbacks. i love its long lasting power and the colour, and will love it even more if it is a little more moisturizing. i'm greedy, i know.
i bought this when guardian was having a sale for $13.90.
MAKEUP LOOK
worn lightly as a tint.
also worn lightly as a tint.