Nature Republic Super Origin CC Cream Brightening (Swatches and Review)
my first and only CC cream, courtesy of my lovely gf who got it for me while she was in korea. i was debating with myself whether or not should i get my hands on a CC cream.
1. it is merely a sunscreen with some added skin care benefits. i've my own sunscreen, i've also got my own skin loving moisturizers/serums/toners, do i really need it?
2. the whole "colour changing" thing sounds very very gimmicky to me. not everyone knows that the product only "matches" your skin colour because of it's sheer pigmentation. that colour changing beads is like a illusion to make people believe that it really changes to match your skin. am i going to succumb to the marketer's lure?
she decided that i should give it a try and gifted me the nature republic super origin complete control cream - brightening. there are 3 different types in this selection: colour change, tint, and brightening. the other 2 has some tint in it, making them like a watered down BB cream. the one i have has no colour at all - something that i really like about it.
from its official website, it has 3 promises to deliver - dewy looking skin, skin care and sun care, as well as brightening your skin.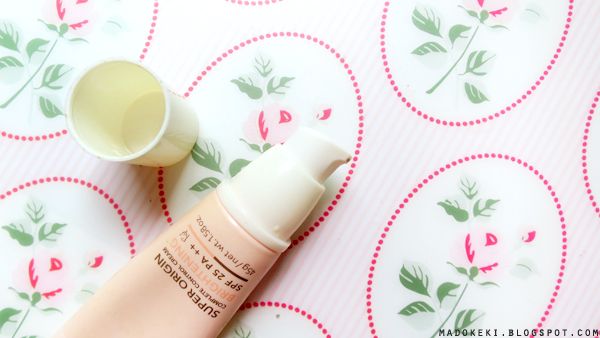 comes with a pump head on the tube. nifty, i like.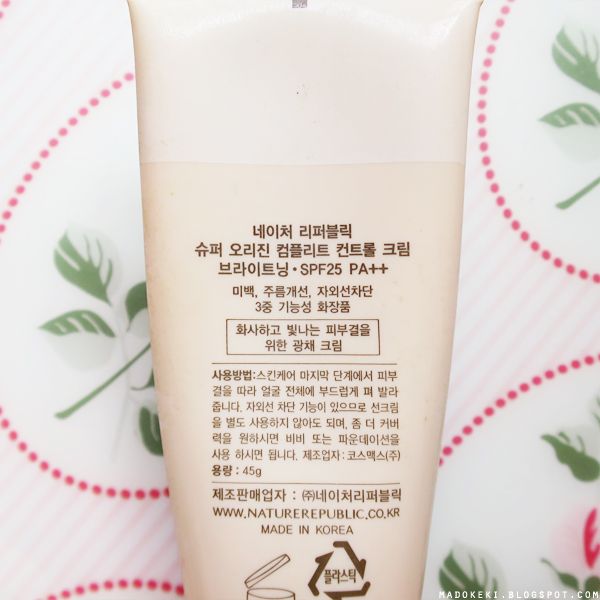 comes with SPF 25, PA++ and a slew of korean instruction on how to use it. it roughly says to use after your skin care. and that's all i can make out of it!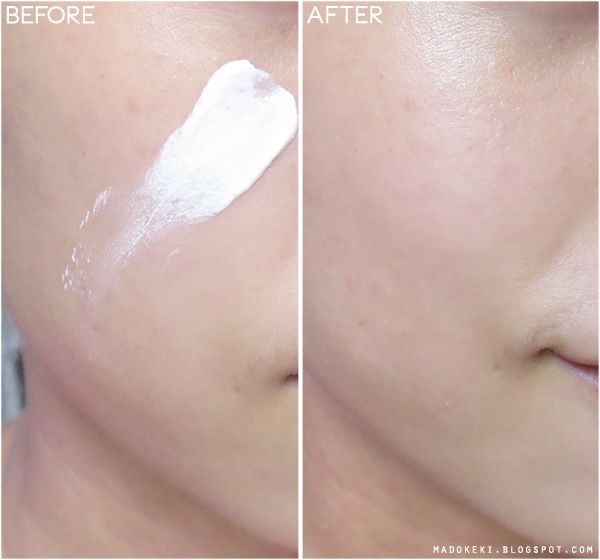 swatched on my face: fresh off tube on the left, blended into skin on the right.
colour:
white but blends into nothingness.
texture:
light yet creamy. feels oily.
fragrance:
has a wonderful floral scent.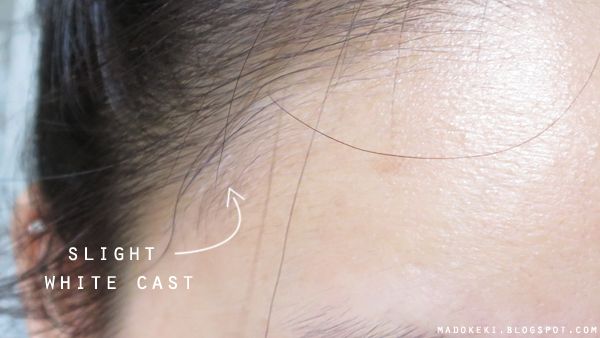 slight white cast along my hairline after i perspire.
white cast:
no white cast on my face in general, but i can't say the same for my hairline where i tend to perspire a lot.
IMHO
this product is like a sunscreen + moisturizer to me, a 2-in-1 product that is designed for people on the go.
the formula is definitely very moisturizing as my face really gives off a shiny and dewy look (it makes my skin glow). while it's perfect for dryer climates, it may be a little too much for me (in singapore). i still like to slap this one and blend it out before i have to head out for a short while for that sun protection. i can live with a bit of that dewniess on a cooler day, but it gets kinda messy when i perspire like a pig because my face turns a little sticky.
while it's oily, it doesn't actually feel oily on the face. this works as a wonderful makeup base thanks to the moisturizing capabilities.
as for brightening, i think it's partly thanks to the sunscreen that imparts a slight and subtle white cast that can be passed off as brightening. it's looks pretty natural on me, so i'm loving it.
just don't expect this to give you any coverage because a CC cream isn't supposed to give you that much coverage in the first place. think of it as a makeup base and you won't be disappointed. ;)
my gf gifted this to me, she claims that it only cost her 5000 korean won when it was on sale. i think she lied to me.
IN A NUTSHELL
1. no coverage but it brightens
2. sunscreen + skincare
3. gives you a dewy finish
4. slightly oily but doesn't feel oily on skin
5. scented