Tosowoong MakeOn Princess Eyeliner (First Impression Review)
tosowoong
contacted me about 2 weeks ago asking if i'm interested in trying out their products in exchange for a review. after a few email exchanges to confirm that i will be able to have complete autonomy in my opinions and style of reviewing, i picked out season 1 and season 3 of the makeon princess eyeliners as i was interested in their eyeliners. they come in a huge selection of colours, about 30 colours in total spanning from two series (the original series of eyeliners are called super long lasting waterproof gel pencil liner). given how indecisive i am, i decided to just go with a coordinated set to relief my brain of some decision making. since there are only 3 sets of the princess eyeliner, it's easy to pick 2 products out of 3 (as opposed to picking 2 eyeliners from the 30 available).
as this is the first time i'm reviewing a product that was sent to me (with the expectation of a review in return), i have to make all these clear:
1. i only picked these items because i am genuinely interested and would personally pay for it.
2. while the company expects a review (and some exposure), i am not obliged to give a positive review -
all views are my own, and i'm a very honest person. ;)
here's my first impression video on the products! this is amazingly long (my longest video yet, at 16 minutes) because i've included about 4 minutes worth of extra footage into it (waterproof and oil proof test). i've tried my best to cut out the unnecessary parts, but if i cut any more i can't capture the entirety of my review.
the original footage was about 2 hours long. the rest of the information that got cut away from the video will be written below.
i received the package from korea about 10 days later. i was sort of expected a full 2 weeks based on my past online shopping experience. i guess the mailman is happy :D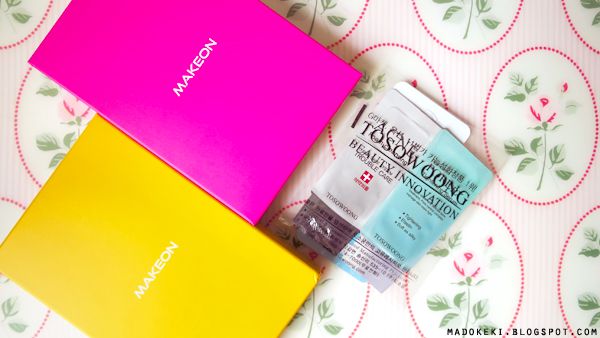 in the package: makeon princess season 1 (pink box), makeon princess season 2 (yellow box) and some samples.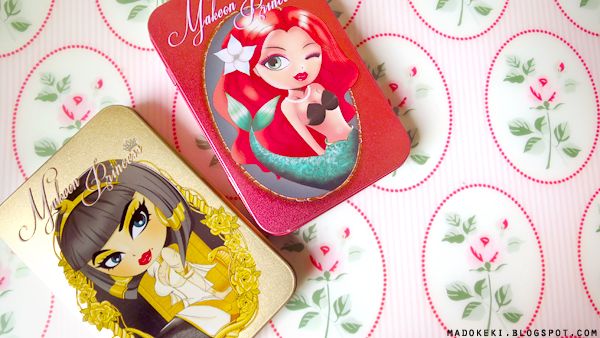 season 1 comes with the little mermaid, while season 3 comes with an egyptian queen.
from the name of the eyeliner, you may already guess it's functionality - long wear and waterproof. makeon's eyeliners have some really bold claims on their website:
1. waterproof
2. oil proof
3. comes off easily with makeup remover
skeptical me just gotta test them out. i mentioned in the video that makeup can't be waterproof and oil proof at the same time, because if it were, it's probably gonna stay on your skin permanently like paint.
on the
wishtrend website
, they listed another 4 claims of these eyeliners.
1. creamy and soft
2. waterproof
3. pigmented colours
4. useable as eyeshadow
i've addressed them in the video, but i'll mention them again in the summary below if you're too time tight to watch the video.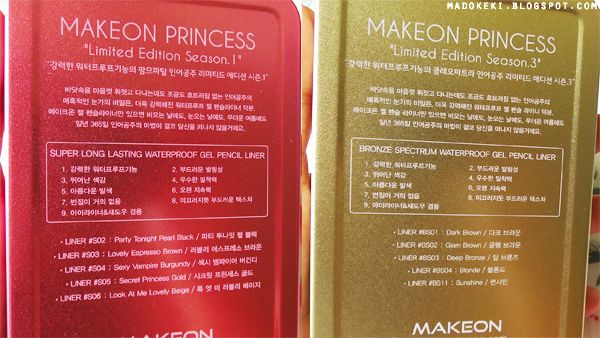 on the back of the tin case are a bunch of product description in korean. thankfully the names of the colours are in english. i mean, i can read some hangul, but it's just easier and faster to read english!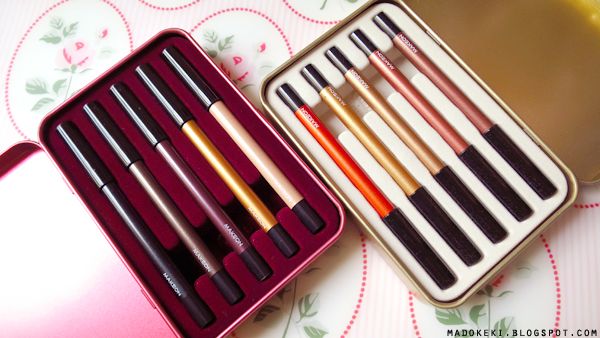 each set comes with 5 colours, well coordinated with each other for convenience.
these eyeliners contain 0.8g of product each (FYI, maybelline colorshow eyeliners contains 0.3g of product). they are slightly shorter than the single eyeliners (at 1.2g per eyeliner). the black part at the end of the eyeliner pencil IS NOT twist-able, as these requires sharpening with an old school sharpener.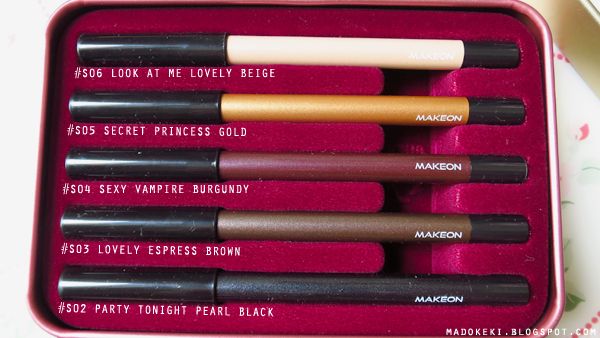 season 1's colour coordination: a mixture of basic dark and highlighting shades.
season 1 is a selection of colours from their
basic eyeliner series
, with several familiar colours like black, brown, gold, purple, blue, and beige. the only colour in this selection that i find slightly hard to incorporate into daily looks would be the sexy vampire burgundy, since most people probably wear black or brown most often, while using the beige and gold as a highlight is pretty normal too. but i must confess, i got season 1 instead of season 2 because of the burgundy. i couldn't find a shade like this anywhere else other than korean brands, and etude house in singapore did not bring in the burgundy shade of their
play 101 eyeliners
. :( plus they cost twice as much as korea's price over here. no thanks.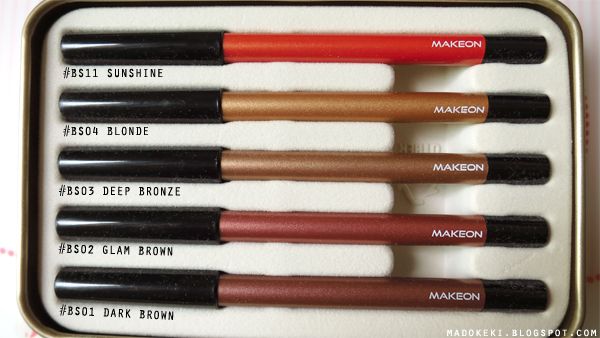 season 3's colour coordination: a beautiful blend of different shades of brown
i seriously had a problem describing these shades in the video because.. they are all browns. hahaha 50 shades of brown!? season 3 is a selection of colours from their relatively new release, the
bronze spectrum
. if i could i would have gotten all the shades because they just look so good together - not that i'll wear them all at once - i just like to admire the complementary shades as it is. maybe i should buy some paint swatch cards instead.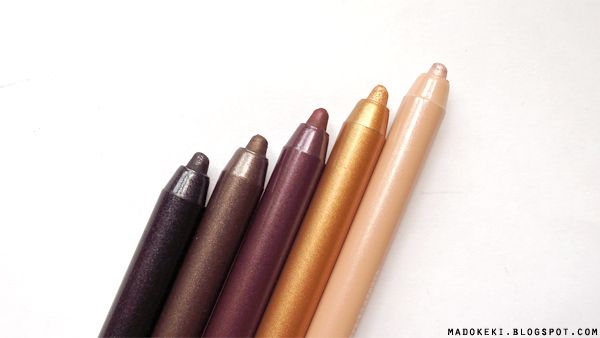 season 1's colour selection, from left to right:
#S02 party tonight pearl black | #S03 lovely espresso brown | #S04 sexy vampire burgundy (love its name) | #S05 secret princess gold | #S06 look at me lovely beige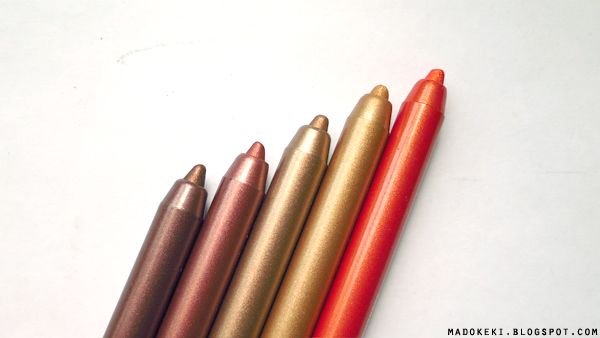 season's 3 colour selection, from left to right:
#BS01 dark brown | #BS02 glam brown | #BS03 deep bronze | #BS04 blonde | #BS05 sunshine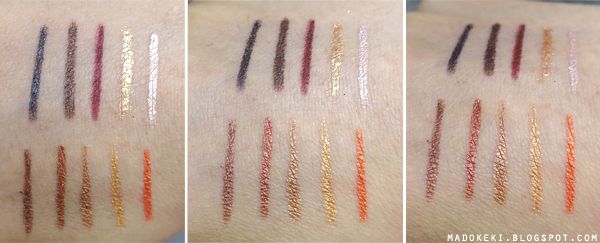 photo at three different viewing angles to show you the finish of each eyeliner.
top row: season 1
- #S02 party tonight pearl black | #S03 lovely espresso brown | #S04 sexy vampire burgundy | #S05 secret princess gold | #S06 look at me lovely beige
bottom row: season 3
- #BS01 dark brown | #BS02 glam brown | #BS03 deep bronze | #BS04 blonde | #BS05 sunshine
SEASON 1:
#S02 party tonight pearl black
is a black with silver shimmer, satin/matte finish.
#S03 lovely espresso brown
is a dark chocolate brown with gold shimmer, satin/matte finish.
#S04 sexy vampire burgundy
is a wine shade with very very fine reddish shimmer, satin/matte finish.
#S05 secret princess gold
is a frosty light gold shade, packed with nothing but gold shimmer.
#S06 look at me lovely beige
is a frosty off white shade, has a pearly/frosty finish.
SEASON 3:
#BS01 dark brown
is a milk chocolate brown, metallic finish.
#BS02 glam brown
is a copper hue brown, contains more orange/red than dark brown. metallic finish.
#BS03 deep bronze
is a yellowish bronze shade, contains more yellow than dark brown. metallic finish.
#BS04 blonde
is a yellowish gold shade, metallic finish. compared to
secret princess gold
, this is yellower and slightly darker, not frosty at all.
#BS05 sunshine
is a vibrant orange, metallic finish. very similar to my
etude house look at my eyes OR205
eyeshadow in terms of colour.
all eyeliners are very creamy.
IN A NUTSHELL (TL;DR)
1. waterproof and oil resistant
2. long wearing on the eyelids, not so long lasting on waterline
3. vibrant colours
4. creamy and soft from pen to eyes
5. not as blendable as i thought, gotta act fast as they set fast (the satin/matte shades are harder to blend)
6. requires a sharpener
IMHO
i'll start with the things that i'm happy with first!
1. long lasting and waterproof
the eyeliners are
indeed very long lasting and waterproof
as they have stayed on my eyelids for a good 8 hours before i finally removed it with an eye makeup remover. this part wasn't covered in the video as i removed my makeup after recording - but i was really quite surprised at how easy it is to remove the eyeliner. as usual, i place the cotton pad on my eyes for 10s before swiping it off - they're mostly gone after that. i'm taken aback because i had to rub so long with the vaseline to get it off, i didn't expect it to
come off so easily with the eye makeup remover
. i'm using the
bifesta
one (with two phases), in case you're wondering. i also tried it with the
cleansing lotion
and it also came off really easily.
2. high pigmentation and vibrant colours
the
pigmentation of the colours lived up to my expectation
- i do have high expectations for eyeliners as they are supposed to be more pigmented than powder eyeshadow in the first place! what i love the most is probably the gold shade that remained vibrant at the end of the day. if i were to use powder eyeshadow as my highlight, it may wear off throughout the day as powders just don't adhere that well, especially when i perspire so much.
3. ooh-so-creamy
just as they have claimed, the
eyeliner pencils are indeed very creamy
. i feel like they're of the right consistency -
soft enough to deposit a layer of product, but not overly soft to deposit too much product
(like my
catrice made to stay highlighter
, but that's the way it's supposed to be because it's meant for blending out with a finger).
4. possible to use it as an eyeshadow, if you act fast enough
i'm also liking the fact that i can use these as eye shadows, but this will definitely need some practice and techniques because they may end up looking really uneven on my eyelids if i don't blend quick enough. plus, the colours are already coordinated for me, rids me of the decisions.
i notice that the season 3 eyeliners blend a lot better than the darker colours from season 1. i believe it has got something to do with the finish, as the darker colours tend to be matte/satin finish. all other metallic/shimmery shades blends out a little easier.
and here is where i'll start talking about the little improvements that could be made.
1. it doesn't stay on my water line
the eyeliner isn't setting fast enough on my waterline
, but sets too quickly while on my eyelid!? not sure if it's the product for the nature of my eyes.
the eyeliner doesn't stay on my waterline
(but then again, i haven't found one that stays after 8 years into making up). i noticed that the gold shade i used on my inner half of my eyes sets way too quickly, by the time i try blending it out it sort of fragmented.
can't have it all, i guess! if it were too soft, it may have taken too long to set and wouldn't have made a good eyeliner. since these are meant to be eyeliners, i'd be understanding and not expect too much out of it as an eyeshadow. eyeliners are probably a good way to intensify powder eye shadows to enhance the look though.
2. not an auto-type eyeliner, will require a sharperner
lastly, the packaging of the pen itself..... i'm definitely a spoilt brat, because i've shown my mom these eyeliners and told her about
the lack of a twist mechanism
, you know how she reacted?
"isn't this normal? just use a sharpener!".
i guess i'll suck it up and count my blessings instead - these products are wonderful on my eyelids irregardless of its packaging. i can live with that considering the price point and colour selection. but i still wish for that day to happen - when these eyeliners are all twist up style.
since i said i wouldn't have done a review if i didn't like it.. now that i did, you know what that means. ;)
MAKEUP LOOK_______________________________________________________________
BEFORE YOU GO
if you're interested in these products, you can check out the following links according to your region (as they have different websites for different countries?). all prices exclusive of shipping.
USA:
wishtrend
USD$28.87
amazon
USD$25.90
tosowoong
39800 won (their english site is supposed to be up soon? either way, just get it from amazon because 39800 won = USD$39.8)
SINGAPORE:
qoo10 sg
SGD$12.80 (i think it's currently on promotion, not sure how long this will last)
HONG KONG:
qoo10 hk
HKD$121.50
xoxo
karman