Hadanomy Collagen Cream (Review)
this is the third product i got from the hadanomy collagen line - a light weight gel cream that is touted to contain 1000mg of micro collagen. having read so much about the skin, i want to state once again that these collagen DO NOT enter your skin to marry the collagen underneath your skin to plump your skin up. what this cream does is to provide topical moisture, and the collagen is supposed to form a thin protective film to keep the moisture in. once you get your expectations clear, you won't be disappointed with this product when you realize it doesn't fill out any wrinkles.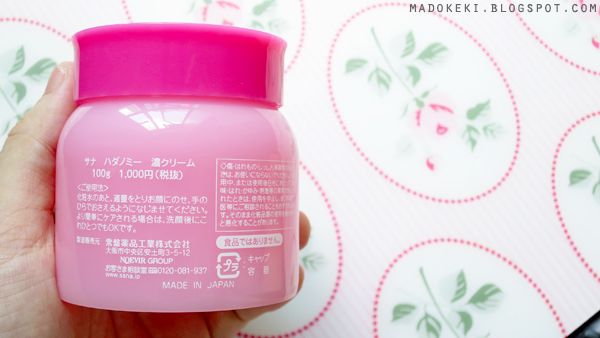 it comes in a pretty gigantic plastic container, and houses 100g of the product.
i've thrown away the plastic wrapping (that contained the ingredients list) a long time ago, and i'm not able to find any information on the ingredients of this cream. if you really want to take a look, it is probably similar to the ingredients in the
aqua placenta cream
as collated by ratzilla.
on its
official website
, it only said it contains hyaluronic acid, acerola extract, collagen, and honey. all are meant for moisturizing purposes. but i guess this cream will contain the top 3 ingredients in most other skin care products - water, glycerin, and butylene glycol.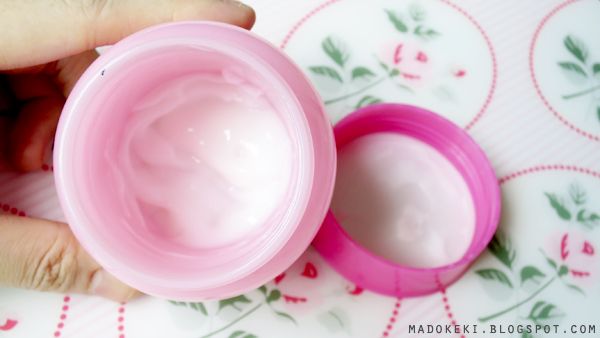 i'm almost finishing it after daily usage for the past 8 months.
the cream is a gel based cream, it doesn't feel oily at all. it's quite viscous, as you can see it holds its shape like a jelly. after spreading out, it feel very watery when spreaded out, and once absorbed it leaves behind a slightly sticky feeling. not sticky like scotch tape, just the usual feeling you get when you use a product contain hyaluronic acid. slightly scented.
IN A NUTSHELL
texture: viscous when fresh, turns watery when spreaded.
after-feel: a slight adhesive feeling, skin feels soft and hydrated.
fragrance: slight fragrance, as with the other hadanomy products.
IMHO
having tried the
collagen mist
and
collagen lotion
, and now the collagen cream, i think i can give a really honest opinion about the entire line. i think my favourite product is the collagen mist. the lotion and creams are both quite meh in my opinion. perhaps my skin gotten used to it, or i simply do not really enjoy the after feel that it gives me. that sticky feeling, coupled with the humid weather in singapore just don't mix well with each other. and it makes it hard for me to apply makeup after i use this cream because a gel based product risk "reacting" with my make up and i'll end up with little rubbery balls on my face after i rub the product in.
but i do enjoy using this product at night, and i apply it in quite a thick layer too so that it's like a gel mask that i can wear to sleep. it's pretty affordable for this purpose so you can use it rather generously. and i also like the slightly cooling feeling when i leave it on my face.
personally i'd prefer a richer cream than this. even though a gel based cream would be perfect for the hot summery days in singapore, that after feel is something that i can't shake off. i'd be better off with my simple lotion and finish it off with a spritz of the collagen mist.
i bought this for HKD$78 from bonjour.