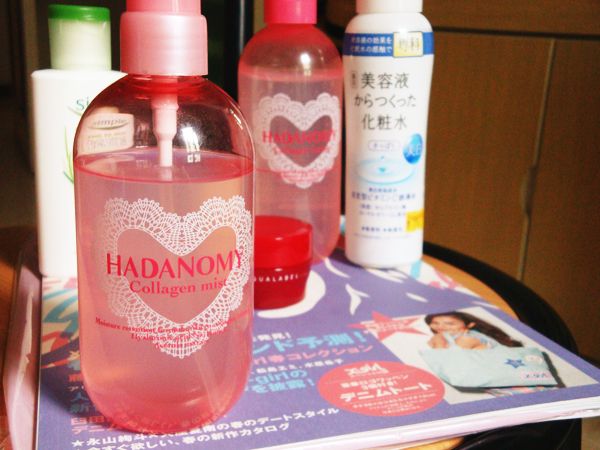 here comes the mist!
it was the hit product a few years ago,
i only managed to lay my hands on it this may.
price:
HKD$68
i got this from sasa when it was having a 10% off for hadanomy products.
what it claims:
this belongs to the hadanomy collagen line up, so the claims are the same as the collagen lotion mentioned in previous entries.
- hyaluronic acid
to attract moisture
- 1000mg of micro collagen
that penetrates skin to lock in moisture
- contains acerola extract and honey
for unknown purposes (well, they didn't state, but i assume it's for moisturizing purposes)
my experience with it:
i like to use this during day time after i wash my face in the morning.
its consistency is much lighter (slightly more viscous than water) than the collagen lotion, absorbs a little easier than the lotion since i don't have to pat as much. saves me time in the morning rush hour too!
it preps up my skin for the flurry of products i'll apply next.
depending on the situation, i'll add a layer of cream most of the time before i pile on my sun screen and make up.
i also like to use it as a setting mist after i've done my makeup to help it last longer.
however, the mist produced isn't really even, i can feel that it's a circular ring of products being deposited on my face. hmmm..
i really like the spray bottle. it makes application more convenient!
i may or may not repurchase this, but if i don't, i'll probably reuse the bottle with my new lotion. :P