Heroine Smooth Liquid Liner VS Kate Super Sharp Liner
a while ago i purchased the kate super sharp liner in BK-1 while it was on sale, i've also done a
separate swatch and review
on it. i've been a long time user of the
heroine make smooth liquid liner
. i can't remember what made me want to buy it several years back, but i've since been in love with it as it has worked so well for me, i actually repurchased it because for that price point, this liquid liner is just perfect.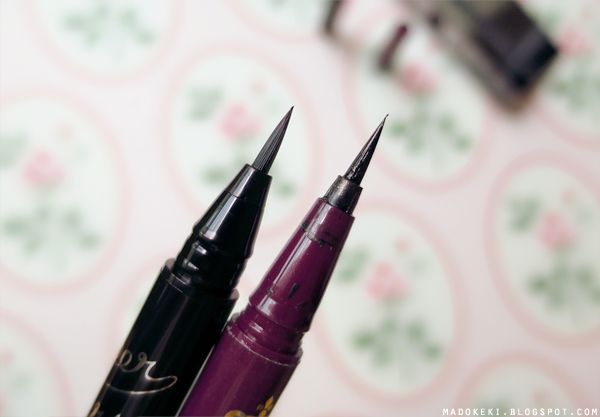 TIP SIZE:
kate: 0.03mm
HM: 0.1mm
honestly, it looks like the heroine make is finer in the photo. both eyeliner tips are made of thin fibres instead of felt tip. the heroine make tip is a little more flexible and soft than the kate's.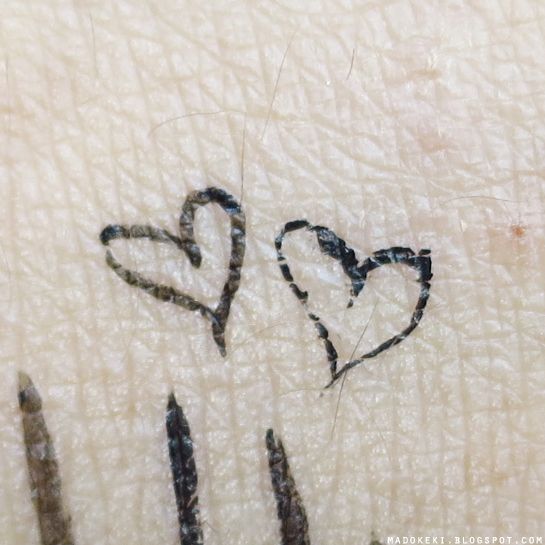 can you make a guess which heart is drawn by which pen?
the left is drawn by kate, the ink seems a little lighter in shade because it was brand new when i did this swatch and the ink isn't flowing as nicely yet, but the apparent difference in the thickness of the line is telling of the tip.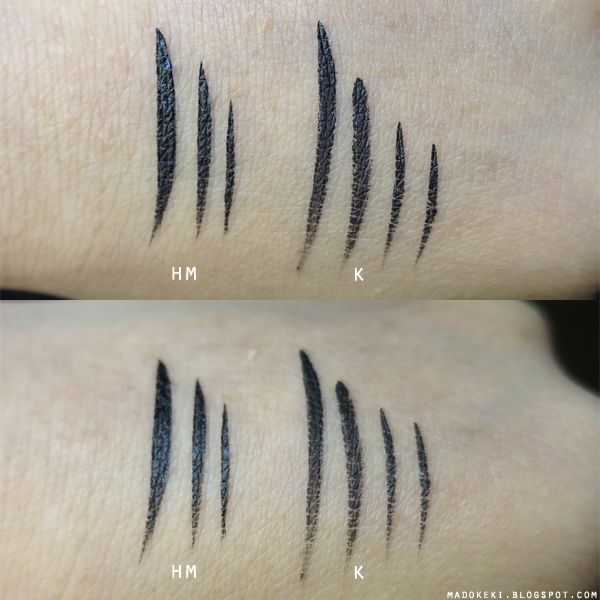 FINISH:
heroine make has a slight sheen to it after it's dried down. it actually feel like a thin layer of polymer on top of my skin.
kate dries down to a matte finish, and it sure dries quickly!
this swatch was taken after i used the kate eyeliner for a few more times, so the ink is definitely flowing a lot better, but you can tell it's still on the dryer side.
COLOUR INTENSITY:
both produce an intense black colour.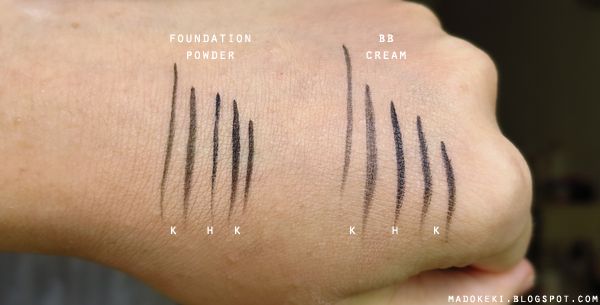 pardon me for the weird position of the eyeliners.
the first 2 lines and the last 2 lines are kate's, while the one in the middle belong to heroine make. why this odd placement? because after two swipes of kate, i went on to swatching the heroine make only to realize this isn't fair because kate's ink wasn't flowing as smoothly yet. so i swiped another two lines with kate to show that its ink is actually pretty dark too. #thingsthatcangowrongwhenswatching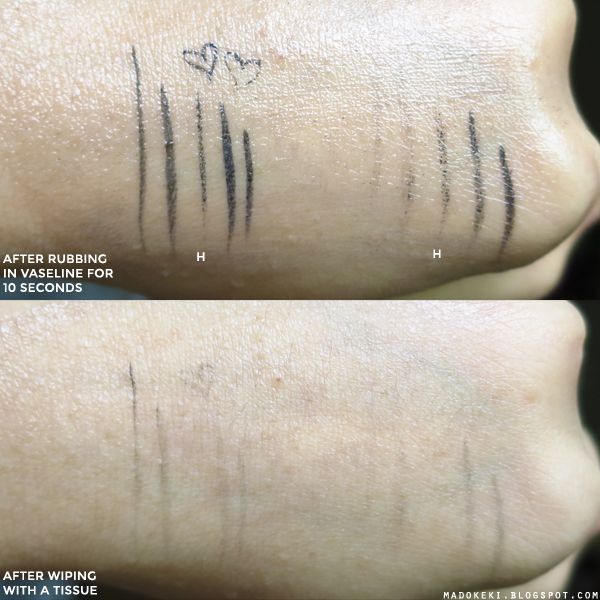 OIL PROOF TEST:
both comes off pretty easily when rubbed in vaseline, but the kate eyeliners stained my skin.
WEAR TIME:
i'm recalling this from memory, but both eyeliners lasted me the entire day. they stay beautifully on my lids, they don't melt off after exposure to my sweat or oils.
however, they weren't as reliable on my inner corners. it's fine if i don't touch it there, but if i do, it's likely they'll get rubbed off by a tissue after soaking in tears for the entire day.
EASE OF REMOVAL:
heroine make is definitely easier when it comes to being removed by my eye makeup remover. it can be removed by warm water too, but i don't usually do that. it'll come off in a sheet if you do decide to use water.
PRICE:
heroine make: SGD18.90
kate: SGD17.90
i actually bought the heroine make eyeliner in HK, it's only HKD78 over there.
CONCLUSION:
being the kate fan girl i am, i'm actually not too impressed by this eyeliner. even though both of them fare similar in terms of colour intensity and wear time, i'm not too fond of the fact that it stains my eyelids. i'm also used to the more flexible and bendy tip that heroine make offers, i don't think i'll repurchase another kate eyeliner in the future.