Eyeliners: Maybelline VS Heroine Make
after seeing the individual review posts, i thought it's about time to put together a comparison post where i outline the main differences between the eyeliners i own.
the contenders are:
MAYBELLINE eye studio creamy gel liner
(brown), which i bought MANY years ago. you can tell from the old packaging. BUT THE OLDIE IS A GOODIE!
MAYBELLINE eye studio lasting drama gel eyeliner
(black), which i bought in 2013. i suspect they reformulated it.
HEROINE MAKE smooth liquid liner
.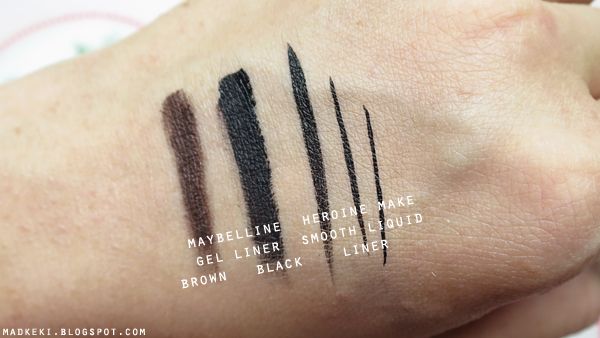 first, a colour comparison.

maybelline gel liner in brown
has a slight metallic finish to it. it looks like a brown with some reddish hue to me, as compared to the
maybelline masterliner in brown
.
maybelline gel liner in black
is a matte black that is jet black.
BOTH the gel liner were very creamy when it's fresh. right now, it can be creamy if i scrape away the slightly hardened surface to reveal the creamier liner within.
heroine make smooth liquid liner
is a jet black with a slightly glossy finish.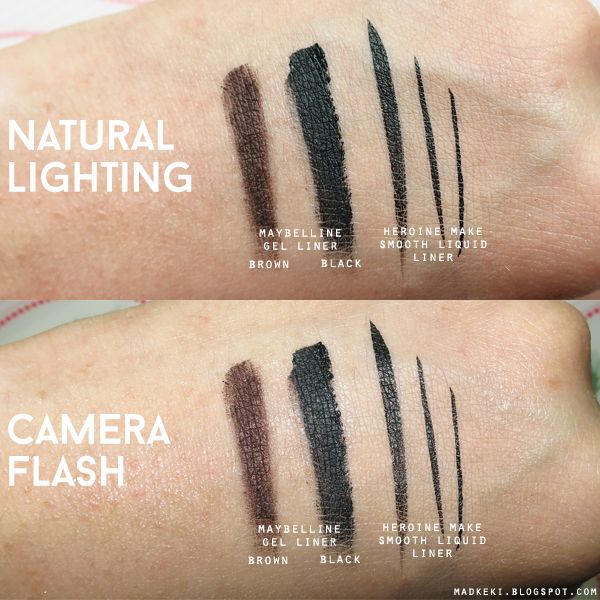 the finishes are more obvious in this comparison photo, natural light VS camera flash.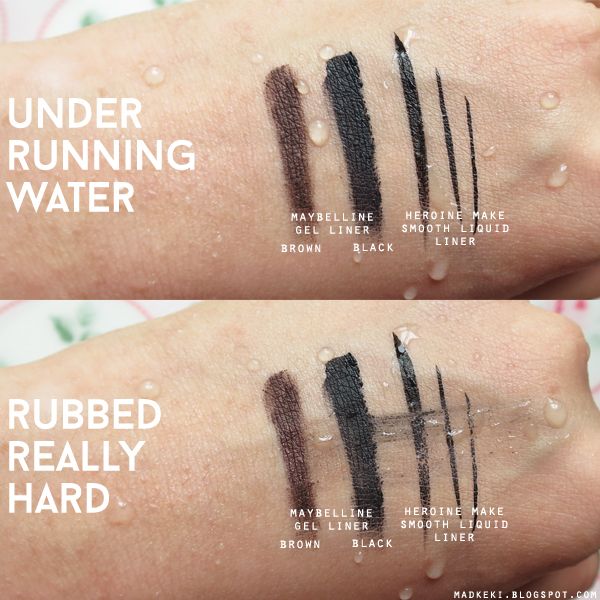 i did a water resistant test.
WATER RESISTANCE:
brown > heroine make > black
(most resistant to least resistant)
you see why i say the oldie is a goodie now? it's the most resistant out of all. in fact, the brown is the more reliable one out of the two i own. the black smudged a little, the heroine make flaked off a little.
OIL RESISTANCE:
i forgot to carry out an oil resistant test with vaseline, but i can already tell you the results based on experience.
heroine make > brown > black
(most resistant to least resistant)
the gel liner will come off with vaseline, the black one coming off more easily than the brown. the heroine make will stay as it's not soluble in vaseline.
this is part of the reason why i use the gel liner to film my eyeliner tutorials, because it's easy to remove :D
BUDGE RESISTANCE:
brown > black > heroine make
(most resistant to least resistant)
the brown is pretty much solid once it sets. i put the black before heroine make because upon rubbing, it did smudge a little, but at least it didn't flake off to reveal my flesh like heroine make did.
but then again, i don't know if the brown is so budge proof because of the age, or the formula.
RELIABILITY:
brown, heroine make > black
i know for a fact that the brown and the liquid liner can last me the entire day without doubt. the black is pretty dependent on the situation. it works fine in air conditioned places. there were times when it transferred to my lower lids :( but it was a hot and humid day, i should have known...
EASE OF REMOVAL:
all of them are just as easy to remove to me with an eye makeup remover. from my memory, the micellar lotion will remove the heroine make first, the brown and black gel liner require a few swipes.
did i miss out anything? let me know if there're anything you want to know in specific!