Kate Super Sharp S Spider Line II (BK-1) (Swatch and Review)
part of my august haul. wait, this was actually from july, but i didn't have time to open it till now. this is my first eyeliner from kate even though i own so many of their eyeshadows. i don't really gravitate towards liquid eyeliner because i need my eyeliner to be rather thick (due to my wider eyelid folds), and these super fine and sharp eyeliners doesn't seem to many any sense to me. but ever since i tried the heroine make super smooth liquid liner, i decided i can still use them because of the convenience. yea, i just need to force the liner to be a thicker eyeliner for me to do its job for me. :P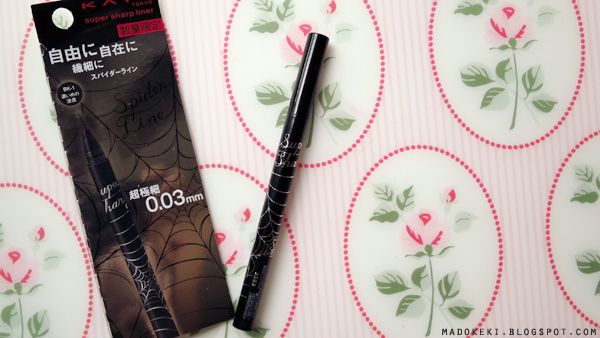 i never measure how fine the tip is, it claims to be 0.03mm. hmm.. apparently it's finer than the 0.1mm tip of the heroine make's eyeliner? i'll do a comparison post next time.

ingredients list.
i decided to just reference the
official website
to give you all an idea of what this eyeliner claims to be.
The brush pen eyeliner for producing super fine lines is now even more advanced: it produces
stronger blacks
, has
higher fade resistance
, and
applies more smoothly to the skin
.
and that 0.03mm thing as well.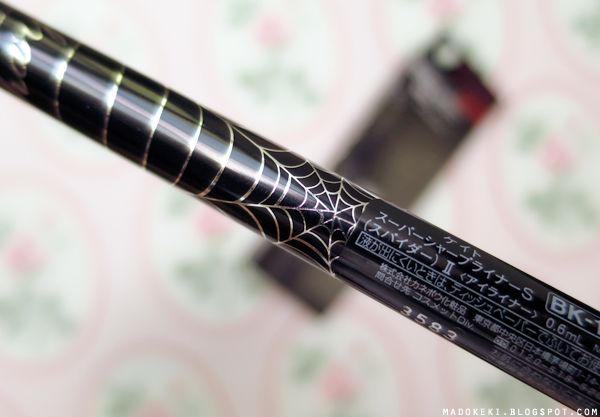 this seems to be a limited edition, the packaging is printed with silver spider web! errrr, not my favourite thing in the world since i hate spiders, but it's alright. BK-1 is the blackest black they offer.

taken from the official website.
there are 3 colours available. i never thought of getting BK, which is a watered down version of BK-1. what's the point of having a grey eyeliner!?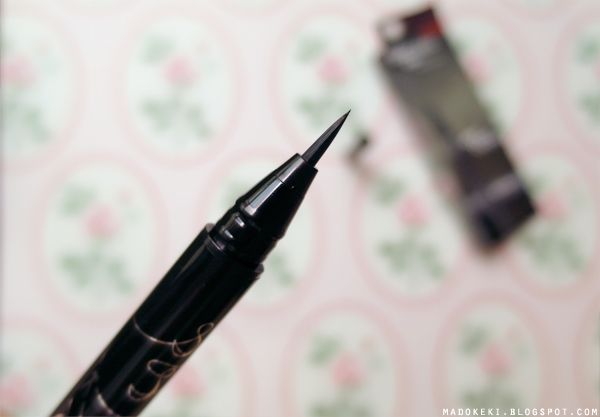 the supposedly 0.03mm tip.
the pen is made of a dozen of fine fibres, it's like a brush! it is easy to control as the fibres aren't overly soft. i think they are slighter stiffer than the heroine make eyeliner.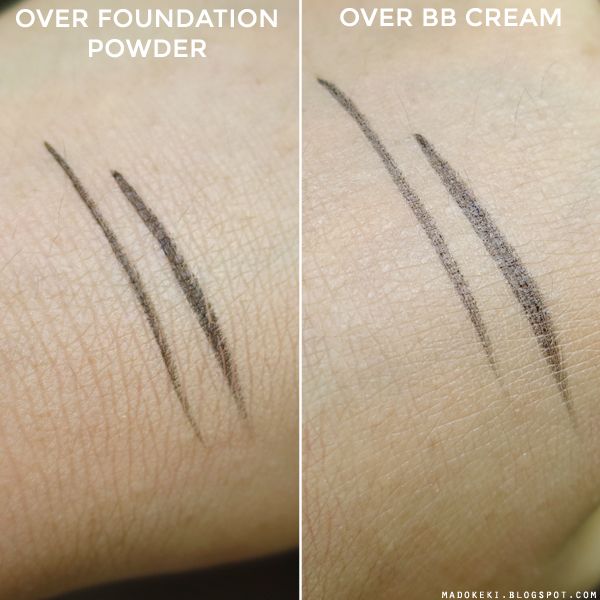 this was the virgin swipe of the eyeliner, that's why the colour is so light. it's worth noting that the eyeliner seem to go on a little "patchy" on bb cream. perhaps the oils in the bb cream don't make a good base for it, so girls, powder up before using this eyeliner.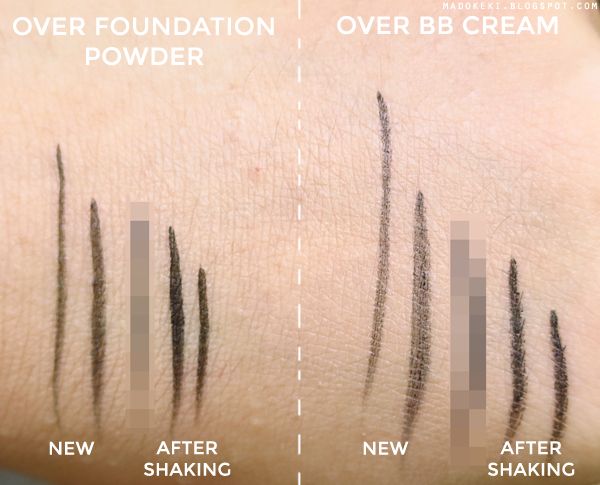 after the virgin swipe, the ink was flowing a little more freely and appears much more blacker subsequently as i used it throughout the month. (ignore the center part where i added mosaic)
again, notice how the eyeliner seep into the lines on the right hand side (a oily bb cream as a base), while the one on the left appeared sharp and crisp (over powder foundation).
the ink dries really quickly into a matte finish that is budge proof to a certain extent. a few hard rub will result in a sheer layer of black of your skin, but thankfully the eyeliner doesn't flake off.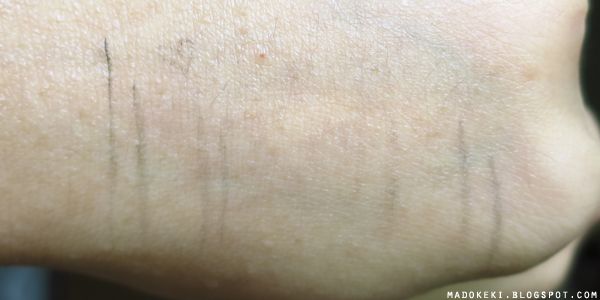 after removing with vaseline, some stains are visible.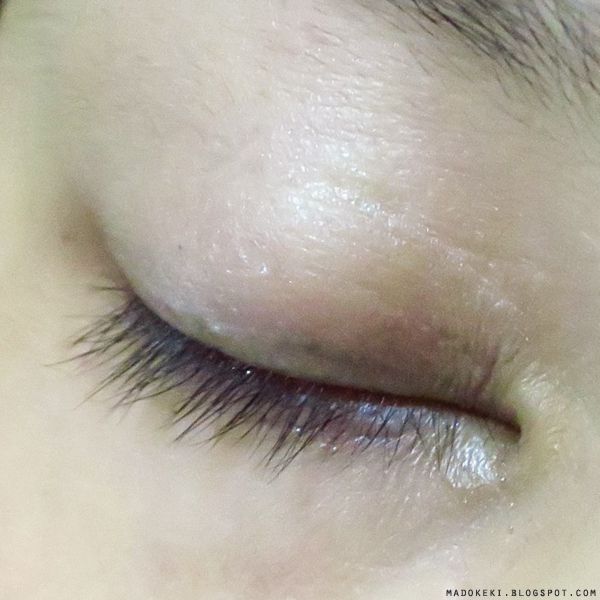 slight staining on my eyelids after removing with an eye makeup remover.
it is easily removed by an eye makeup remover, but it seem to stain the skin. :( i wouldn't mind a lip or cheek stain, but an eye stain is alarming because i'm worried that i'll end up as something permanent.
IMHO:
the eyeliner wasn't as sharp as it claims to be, at least that's what i observed when i put it side by side with the heroine make eyeliner.
the application is pretty smooth, although tip tends to be on the dryer side. perhaps that's why it dries so quickly. no more eyeliners transferring to your eyelid folds when you open your eyes in between eyeliner application!
i've worn this out a few times to test it out, the staying power on my eyelids is great, no signs of fading or budging in the sweltering heat and humidity. however, when used in my inner corners, i notice it will smudge and dissolve and transfer to my lower lids. :( THAT'S BAD NEWS!
after using it a few more times, the ink gets progressively blacker. now it's just jet black like the heroine make eyeliner. :) but i don't know if i'm really liking that staining effect :/ it's not my eye makeup remover's problem. something's up with the formulation.
given a choice, i'd choose heroine make over this, as much as i adore the brand, i think they can change the formula a little to reduce staining.
i purchased this for SGD12.90 when it was on sale.