Solone Vivid Fantasy Smoody Pencil 04 Grape Cakeroll (Swatch and Review)
this was on my radar for quite some time.
solone
is a taiwanese brand and they're most well known for their eyeliner pencils that sets in 30s. i believe i first saw it on the yahoo auction website many years ago. they've grown much bigger over the years, and this time round they collaborated with an illustrator to create this alice in wonderland series :)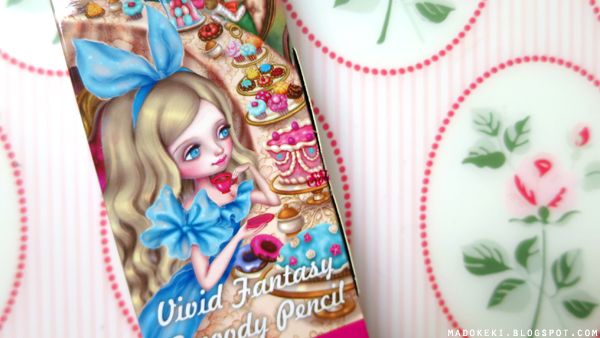 such a cute illustration!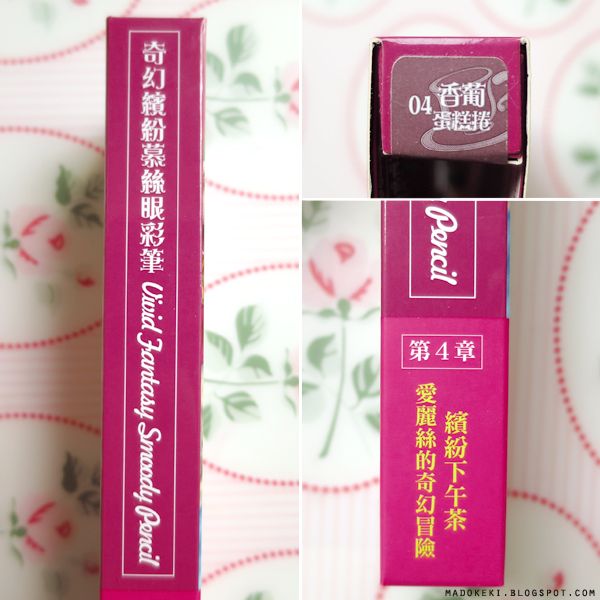 i got it in shade 04, grape cakeroll, it's a purple colour.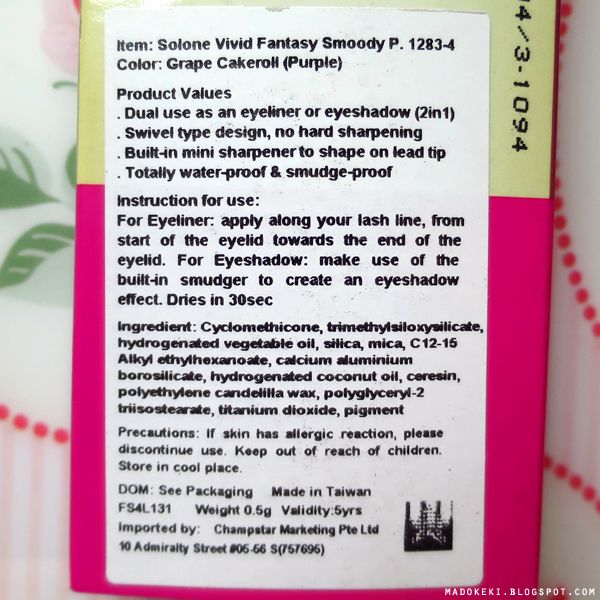 ingredients list if you're interested.
it contains 0.5g of product.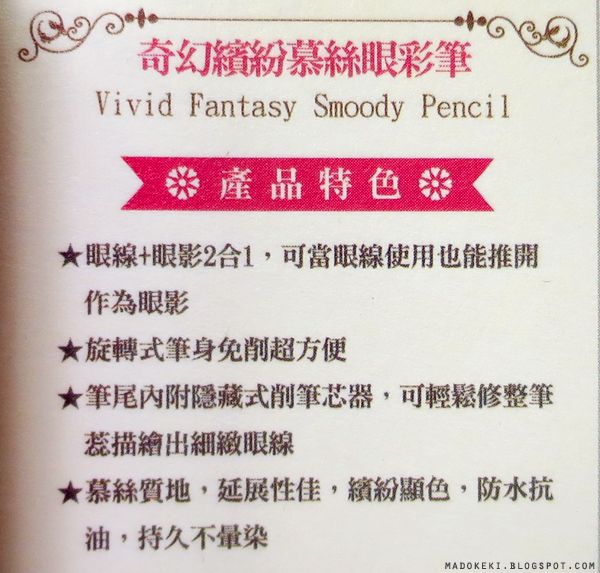 a little translation for those who can't read chinese:
what's special about this product:
1. eyeliner + eyeshadow capabilities, can be used as an eyeliner and blended out into an eyeshadow.
2. twist up mechanism ridding you the need of a pencil sharpener.
3. a sharpener is embedded at the end of the pencil to allow for a more precise application.
4. mousse finish that blends easily. colours are vibrant, waterproof and oil resistant, and a long lasting budge proof experience.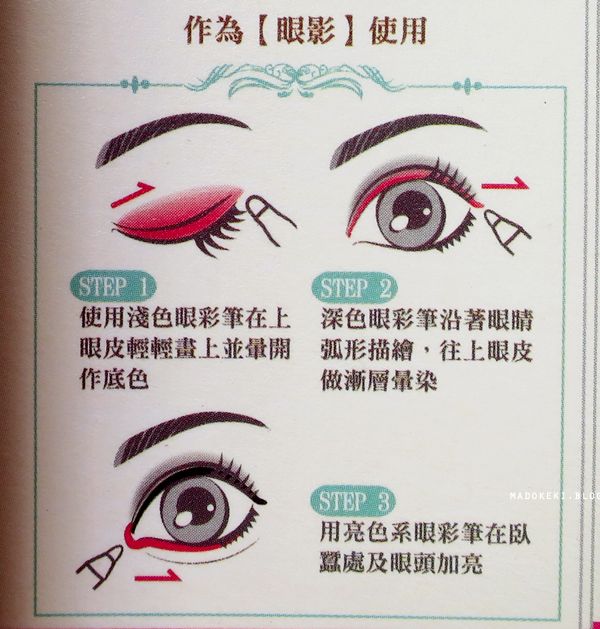 it even comes with instructions on how to use the product.
this is for using it as an eyeshadow.
step 1: use a light colour eyeliner pencil on the eyelid and blend it out as a base colour.
step 2: applying a dark colour eyeliner pencil along the lash line and blend upwards to create a gentle gradient.
step 3: use a bright coloured eyeliner pencil to emphasize the inner corner and the lower lid area.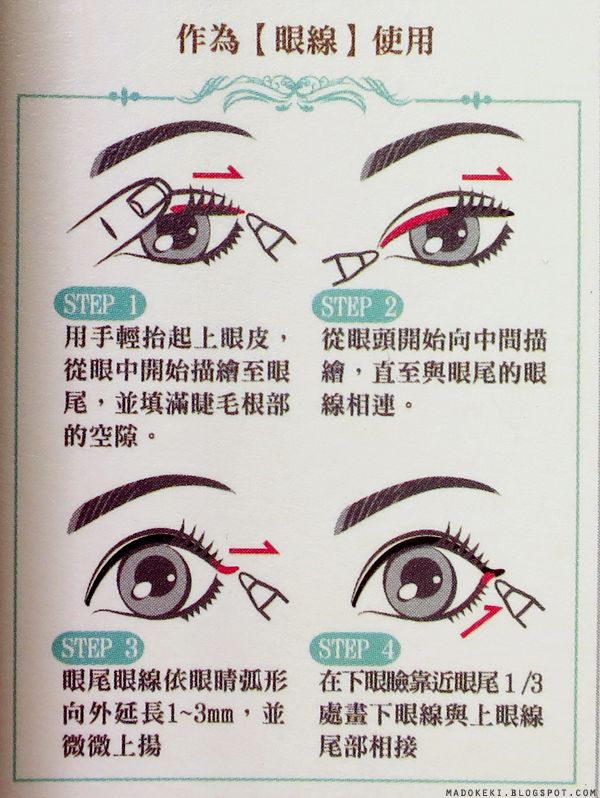 for use as an eyeliner:
step 1: lift up your eyelid with your finger gently, fill in the lash line for the outer half.
step 2: starting from the start of your eyelids, draw the eyeliner and connect to the second half of the line.
step 3: extend the eyeliner according to your eye shape by 1-3mm, lift it up slightly.
step 4: line the outer third of the lower lash line and connect to the upper eyeliner.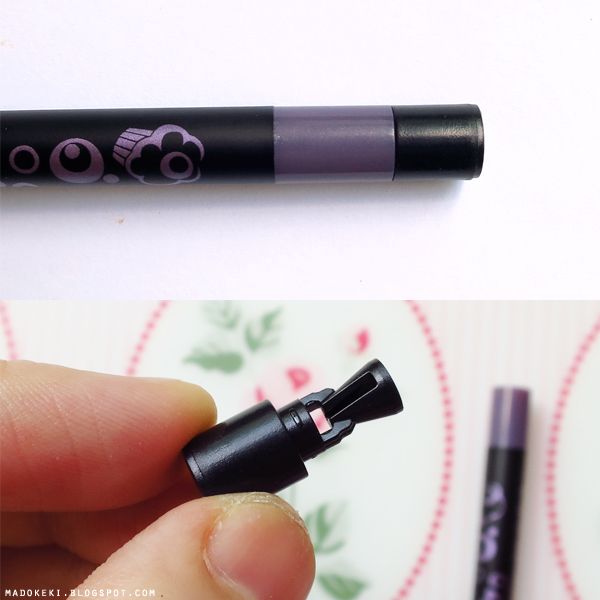 the black little part is actually the eyeliner pencil lead sharpener. it only shaves off the product and not the surrounding plastic (unlike a traditional pencil sharpener).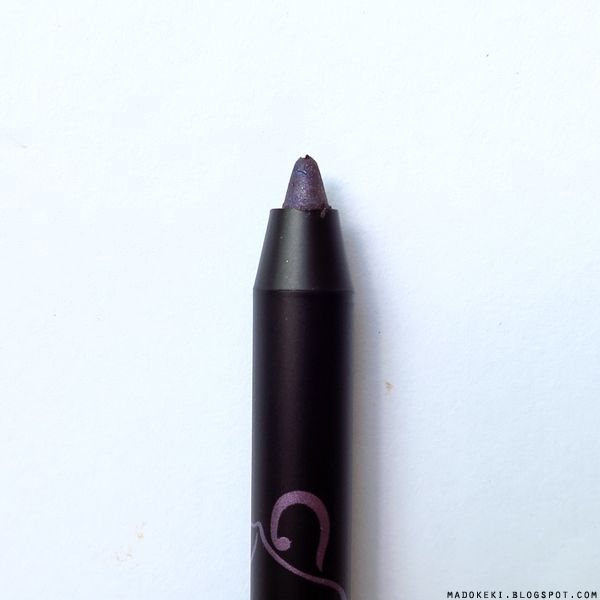 04 grape cakeroll.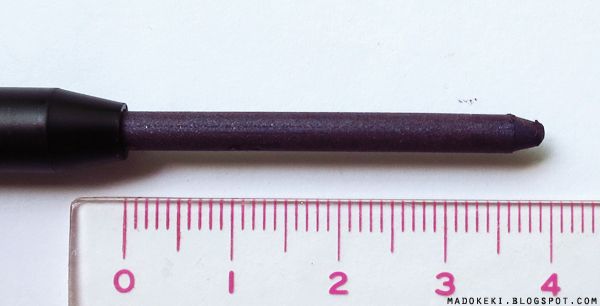 it contains about 4cm of product, which is pretty generous in my opinion. the diameter of the lead is definitely much wider than most other brands out there.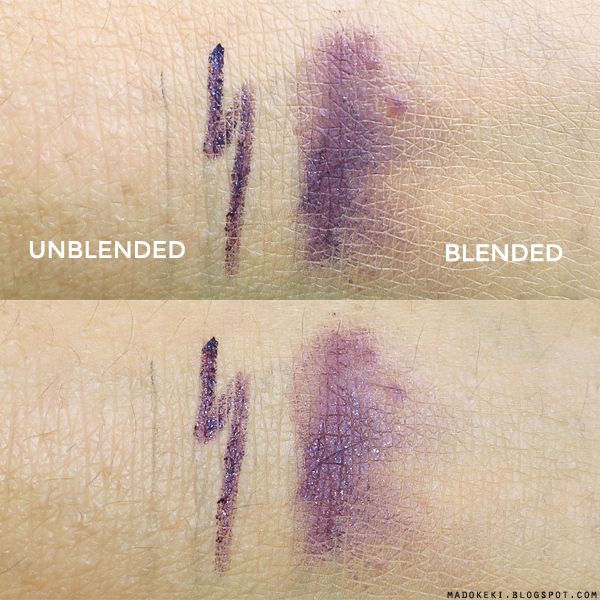 swatched on hand over powder foundation:
grape cakeroll
is more of a violet-like-purple. i'd say it leans towards the bluish side of purple under normal lighting. it contains some shimmer as shown in the bottom photo.
it does glide over my skin very easily, the mousse formula does allow it to be blended out pretty easily, but some skill is definitely required if you want to get an even colour out of this darker shade.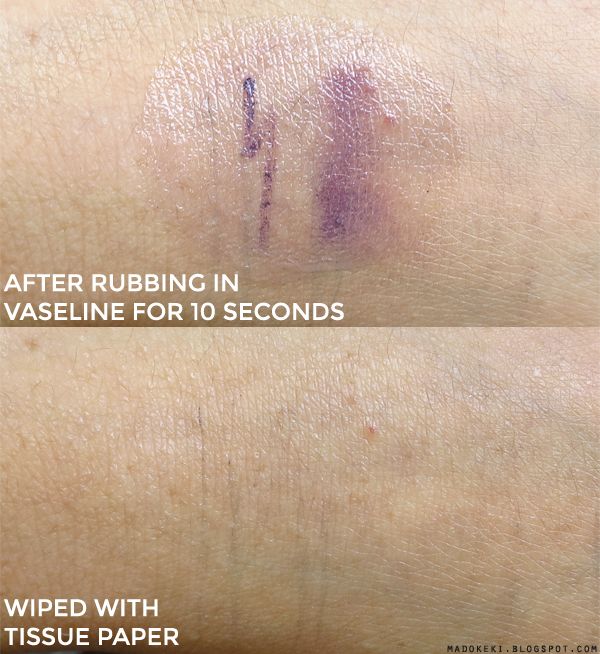 vaseline test:
it's definitely more resistant than my maybelline gel eyeliners. those melt into vaseline within a few seconds of rubbing, but these thing stayed on my hands until i wiped it with a tissue paper. i guess it takes some friction to get them off the skin.
in case you're thinking that it's really hard to remove, it is difficult only if you use the wrong thing. i tried it with an eye makeup remover (i used my
bifesta eye makeup remover
) and it came off really effortlessly after soaking the pad in for a few seconds.
IMHO:
do the eyeliner pencil live up to its claims?
vibrant colour - YES. as with most eyeliners.
budge proof - YES. the first time i tried these in sasa, i tried rubbing my hands to get rid of them. i only got myself some red skin after that. eyeliners still intact. :(
water and oil resistant - yet to test them out for the entire day yet, but the vaseline test speaks volume for its oil resistance.
easy to blend - quite easy i would say, but to get an even application is a little hard. it would required some skills definitely. perhaps loading up on the product instead of a sheer layer will allow more products to be blended out smoothly. i think it blends out a little easier than the makeon season 1 eyeliners (especially the darker shades). currently, i think the clio gelpresso eyeliners still top my list of super blendable eyeliners.
i think the addition of a lead sharpener is a really nice bonus to the twist up mechanism. a lazy bum like me really appreciate this invention.
i bought this for SGD$10 from sasa when it was going on sale. the usual price is $14.90. although it's a little more expensive over here in singapore, but i think it's really worth the buck considering the amount of product you get.
maybelline masterliner cost $9.90 for 0.3g. you do the math.