GEO Tri Colour Brown CM-902
sponsored review brought to you by yourbeautymagic. all opinions are my own.
this is the second pair of lens i chose when contacted by yourbeautymagic, a webstore selling contact lenses based in malaysia. currently, they only sell GEO lenses. they offer a pretty competitive price for some of the lense as compared to other online contact lens retailer, that's one of the reasons why i accepted to try lenses from them instead of other online retailers.
the first pair i chose are the
princess mimi sesame gray lens
, you can see more photographs by clicking on the link!
i've always loved the tri colour series. i daresay this is probably my favourite contact lens design. in japan, they're also sold by
ANGEL COLOR
, under the series name
WORLD SERIES
. i've tried the grey,
green
, and brown before. however, i didn't manage to take photos for reviews a few years ago when i wore the browns, so here goes.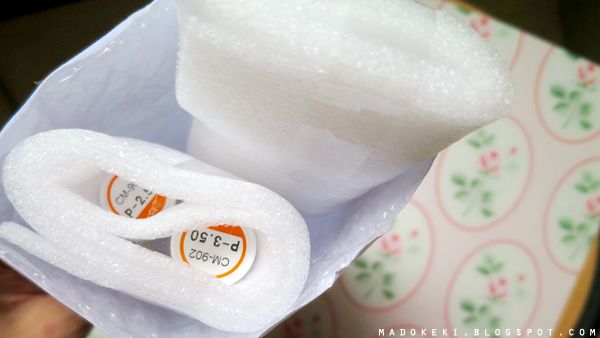 the glass vials are properly wrapped to ensure the lenses reach you safely. lenses belong in my eyes, not in the bubble lined enveloped.
the glass vial that i'm so familiar with. i've been opening these bottles since 2010 :P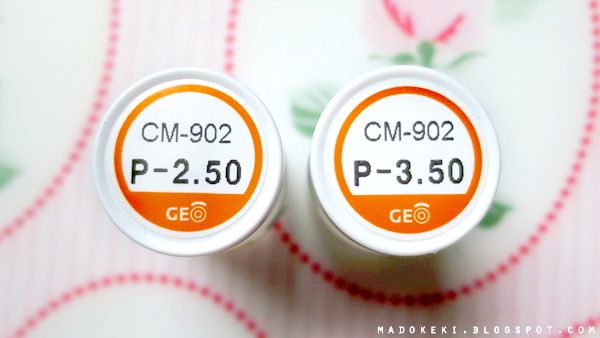 product code is printed on the removable vial cap. i'm more blind in my right eye than my left.
the front and back look almost identical to each other, unlike the
princess mimi sesame grey
lens. the pixels are spaced further apart for a diffused colour effect.

number of tones: three (dark brown, honey, yellow)
diameter: 14.2mm
B.C.: 8.60mm
material: polymacon
water content: 40 +/- 2%
power range: 0 to -6.00 (0.25 step), -6.00 to -8.00 (0.50 step)
(information obtained from official GEO website of another lens because the tri colour series is off their official web! but lenses have similar properties since they're made from the same materials)

price on yourbeautymagic: USD 19 (other webstore are priced around USD20)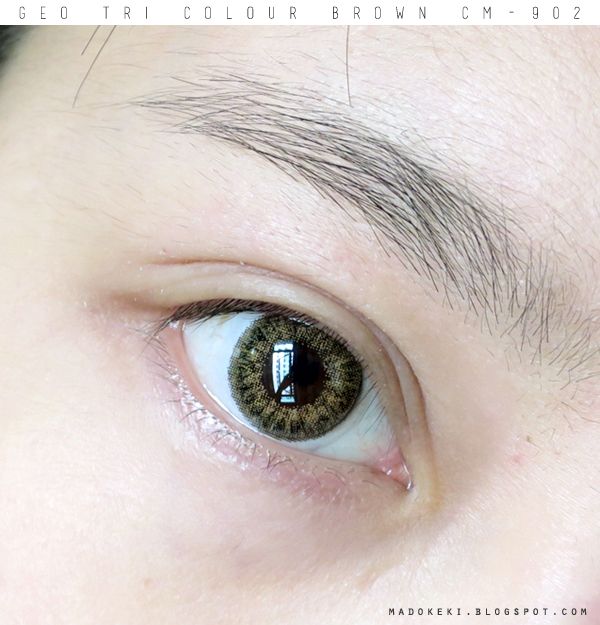 close up of the tri colour brown on my eyes. you'll notice it look different in different photos. it was hard capturing the colours of this lens! the photo below will look closer to what you see in reality.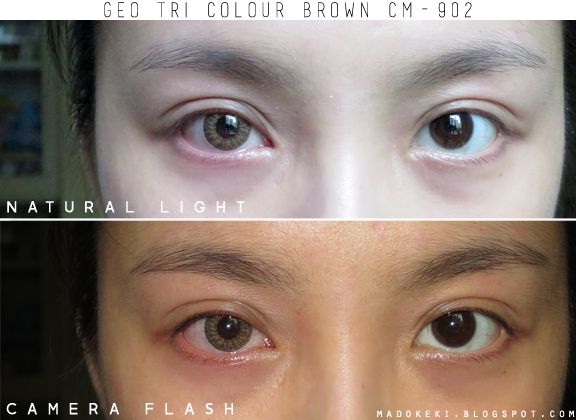 ENLARGEMENT
the lens is 14.2mm with no limbal ring, hence it only enlarges my eyes very very gently. this is one of the reasons why i like this lens - it looks very natural in terms of size.
COLOUR PIGMENTATION
the colours are more diffused and sheerer as compared to the
angel brown
and
princess mimi sesame grey
. this really helps to soften the colours and facilitate the blending of colours with my original eye colour.
despite the sheerer colours, it did a really good job lightening my eye colour. totally a plus point in my opinion because it makes the lens look more natural.
the darker brown around the circumference help to blend the lens into my eyes while creating a more 3D look by contrasting darker and lighter shades together. i really love that added dimension to my eyes (you can observe this most clearly in the photo taken in natural light)
COMFORT AND FUNCTIONALITY
the pupil size is noticeably smaller than the angel browns. i remember i took a while to get used to the obstructed vision (much like seeing your long lashes after you applied mascara the first time).
i haven't worn this out for an extended period of time yet, based on my past experience with GEO lenses, fresh lenses wear comfortably for up to 8 hours. aged lens (more than 3 months old) may make my eyes feel dry easily, i do carry eye drops around with me just in case.
these lenses are yearly lenses according to the official site, but i think it's best to change them out whenever they start to show signs of drying your eyes.
IN A NUTSHELL
this pair of lens will look really good on people with dark iris. the 3 tones in the lens gives a very natural lightening effect. it's the kind of changes that make a huge difference, but people can't quite pin point the reason behind your change.
i absolutely love the tri colour series because it adds so much character and soul into my eyes. it will definitely take a normal eye makeup to the next level. think of it as jewels for your eyes and you'll probably get what i mean.
watch out for this pair of contact lens making it's appearance on my
instagram
and
youtube
videos in the future!
for more information, you can send
contact them
. they're friendly and replied to the bunch of questions i threw at them :P i accepted their invitation to try these lenses because their pricing is more competitive than the other online contact lens retailers.
also, shipping took about 2 weeks for me. i guess the customs held up the package for a while because malaysia is REALLY NEAR to singapore.
if you have any questions, leave me a comment below :)