KATE 2015 "New" Makeup For Spring 201
by the time i'm writing this entry, these cosmetics are no longer new. in fact, they've been released for about 2 months in japan already (officially released on 2nd january).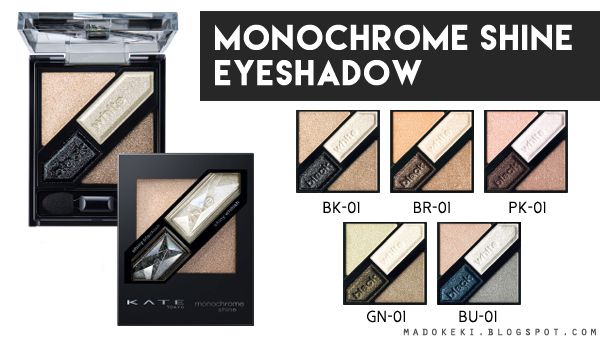 the black in this quad will enlarge your eyes while the white make them stand out even more, the key is to apply the black above and below your iris. the first release comes with 5 different shades.
as you can see, 3 of the four colours look extremely light, the only dark colour being the "black" shade. the white shade looks really refreshing though. i suppose it'll suit those who just started makeup? visit the
official site
to see the colour swatches and a simple tutorial on how to use this eyeshadow!
personally i'm giving this palette a miss because this is in fact just like any other eyeshadow quads that i have, just that i don't use the darkest shade for this specific purpose.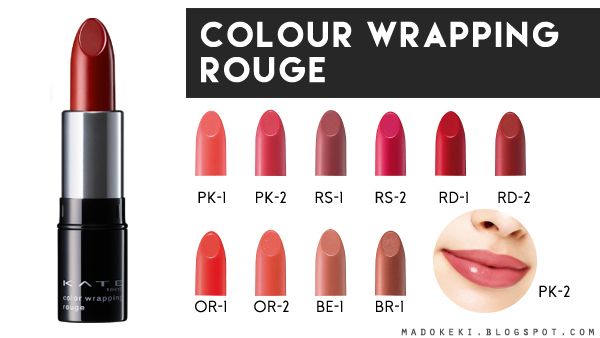 contains moisturizing ingredients such as hyaluronic acid and jojoba oil, this lipstick will hug your lips nicely with the addition of some sort of polymer which i can't translate. this is a new series and it's packaging reminds me a lot of the revlon super lustrous lipsticks. comes in an amazing 10 shades. OR-2 looks quite beautiful to me :P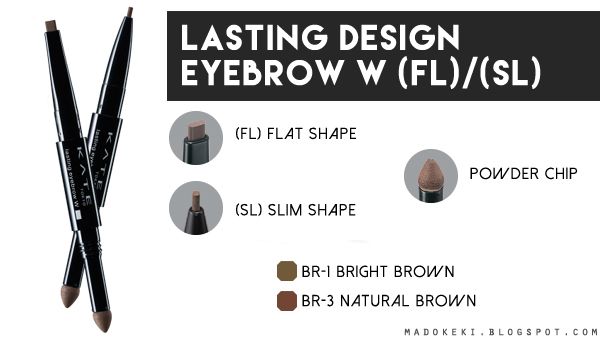 LASTING DESIGN EYEBROW W (FL)/(SL)
| 1400 yen
the flat type is a revival of a discontinued product. back by popular demand? the flat pencil allows you to draw both thick and thin lines, while the slim pencil is perfect for sketching out the skinny part of your brows. both types come with a powder chip which can fill in your brow naturally. only comes in two shades.
kate's official site
has tutorials on how to achieve the stronger and bolder eyebrow that is trending lately.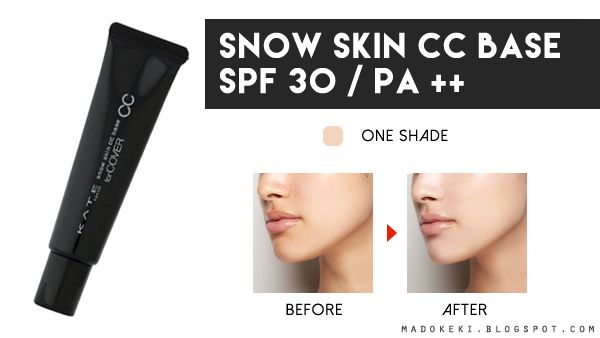 claims to lift your yellowish skin tone naturally without giving you a white cast - the result is a pink and healthy glow. formulated with collagen for its moisturizing properties, as well as "nuance change pearl" (mica, titanium dioxide, tin oxide, iron oxide) to produce the transparent yet glowy finish. comes with SPF35 and PA++, it may just be the perfect CC cream for you if you have pretty awesome skin!
this series look quite meh to me to be honest. kate is known to recycle their eyeshadow palettes as they constantly retire the older releases. i hope they bring back the gradical eyes though! i've never tried their lipsticks before, perhaps i can check them out this time round since "colour wrapping" sounds like what the loreal color riche lipstick feels like.
on the other hand, the snow skin CC base look quite interesting to me because it claims to NOT produce a white cast, not that i need another CC base because i'm still using the nature republic CC cream.
QUESTION
would you like to see swatches of the lipsticks or eyeshadows? i can swatch them the next time i pass by kate's counter :D
image credit: all images taken from
KATE official website