2015 Spring Eyeshadows Releases
before you unearth your stash of pastel eye shadows (if you have any) to accompany
spring lip colours
, have a look at the spring releases! this is the time of the year when most may experiment with pastel shades.
there're simply TOO MANY makeup and beauty brands out there, i'll try to put together both eastern and western brands in this entry! here are 6 eye shadows that interested me in some way or another.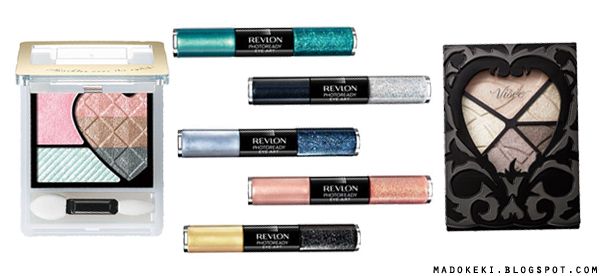 INTEGRATE rainbow gradient eyes | REVLON photoready eye art | VISEE nudy rich eyes
a 2015 spring limited release, the pink in the upper left will brighten up any dull eyes, while the three tones in the heart will create a soft gradient effect. use the blue with pearly finish on the center of the lids for more bright and lovely eyes.
the colours look so soft and almost cotton-candy like! i think this will look great on darker skin as the pastel shades will stand out more!
the satin cream eye shadows are easily applied by the doe foot applicator, the colour blends easily, adhering closely with your eyes to create a high shine look. on the other end is a glitter which you can apply to line your eyes, or all over your lids with the help of the brush applicator.
i've seen
swatches online
and the finish of the cream eye shadow is frosty - in some photos they look like liquid gold. seems like the champagne and pink shades will make a good eye shadow base! the glitter looks really versatile too, i can foresee myself using it to line my lids and my lower lid area for the teary eye look!
the new ash beige eye shadow quint can help you create the mixed-blood look that well loved by japanese. the shades will carve out sharper dimensions on your eyes. the base colour (at the top) will brighten your entire eye area to prepare for the 4 gradient colours later. infused with moisturizing ingredients, it'll protect you from dry skin.
from the official website, this palette looks a little like mauve to me - greyish brown with a hint of purple. i don't own any palette like this and it's really enticing me.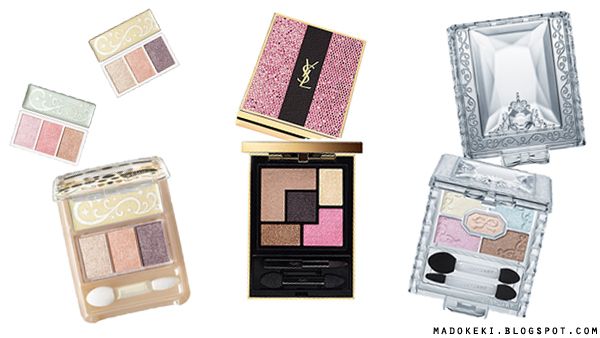 MAJOLICA MAJORCA majolook illuminator | YVES SAINT LAURENT palette yeux collector | JILL STUART ribbon couture eyes
limited release for spring 2015, nude brown palette BE700 and pink pastel jewel PK700 will illuminate your eyes with the luminous eye base (the longest rectangle), while the other 3 powder eye shadow brighten your eyes.
majolica majorca eye shadows are well known for their buttery powders. i don't own any eye shadows from them because their colour tend to be on the light and sheer side. too frosty for my liking.
housed in the luxurious casing decorated with black belt and pink sparkles are 5 powder eye shadows: matte black with pink shimmer in the center, champagne, sheer pink, glossy copper, and nude beige. a versatile palette that can be use for both daily looks and glamorous party looks.
the mixture of nude and statement colours make this palette special in its own way. the nude and copper shade can be use for daily looks, and transition into a night look by adding a dash of black. if you're feeling flirty, use the pink and champagne for highlight!
a new release this year, ribbon couture eyes comes in 4 permanent shades and 1 limited shade (shown above) for spring 2015. the quint consist of 4 gradation colours, and an additional "ribbon colour" for decorating your eyes. formulated with emollients, the powder has a buttery texture and high blendability.
the colour combination resemble that of majolica majorca quite a bit huh? this cost 3 times as much! but the packaging is always pleasing to look at.
QUESTION
will you try out any of the spring colours for your eyes?
i'll probably pair them up with my normal palettes so i still get some darker shades on my eyes or i risk looking really puffy eyed. if you have darker skin, pastels will contrast your skin to give you a really bright eye look!
image credit: @cosme official website, jill stuart official website