Some Lip Colour For You To Try This Spring!
even though there isn't any hard rules that say we can only wear certain colours during the different seasons, sometimes it's nice to get a little inspiration when we're bored of what we've been wearing for a while and start to dig through our pile of lipsticks to see if we can rekindle our love for a long forgotten lipstick. assuming you have a lipstick addiction like me, and many other vain friends i've made over instagram :P
i always wondered why people always wear pastel shades during spring. even though there aren't much flowers in places i've grown up, the word "spring" brings an image of blossoms to my mind - petals of flowers in shades of pink, apricot and corals form the main colour palette of nature.
after the months of autumn and winter, it's time to embrace juicy and translucent lips again. you'll notice a lot of makeup looks featuring glossy and plump looking lips.
the original
MAQUIA website
featured the following 6 colours for spring. i've done some translation of the editor's comment and added some of my own as well!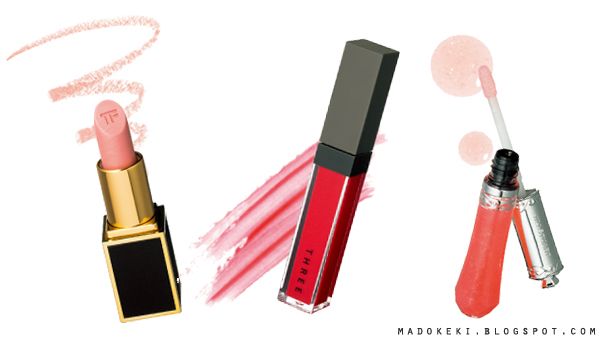 SOFT NUDE | JUICY BLOOD ORANGE | SYRUPY PEACH
1. TOM FORD BEAUTY |
LIP COLOR 17A FLYNN
a flattering warm pink that can add a sense of feminity and colour to freshen up your look. from the limited edition miniatures "
tom ford lips and boys
".
2. THREE |
SHIMMERING LIP JAM 08 RED SHOE TWIST
a mixture of red and orange in a translucent finish, this will allow you to wear the reds without having that heavy winter feel.
3. JILL STUART |
LIP JEWEL 24 RUBY BIJOU
with just a tinge of colour, the transparency colour will plump up your lips to give you a youthful look. isn't that what spring is all about? part of the 2015 spring colour collection.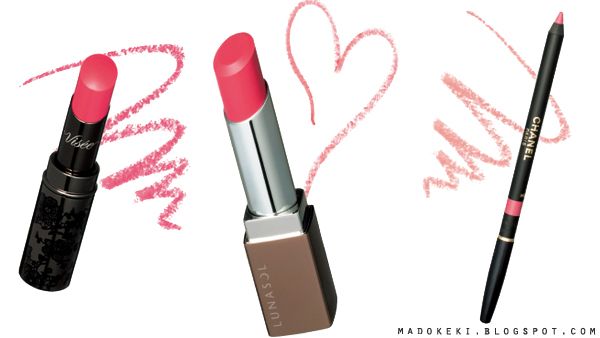 SHINY RASPBERRY PINK | CREAMY STRAWBERRY RED | SEMI MATTE MILKY ROSE
4. VISEE |
COLOUR POLISH LIPSTICK PK820
a blue based pink will add a pop of colour to chase away the winter blues, while the shine formula make it look less intimidating. this lipstick is said to be really pigmented. you'll hear from me when i finally lay hands on this.
5. LUNASOL |
STAIN COLOUR LIPS 03 ENERGY PINK
transitioning from the winter matte lips, a creamy strawberry red lips will add cuteness to all ladies. as it's able to stain your lips, you can get away with long lasting colours even after the lipstick wears away!
6. CHANEL |
LE CRAYON LEVRES 91 ROSE DELICAT
for the working professionals who need a toned down look, a semi matte milk rose lip liner will be most appropriate as it look less girly than pink. the semi matte finish may just con others into thinking it's your own lips.
now that my skin is getting better, i hope to be able to carry off pastel shades because they'll look odd against pink or reddish skin :( i'm dying to try nude pink, peach, and raspberry pink. as for finish, i'll go for creamy or shiny for light shades, and juicy translucent finish for darker shades!
what colours and finish will you be sporting this spring?
images taken from the MAQUIA website.