my skin is finally doing fine enough for me to take some contact lens photos. previously my eyes were swollen because.. my entire face was a little swollen. i'm not confident of my skin being able to withstand chemicals (makeup and makeup remover) yet so i took these photos without eye makeup, but that shouldn't affect the lenses right?
for the past 6 months i've been rotating between two pairs of lenses, the tri colour grey, and the
angel brown
, both are from the korean company GEO.

number of tones: three (dark grey, light grey, yellow)
diameter: 14.2mm
B.C.: 8.60mm
material: polymacon
water content: 40 +/- 2%
power range: 0 to -6.00 (0.25 step), -6.00 to -8.00 (0.50 step)
(information obtained from official GEO website of another lens because the tri colour series is off their official web! but lenses have similar properties since they're made from the same materials)
i purchased this for SGD16 from an online pre-order years ago, that person is not in business anymore.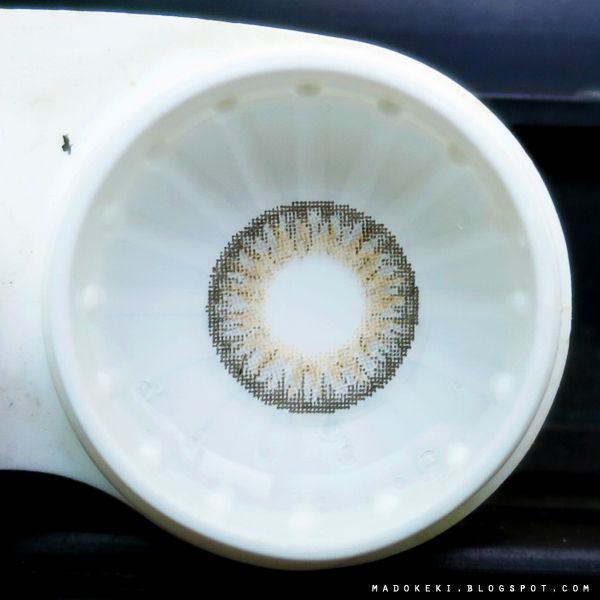 the three tones in the lens is more visible in this close up. the colour pigments are rather dispersed, you can see the mesh placement of the ink instead of dying the polymer completely grey. this allows the colour to blend into my eyes much better, giving it a natural look!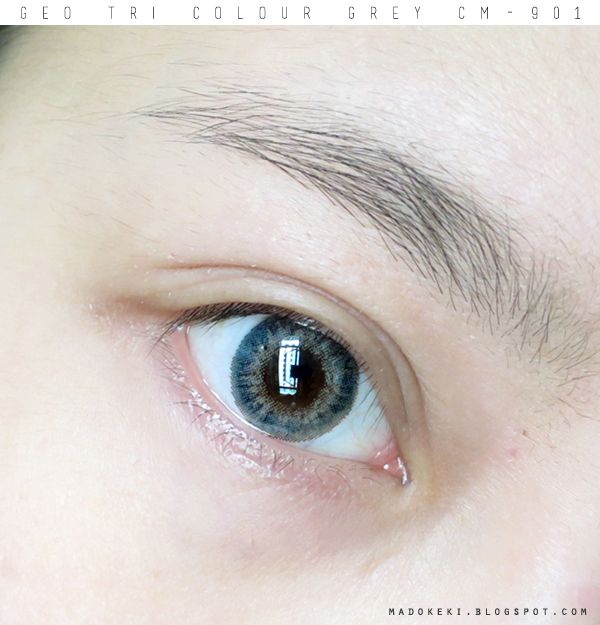 up close and personal, you do see some pixels. other than that, the tonal difference in colour creates depth and dimension, something i really adore from this pair of lens. you may notice some blue tinge in the lens, it only appears in such close up photos.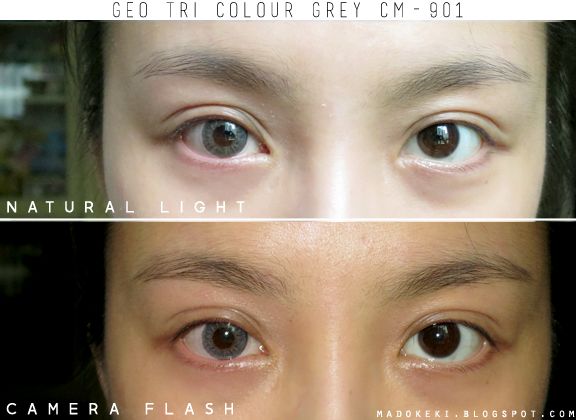 ENLARGEMENT
only a subtle enlargement as it barely cover up my iris. 14.2mm lens suit me better as i prefer the natural look (as compared to circle lenses which enlarge the eyes).
COLOUR PIGMENTATION
the greys are obvious but diffused, allowing it to stand out even in natural lighting without making me look like i have cataracts. the pixelated mesh print allows the colour to blend into my eyes much more naturally than the angel browns.
COMFORT AND FUNCTIONALITY
the lens may restrict vision a little initially, like how i felt when i wore mascara for the first time (suddenly my lashes are visible!). once your eyes get used to it it'll be fine though. one thing worth noting is how the lens will "slip away" from my iris. when i look straight, the lens will slip down sometimes. :/ perhaps the base curve isn't suited for one of my eyes, it's kind of odd because it only happens to one of my eyes.
fresh lenses wear comfortably for up to 8 hours. aged lens (more than 3 months old) may make my eyes feel dry easily, i do carry eye drops around with me just in case. i've worn this pair for a year and i can definitely feel the dryness creeping up on me. it's time to throw it out, but i didn't because i haven't taken proper close up and comparison photos previously! now i can!
these lenses are yearly lenses according to the official site, but i think it's best to change them out whenever they start to show signs of drying your eyes.
IN A NUTSHELL
if you're looking for a natural pair of lens that will alter your eye colour so subtly, this is it. grey in the eyes normally risk looking like cataracts, but this pair blends in so nicely with my eyes that it never gave me such a problem.
i absolutely love the tri colour series because it adds so much character and soul into my eyes. it will definitely take a normal eye makeup to the next level. think of it as jewels for your eyes and you'll probably get what i mean.
this pair of lens have garnered a lot of attention from both
youtube
and
instagram
as viewers always ask me what lens is this. maybe i should endorse this pair of lens huh? :P
as seen in my
burgundy makeup tutorial
as seen in my
harajuku makeup tutorial