GEO Princess Mimi (bambi) Sesame Grey Photos and Review
sponsored review brought to you by yourbeautymagic. all opinions are my own.
yourbeautymagic is a new web store selling circle and coloured lenses. they're based in malaysia if you're curious! currently, they only sell GEO lenses. they've hit me up with a chance to try out two pairs of lenses, so i picked the ever so popular princess mimi series in sesame gray/grey (whichever spelling appeals to you! i can't make up my mind as you can see :P).
these lenses are sold in japan under the brand
ANGEL COLOR
, and it's named the BAMBI SERIES, and this series is produced by tsubaki masuwaka. the lens are in fact manufactured by GEO.
i've been wearing GEO lenses ever since i started experimenting with circle lenses. part of the reason is due to the fact that they're the more affordable ones, also, they just so happen to have the designs that i want as opposed to other brands like EOS, DUEBA, or G&G.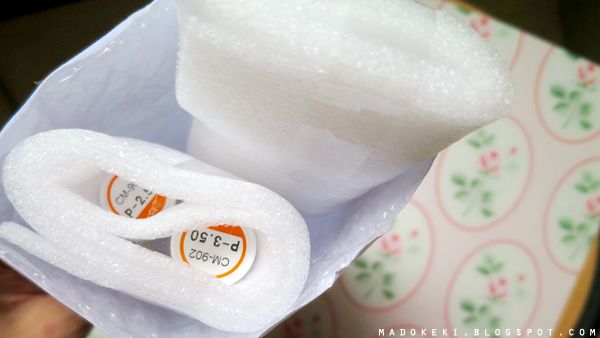 the lenses are wrapped up with foam padding, no chance of breakage baby!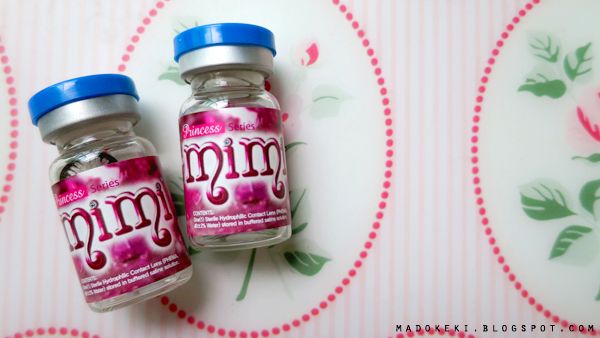 the lenses come in standard glass vials.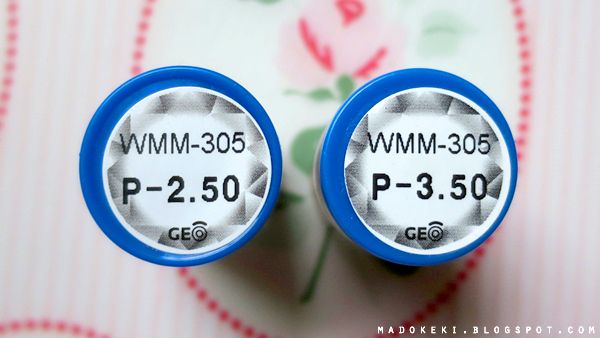 product code is printed on the removable plastic caps.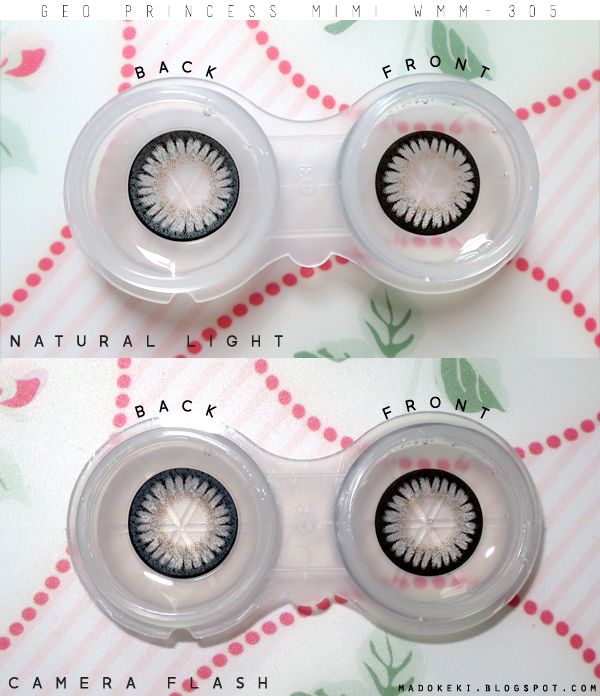 the front and back of the lenses look a little different. from the front, the black limbal ring is darker, while it appears as a greyish colour from the back. this is due to the layering of colours on the lenses.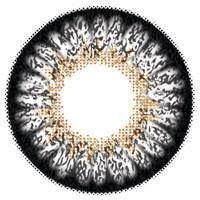 number of tones: three (black, grey and yellow)
diameter: 15mm
B.C.: 8.70mm
material: polymacon
water content: 40 +/- 2%
power range: 0 to -6.00 (0.25 step), -6.00 to -8.00 (0.50 step)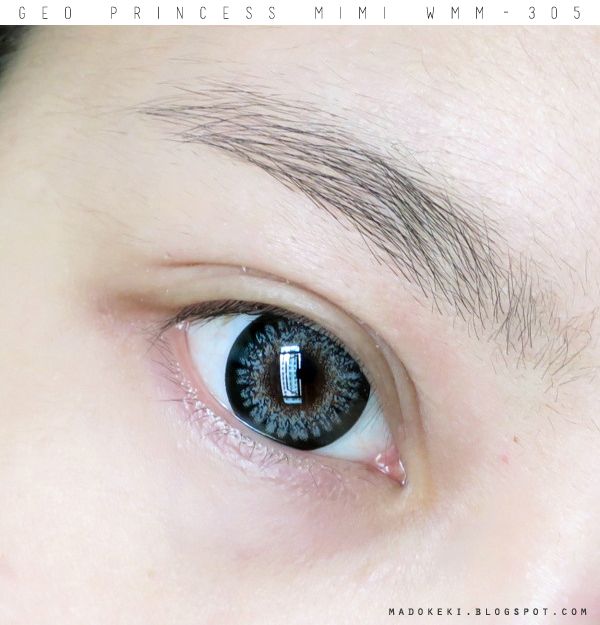 close up of the geo princess mimi sesame grey circle lens on my eyes.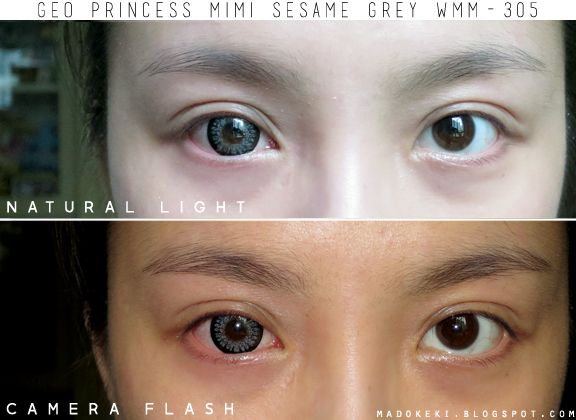 ENLARGEMENT
the enlarging effect is really obvious, this is what 15mm lens does to my eyes - it makes me look like an alien!
when i saw the thumbnail of the above image in my folder, i look as though my entire eyeball is black!
COLOUR PIGMENTATION
the grey in the lens is more obvious when under flash. in natural light, it didn't fair too badly either (as compared to angel grey) as it really stood out while the yellows softened the lens and blended the colour into my original eye colour pretty decently.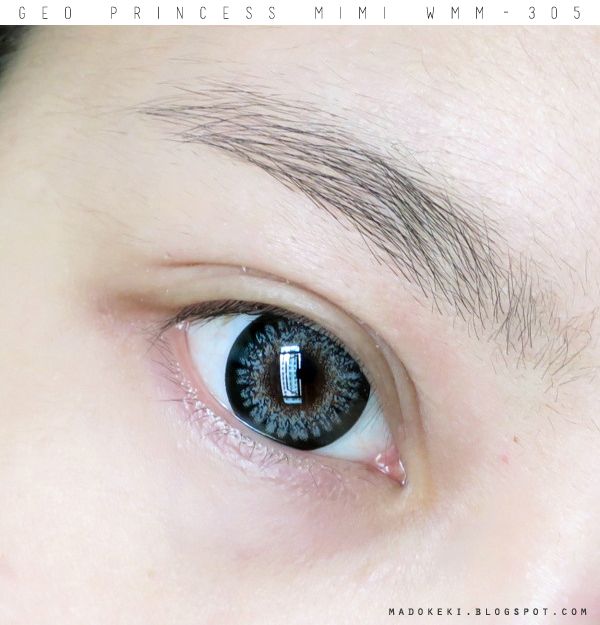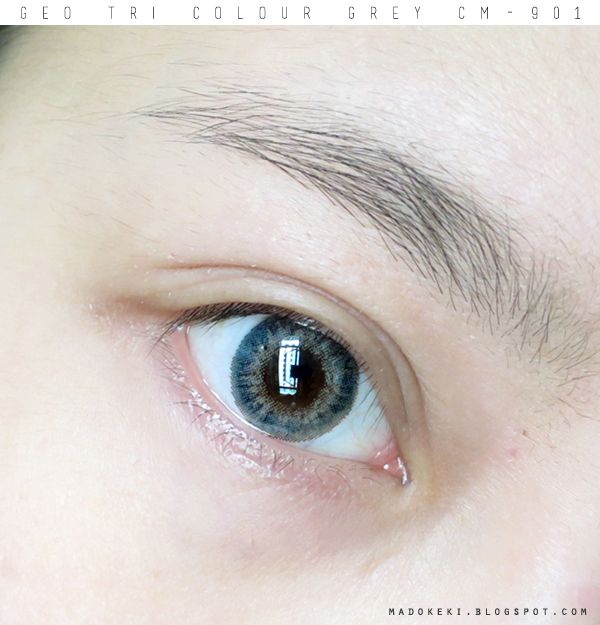 the grey is quite opaque in my opinion, unlike the tri colour grey (on the right) which is sheerer.
without the black limbal ring, this would have looked a lot like the nudy grey. i was this close to looking like i have cataracts, but the limbal ring brought a beautiful contrast to the grey, making my eyes look hypnotic instead.
COMFORT AND FUNCTIONALITY
the pupil size of the lens is adequate and doesn't cause any obstruction to my vision at all. i need a while to get used to the tri colour lenses because that sort of restricted my view a little.
as for comfort, it felt weird to put in such a big piece of lens into my eye at first. but my eyes didn't register any discomfort (like the feeling of something foreign in my eyes).
i haven't worn this out for an extended period of time yet, based on my past experience with GEO lenses, fresh lenses wear comfortably for up to 8 hours. aged lens (>3 months old) may make my eyes feel dry easily, i do carry eye drops around with me just in case.
these lenses are yearly lenses according to the official site, but i think it's best to change them out whenever they start to show signs of drying your eyes.
IN A NUTSHELL
this is not the most natural pair of lenses as you can definitely see the black "tentacles" up close and personal. you can either shove people at least an arm's length away from you, or just embrace it!
i got this pair to try because it was one of the most popular lenses! i know that 15mm is too ridiculous for my eyes, but curiosity got the better of me. i believe this will look much better with some makeup on! it should look really good with dolly eye makeup.
watch out for this pair of contact lens making it's appearance on my
instagram
and
youtube
videos in the future!
for more information, you can send
contact them
. they're friendly and replied to the bunch of questions i threw at them :P i accepted their invitation to try these lenses because their pricing is more competitive than the other online contact lens retailers.
also, shipping took about 2 weeks for me. i guess the customs held up the package for a while because malaysia is REALLY NEAR to singapore.
if you have any questions, leave me a comment below :)