Majolica Majorca Lash Expander Frame Plus (Swatches and Review)
i am aware that this mascara has been replaced by the lash expander edge meister. once again, this is so telling of how long i've owned this mascara. this dates back to 2010. =_= surprisingly, it has not dried out yet, so i still keep it in my stash even though i seldom use it (you'll see why in a bit).
the name is seriously fancy and yet says nothing about what this mascara does. i mean, expand the lashes in which direction? if it's the horizontal direction, it could be a voluminizing mascara..! i would actually name it "lengthening and curling mascara", but that wouldn't catch the hearts of the little princesses i guess..!
ok, i'm being mean here. this mascara claims to carry out 3 functions - lengthening, curling, and separating. while it did not state explicitly that it's waterproof on the tube, it is actually waterproof.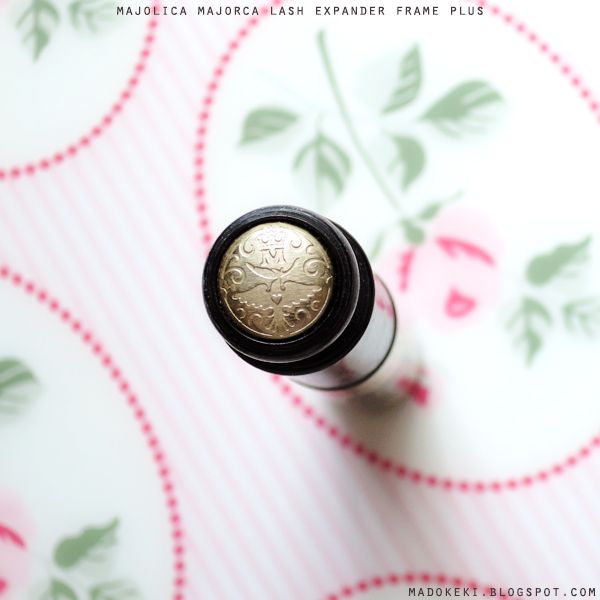 it comes with girly prints on the tube. i love the little details! and i really like the gold on black design. so classy.
as usual, i got it in black, its colour code is BK999. it's as though 999 stands for the blackest of the blacks.
THE BRUSH__________________________________________________________________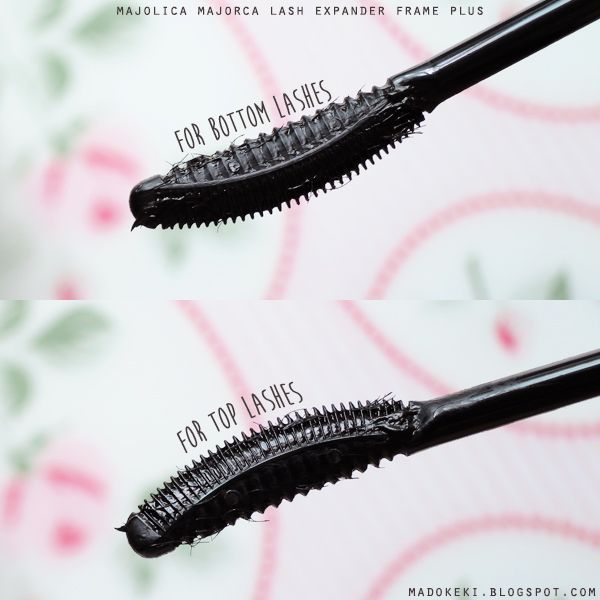 not only do the mascara have a fancy name, it has a rather fancy brush too. there are two sides to it.
the first
is meant for the bottom lashes and it consists of shallow grooves that will collect lesser products so as to prevent depositing too much onto the lower lashes.
the second
side is a single comb brush with closely spaced tooth. this is meant for combing the upper lashes. the groove is much deeper than the first, so it contains much more products (which is ideal when it comes to building length with it).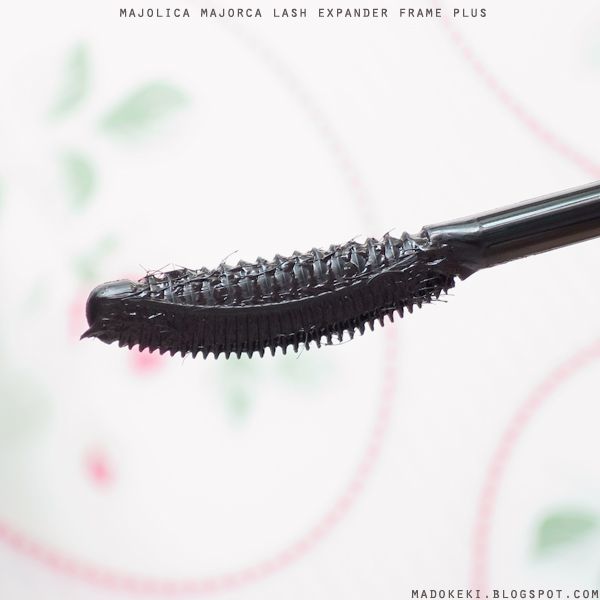 tried to take a close up to show the fibres in the mascara.
i have no idea how long the fibres actually are, and i don't think it matters because do you really use a ruler to measure how long it lengthened your lashes? neither do i.
THE BEFORE AND AFTER______________________________________________________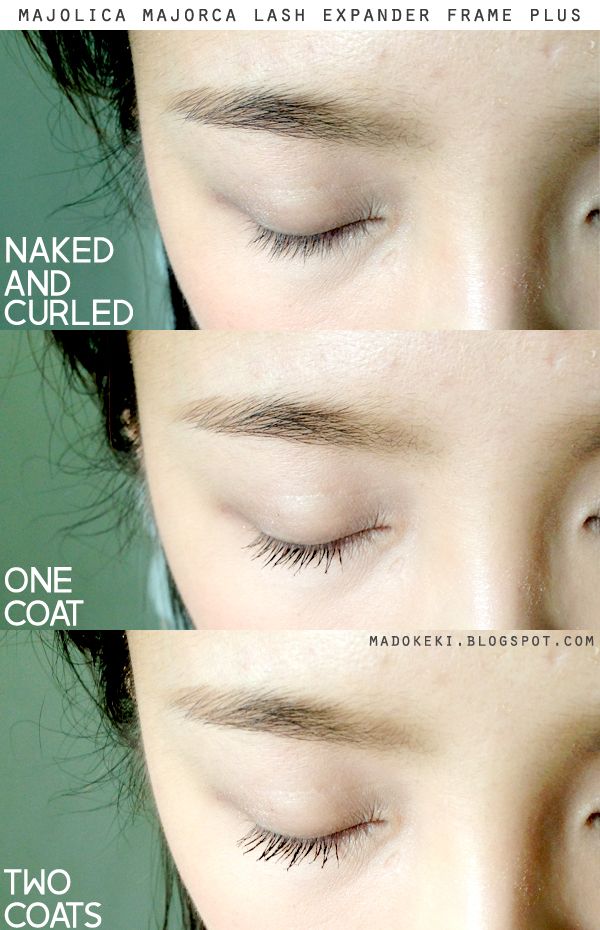 naked lashes vs 1 coat vs 2 coats, lashes curled prior to mascara application.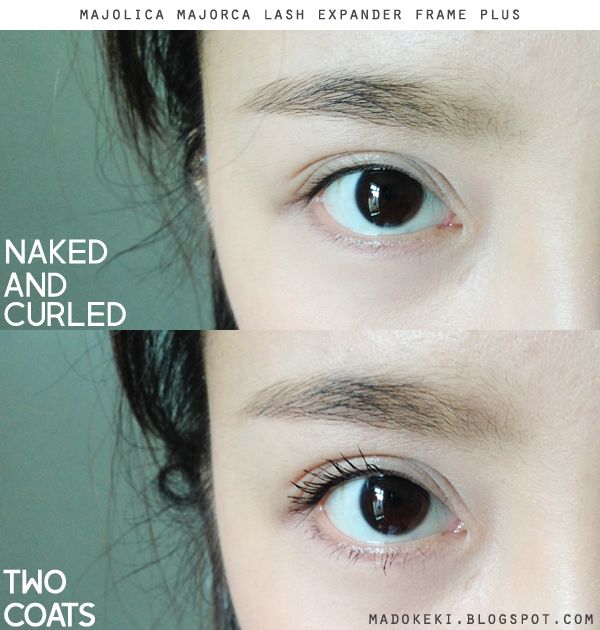 MAGIC. comparison with eyes opened.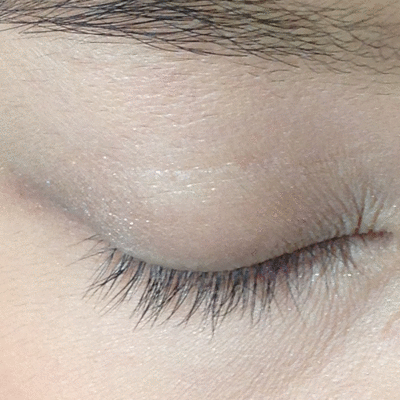 gif image comparing naked lashes, 1 coat, and 2 coats of mascara.
THE CAPABILITIES___________________________________________________________
the
lengthening power is okay
, it looks really amazing in the comparison photo with my eyes opened because they made my really thin lashes become more visible, but does it really lengthen that well? i think it's rather mediocre if you compare the gif. if anything, it made my lashes wider than longer (due to the age of the product i suppose). when it was brand new a few years ago, the mascara was relatively wetter, when i load up two coats of mascara, what i get is the same lengthening effects, but lesser volume. i ended up with really natural looking lashes, so natural that it looks like i didn't wear any mascara at all (not sure if i like that look or not).
thanks to the comb brush, it is able to
separate my lashes
into little clusters.
this mascara is
able to hold the curl for the entire day
, but one thing i didn't like is that it will straighten part of my curls right after application. instead of a beautiful curl (that i achieved by crimping my lashes along the lengths), it now becomes a one that points straight up, i can't even call it a curl. it's
waterproof
, and is able to stay put on my lashes for the entire day when i do wear it.
no melting or smudging!
if i want better curls, i'll have to curl my lashes with an electric lash curler. it works so much better that way in giving me natural looking curls. the mascara doesn't melt off when heated! :D
the age definitely made it a little harder to get the 2nd coat on without some clumping even when the first coat is not fully dried yet.
lastly, it is
so waterproof that it'll take some effort in removing it
, even with a eye makeup remover.
IMHO:
i'm not one who goes for just length actually, that's why i'm not too happy with my purchase. my lashes are both short and sparse, and without the volume, no matter how much length i pack on, it will just seem MEH on my lashes.
i really didn't like the fact that it straightened my lashes after application. sometimes i think that the only reason why it's still pointing upwards is because i didn't really get to my roots. otherwise, it'd have fallen down too. but that part can be remedied by using an electric lash curler, so that's fine.
however, with all these said, i used to use it together with a voluminizing mascara, as the latter is able to impart volume and curl, acting like a mascara base for me before i build on its length. BUT, the fibres are really fine, and they can't hold a shape very well, and they often end up bent on the tip of my lashes. who has bent lashes like that!?
can i say that this mascara is overly waterproof? i bet if i go dive with this mascara on, it'll stay on me even after the dive. this stuff is really nasty to remove off my delicate lashes. it's actually the hardest to remove out of all my waterproof mascara.
i don't even know why i still keep it in my stash. to be honest, i've only wore it once in the past few months, and it's for taking swatch photos for this entry. i know hate is a very strong word to use, but i really hate how this mascara works for me - it just didn't work for me!
IN A NUTSHELL
this mascara is good for you if you want
1) separated lashes
2) natural looking lashes
3) length
4) SUPER waterproof mascara that is heat resistant
i bought this for SGD18+ when it was on sale in watsons.