Etude House Precious Mineral Any Cushion First Impression Review
here comes my first bb cushion. i know i'm very late into the game because i couldn't justify buying yet another foundation when i already have an existing bb cream to finish. my mentality back then was different - bb cushions are a waste of product (since the cushion will hold on to the last drops of the product) and a waste of my money (because i still haven't finished my bb cream yet).
i changed my mind after i studied more about the product. i realized what the bb cushion offers is unlike any other bb creams that i used to know of. it's designed to help make the application more even, to speed up the makeup process, and to allow for easy touch up on the go (mind you, we're talking about a liquid product here! it's a revolution from the pressed powder era!).
SHUT UP AND TAKE MY MONEY! i want to try it out if it's really that convenient. since i'm on a budget, i chose the etude house precious mineral any cushion as it's one of the more affordable ones as compared to laneige, hera, and iope. plus etude house's precious mineral bb cream was so raved about, this thing should be pretty good too, right?
let's see.
PACKAGING==========================================================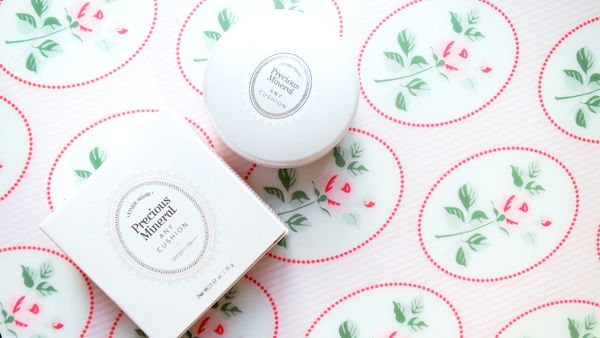 the bb cushion comes in a round pact that reminds me of a macaron. the pearlescent cover added about 40 points to the sweet packaging.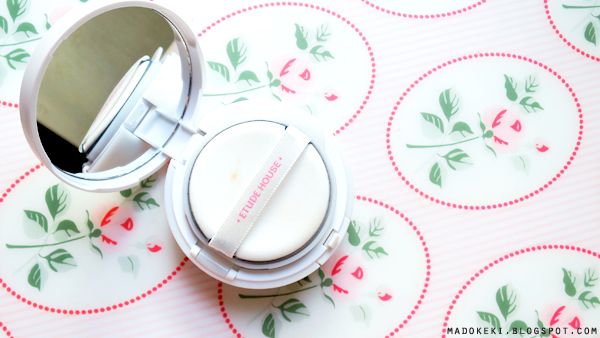 the pact is slightly bulky because it contains the cushion and the puff! the puff is designed to be non-absorbent, and the patting motion helps to create a flawless finish (it made my skin look buffed. BUT please smoothen out your skin with a primer if you have larger pores! it'll make a world of a difference!)
PRODUCT INFO=========================================================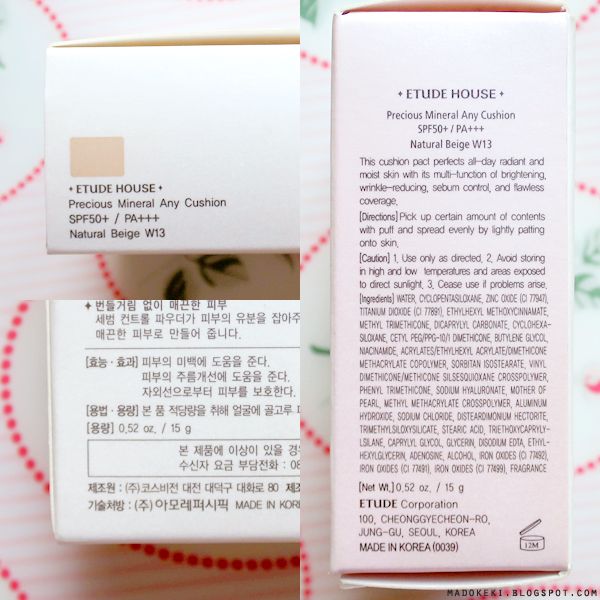 i got it in W13, natural beige. i mentioned in the video that they only have 3 colours for this product. this is the middle shade.
it comes with SPF50 and PA+++.
this product claims to
brighten, reduce wrinkle, control sebum, and offer you a flawless finish
.
the ingredients list are on the right. i'll list out the things that stood out from the rest to serve its stated purpose.
brightening:
zinc oxide, titanium oxide (both are sunscreen which give you the white cast), niacinamide
wrinkle reducing:
niacinamide, adenosine
hydration:
sodium hyaluronate
for 18000won, i got 15g worth of product. refills go for 10000won.
SWATCHES==========================================================
W13 natural beige, in the cushion.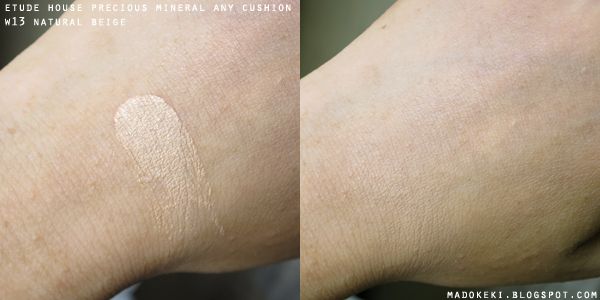 W13 natural beige, on the back of my hand. blended out with the puff on the right.
FIRST IMPRESSION====================================================
a few plus points first!
1. easy and quick makeup application
you don't need any extra tools or skills, all you need is your fingers in the puff and pat away to get the most beautiful finish and glow. the good thing about cushion on cushion (or puff on cushion) application is that it allows for a very even distribution of product thanks to the larger surface area of contact between the puff and the product. it is unlike the traditional bb cream or foundation where you have a concentrated source of product (which you have to spread it out on the back of your hand before applying to your face to help with the evenness). fuss free, fool proof, and very beginner friendly.
2. touch up on the go
this pact was designed to be carried around without worrying about getting the liquid product everywhere. it's indeed a new innovation as most ladies touch up with pressed powder. i don't remember seeing anyone touch up with a liquid product before. definitely another plus point for ladies on the go. but that also means that this makeup probably isn't very long lasting huh, since it was designed for touching up???? HMMM.
3. affordable price
very affordable as compared to the other cushions in the market! this cost 18000won in korea, and you can probably find it online for around the same price (exclusive of shipping) if you know where to look.
4. flawless and dewy finish
i am totally in love with the flawless finish. they weren't kidding! i think the puff deserves some love when it comes to this. the rubber surface did some magic to the product, giving me a buffed out look even though all i did was to pat. and look at that dewy glow!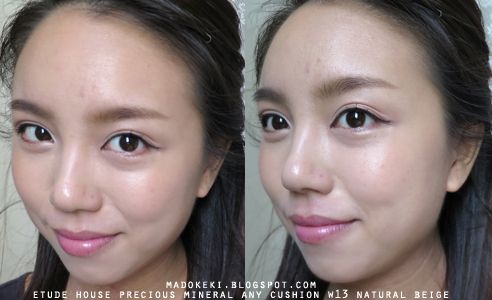 full makeup done without powdering my face. only had blusher and some shading powder along the hair line.
on to the parts that it can improve upon!
1. not as sweat resistant
to be fair, it was never touted to be a sweat resistant nor a long wear product. i wish it's more summer proof because i'm in singapore and there's no way i can escape heat and sweat. i'll have to face it: dewy finish makeup is good for photo taking and indoor only. the product transfers slightly when i blot off my sweat with a piece of tissue paper.
2. overly strong scent
the scent did smell good at first, but it got to me after 4 hours of constantly smelling a whiff of it. korean products are usually scented, this is just too much for my liking.
3. limited colour selection
they have 3 colours for you to choose from, super fair, fair, and not so fair. hahaha they do have product names for it but i thought my description of the names would give you a better idea. of course, 3 colour choices are a vast improvement from the original one-colour-fit-all bb cream, but it's very asian oriented. as with all other bb creams, this will not suit those with slightly darker skin tones because of the white cast, which will make you look ashy. if you have the typical asian skin, then you don't have to worry too much about the colours. i think you don't even have to bother about matching it your skin colour because the product will sheer itself out eventually to match your skin. all you end up with is the white cast which will brighten your face.
4. what's with the white cast!?
even though it fades with time, the initial application scared me. honestly speaking, i bet it's mostly due to the physical sunscreen. hopefully i get more used to the amount i use for my face so that i don't turn into a ghost again in the future.
5. the product may oxidize throughout the day
my forehead (far away from where i applied the shading powder) turned darker with time but the center of my face remains relatively bright. i may have gotten some of the products off my face when i blot off my sweat. or the part on my forehead just oxidized more due to more oils being produced there? i don't know. just stating a possibility based on the colour change i observed.
there's one point which makes me sit on the fence.
1. sebum control
i forgot to mention this in the video as i was too taken away by the other points. also, i didn't really pay attention to the oil control part as i was perspiring too much to take notice. the heat makes me produce oil and sweat. however, my skin appears semi matte towards the end of the day. i did blot off my sweat with tissue, i'm not sure if it took away the oils too? i'll have to try it out a few more times before arriving at a conclusion for this.
FULL FACE MAKEUP=====================================================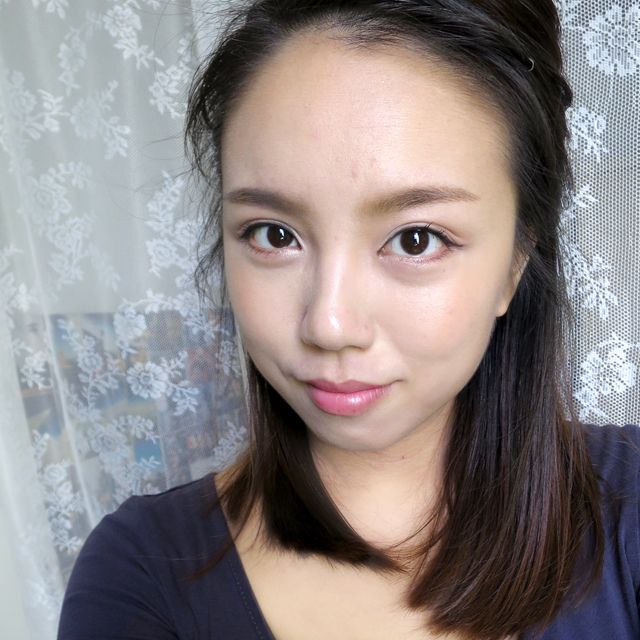 products used: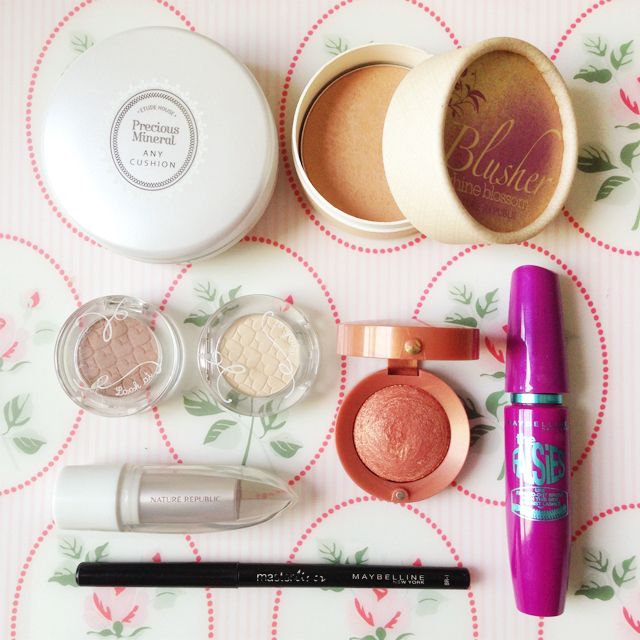 foundation:
etude house precious mineral any cushion (W13 natural beige)
shading powder:
nature republic shine blossom blusher (05 shading beige)
blusher:
bourjois little round pot blusher (32 ambre d'or)
eyeshadow:
etude house look at my eyes cafe (L-R: BR401 cafe latte, BE102 honey milk)
eyeliner:
maybelline masterliner (BR-1)
mascara:
maybelline the falsies mascara (black)
lipstick:
nature republic botanical lipstick 04 berry peach
IN A NUTSHELL===========================================================
i'm liking this product so far. i wish the staying power is as lasting as the fragrance.. this product does come across as very convenient and time saving, but i seriously don't recommend you patting this all over your face and use this as your sunscreen because that white cast is very terrible. wear a separate sunscreen (with lesser/no white cast) beneath this if you don't mind the hassle. i do that personally because the white cast from the bb cushion will enlarge my already not-so-tiny face.
may not be the best product if you're prone to perspiring like me. powdering may help, but will also take away some of the dewiness it imparts.
other than that, i foresee myself trying more cushion products! now i just have to pray for a long wear formula that is good for hot weathers.
have you tried any bb cushions before? what are you experience with them?
xoxo
karman