Revlon ColorStay Ultimate Suede 025 Socialite
revlon is taking over my lipstick stash. the revlon colorstay ultimate suede lipsticks claims to be a moisturizing and long wearing formula (16 hours!). formulated with moisturizing ingredients like shea butter and aloe, it's supposed to keep my lips moisturized AND makes sure the colour stays on for the entire day! it's supposed to have a velvet finish, not matte nor shiny, but a velvet.
a claim is but a claim.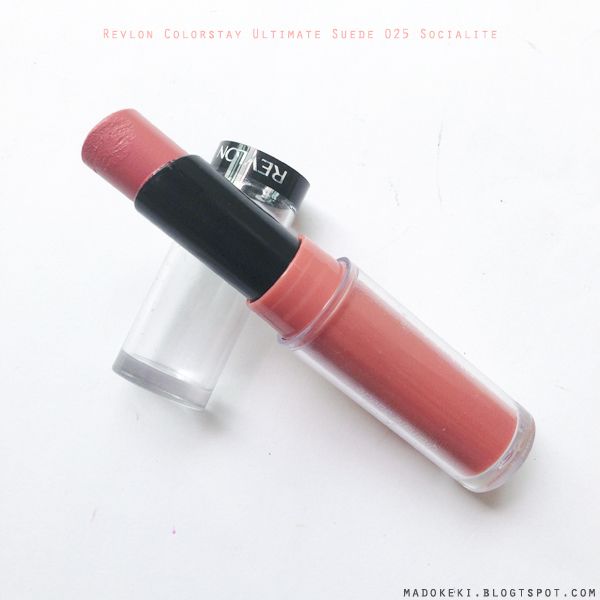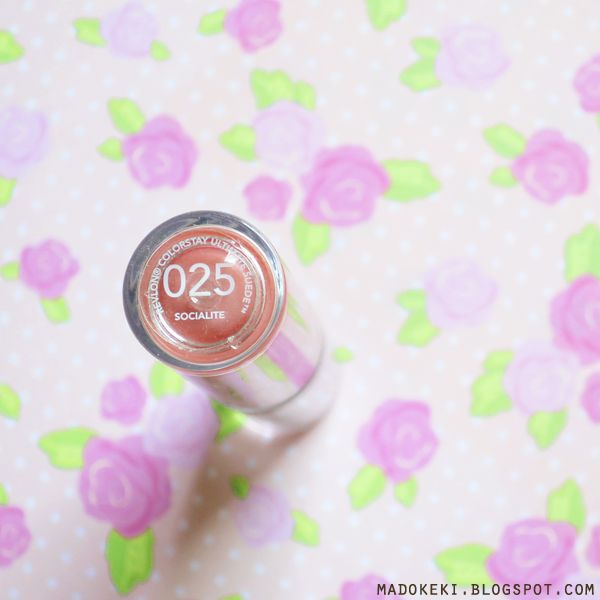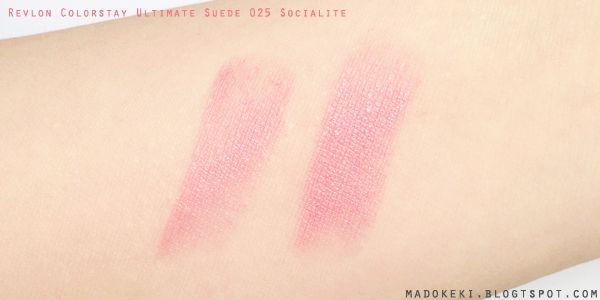 one swipe on the left, 2-3 swipes on the right.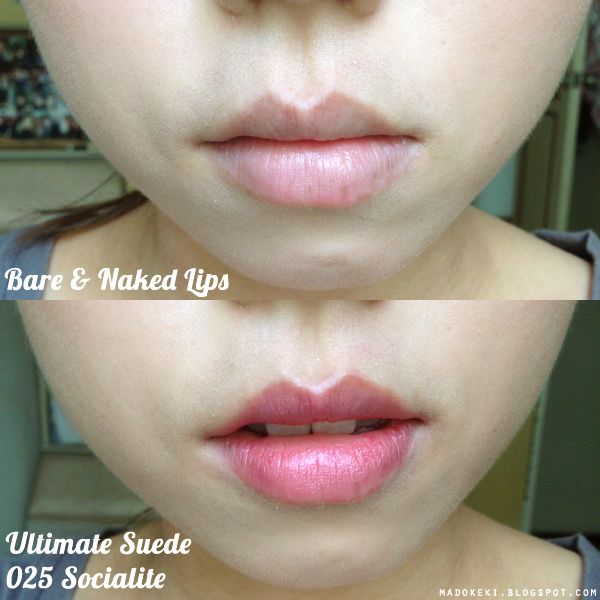 025 socialite is a very beautiful warm rose pink with a subtle hint of gold shiimmers (that is quite invisible on the lips). it applies VERY SMOOTHLY, you know how some lipsticks will tug your lips when you apply? this lipstick does not tug my lips at all! it deposits just the right amount of product on my lips, and it applies very evenly.
the finish is velvety - i'll try my best to describe this - it has a slight plastic-ky sheen to it that makes it look smooth.
the lipstick is slightly scented with a faint sweet smelling floral scent.
as to the wear, after it sets, it doesn't transfer at all (for the first few hours).
IMHO:
there are only 3 things i love about this lipstick. the colour, it's initial application, and the initial consistency. i love the way it melts onto my lips the first time the bullet touched my lips. i also love the way it deposits just the right amount of product to colour my lips evenly. immediately after application, my lips are moisturized and feels pretty good.
i'm not sure if it's the formula for this colour that makes it the way it is - after the lipstick sets, my lips feels sticky. moments after it sets, the product starts to gather around my lip lines, such that when i smile, my lip lines appears to have no product on them! and when i do a lip smack, the product will stick to each other - those from my bottom lip get transferred to my upper lips. i have to be mindful not to smack my lips when i wear this lipstick, which isn't a problem. the worse is when i eat - some of the product comes off unevenly and what's left is a patchy lip. the worst is.. those that stay on my lips will not budge when i try to remove them so i can reapply this lipstick. it's disappointing that the product's staying power is not constant.
anyway, i have found a way to remove this lipstick most efficiently, that is to applying vaseline and let sit for a while before wiping it off with a tissue.
i tried wearing this lipstick for the entire day without touching it up, i realize i hate the feeling at the end of the day as it feels like a piece of plastic encasing my lips. i guess this is how long wear formula feels like? i didn't feel that it was any more moisturizing than the usual lipsticks that i own.
i wish the formula didn't set. i wouldn't mind it being a normal wear lipstick at all as i would prefer touching up anyway because i need that moisture on my lips. even though i don't like the feeling of it on my lips, i still wear this once in a while because i really love the colour.
i got this in the DFS for hkd$78.
MAKEUP LOOK