White Formula Extreme Hyaluronic Acid Essence First Impression
my first essence! i've been eyeing one for a while, this seems to fit my needs and budget well, so i purchased it after seeing pretty good reviews on urcosme, the taiwanese peer review site for beauty products.
white formula is a taiwanese brand, i think it's pretty new in town, for they have just reached the singaporean shore a few months ago. i got this from hong kong because just 6 months ago, it wasn't in singapore yet.
this is purely for hydrating and moisturizing - packed with hyaluronic acid. read on.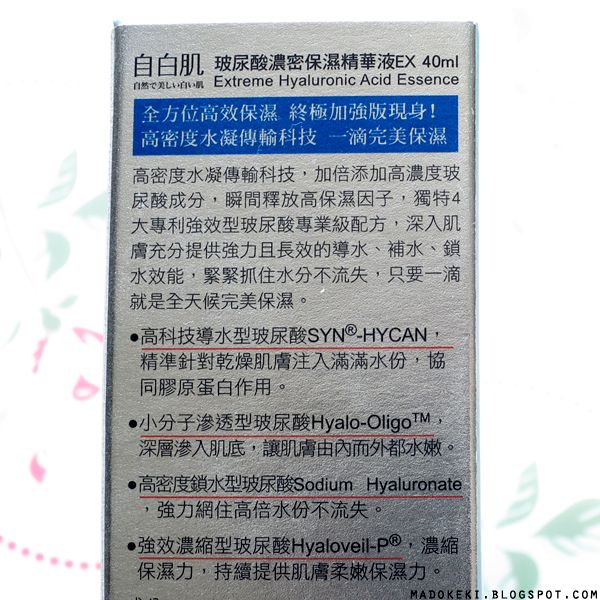 on the back the product description.
let me do some translation!
"complete hydration - the ultimate and improved version. get hydration in just one drop thanks to the high density hydration delivery technology.

the high density water delivery techonology couple concentrated hyaluronic acid allows for the instantaneous release of moisturizing factors. with 4 patented beefed up hyaluronic acids, it is able to penetrate the skin to supply strong and long lasting effects of moisture induction, moisture replenishment, and moisture retainment. you just need one drop for perfect hydration.
- high technology moisture induction hyaluronic acid SYN-HYCAN, aims to inject dry skin with water, works in synergy with collagen.
- low molecular weight hyalurnoic acid Hyalo-Oligo, able to penetrate deep into the skin, allows the skin to be hydrated inside out.
- high density water retaining hyaluronic acid Sodium Hyaluronate, forms a strong net to keep the water in.
- concentrated hyaluronic acid Hyaloveil-P, powerful moisturizing capabilities, constantly supplies the skin with hydration."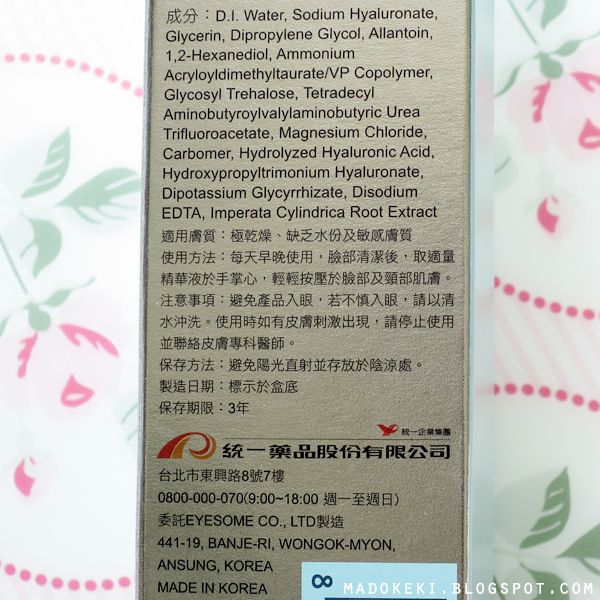 ingriedients list.
even though it's a taiwanese brand, it's made in korea!
it comes with suggested usage instructions:
suitable for extremely dry, dehydrated, and sensitive skin.
use it twice a day, morning and night. after cleansing your face, take an appropriate amount of the essence and gently massage it into the face and neck.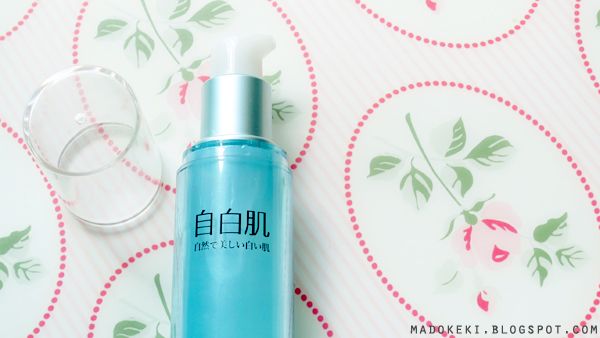 pump dispenser.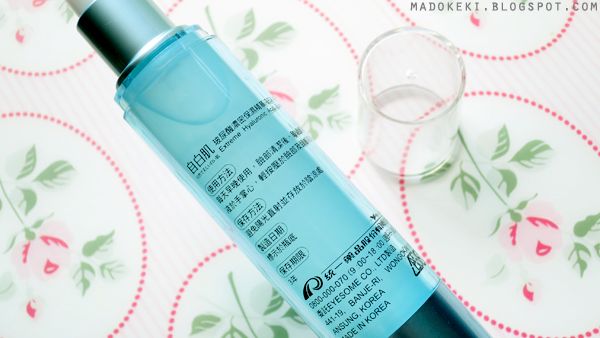 i really like the blue bottle, looks pleasing and relaxing to my eyes! there are also simple instructions (same as the one on the box) at the back of the bottle.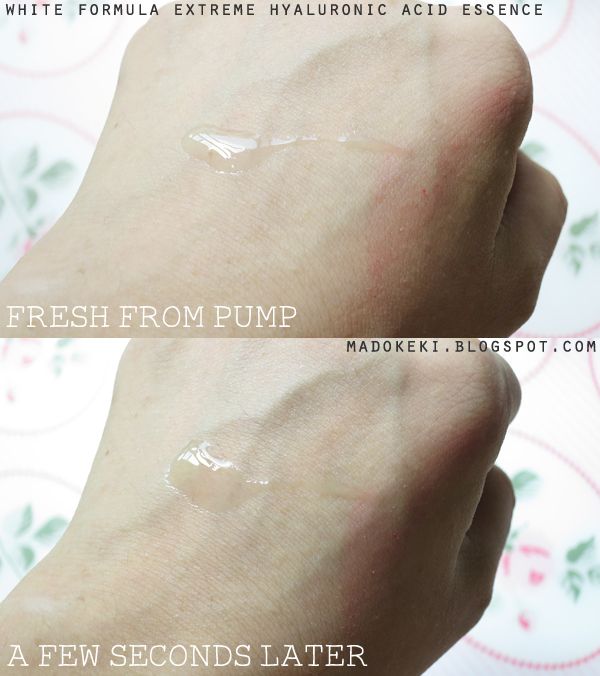 it's slightly more viscous than the whitening lotion.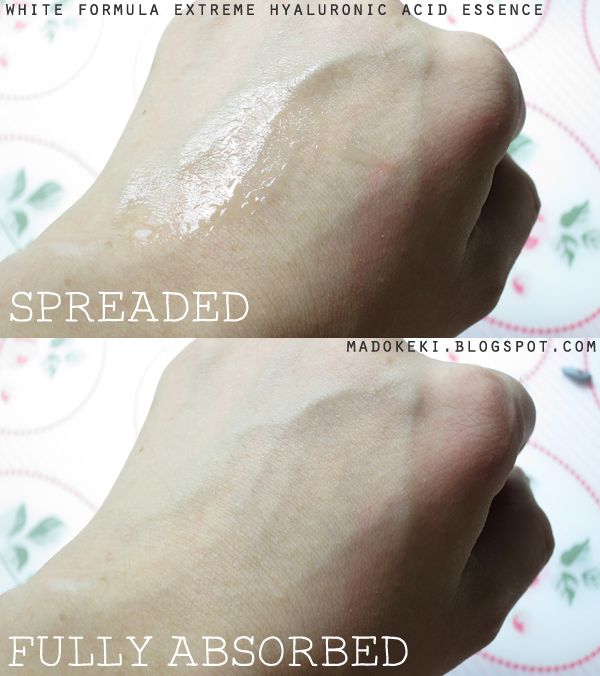 similar to the whitening lotion this is extremely slippery, and there is a slight stickiness to it, when i apply it on my face and pat it with my palms, it will resist me from pulling it away from my face (as with all other products containing hyaluronic acid).
IN A NUTSHELL
texture: slightly viscous, very slippery, spreads easily and absorbed quickly.
after-feel: a slight adhesive feeling, skin feels soft and hydrated.
fragrance: no fragrance. in fact, there's a chemical smell to it because they didn't add any fragrance to cover it up.
IMHO
i've only started using it recently, so i can't give too much comments yet. as far as the texture goes, i kinda like it. the slippery feel makes me think of the snail mucin products (even though i've never tried it, but i've linked slippery-ness to moisture retaining effects). the scent is a little turn off because the chemical scent is quite apparent, and the thought of slathering chemicals on my face isn't that appetizing at all. nonetheless, it is a very hydrating product and i can get away with it as my creams at night, perhaps even in the day. but that sticky feeling is something i try to avoid during day time because i need it to be compatible with my make up (meaning, my face should feel hydrate and smooth, not hydrated and slightly sticky, which may result in uneven application of my powders!).
full review will be up in at least 2 months time for me to observe any differences.
my gf picked this up from HK for HKD$110.