za Pure Shine Lips BE-1 Praline & RD-1 Rouge Indulge
if i remember correctly, these are probably the first few lipsticks that i own (from a few years back that i still have yet to use up), and you may notice that za has already changed the packaging for this lipstick line. i'm pretty sure they don't have these colours anymore :(
the pure shine lips provide sheer and transparent colour together with a load of moisturizing agents like collagen complex, hyaluronic acid, and evening primrose oil (as stated on its website).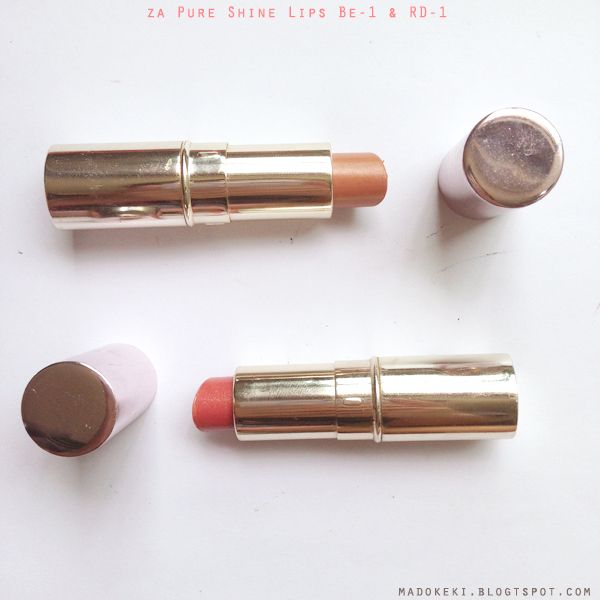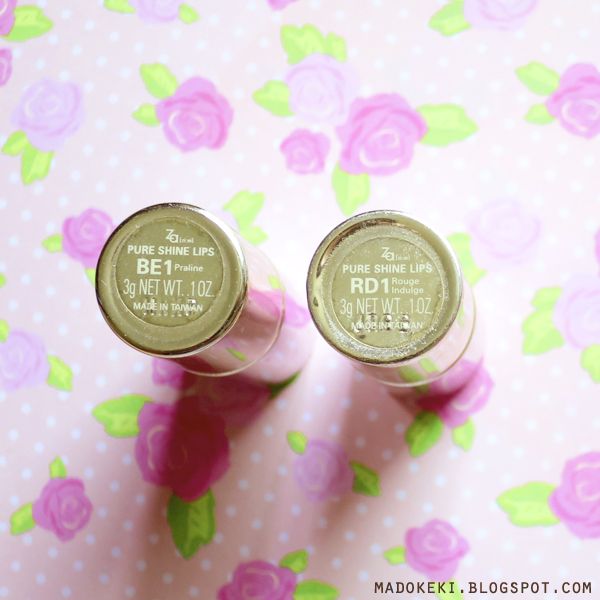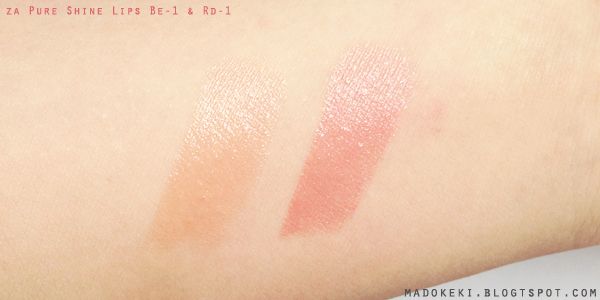 two swipes for each colour.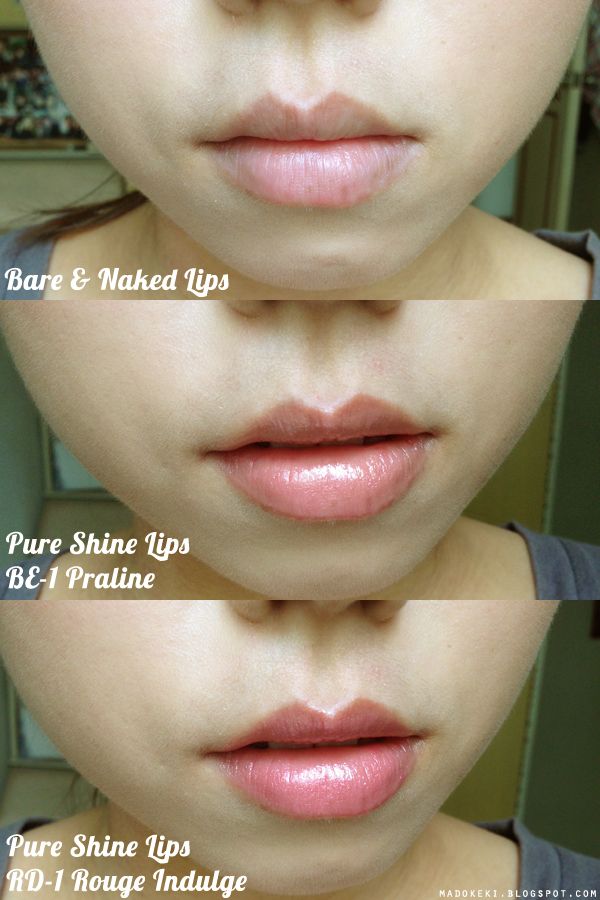 BE-1 praline
is a sheer beige colour loaded with golden shimmer (that is pretty invisible on the lips), while
RD-1 rouge
indulge is more of a warm rosey pink, also loaded with gold shimmer. both of the lipsticks apply sheer and looks translucent (typical of japanese lipsticks), giving my lips a hint of colour. the finish is shiny, but not sticky. shimmers aren't very obvious when it's on my lips.
the lipstick is very lightweight on the lips, and application is smooth as butter - the bullet melts right onto my lips and glides on easily. i think it's composed of very light oils, hence the shininess and airy feel (it feels much alike to the chanel rouge coco shine and lancome color fever shine). since the colours are so sheer, they don't seem to enhance any lip lines, nor appear to apply unevenly. moreover, the shiny formula reflect so much light that it'll hide any lip line if that makes any sense.
it is very moisturizing as it contains a lot of oil in its formula. it's the feather-light kind of moisturizing, unlike goopy lip gloss that wraps around your lips tightly.
the lipsticks are slightly scented.
IMHO:
these can totally be lip balm substitutes. in fact, i think that's what it's supposed to be. i love the lightweight formula, it's hydrating effects, and the shine. the hint of colour makes it very wearable on a daily basis, plus the shine visibly reduces the appearance of lip lines and any dead skin that may form throughout the day.
these days i use RD-1 rouge indulge as a cheek colour, and i love the effect it gives me! the shimmer will slightly more obvious on my cheeks, so it gives of a diffused glow when light hits my face. the shade is also perfect for creating a natural blush - slightly rose. in fact, i only use it on my cheeks lately because i totally love the effect it creates.
BE-1 is good for helping to blend out a darker colour to make a gradient lip. the shade doesn't show up too well on my lips as it's really sheer, but it adds shine to my lips and does help to make the gradient lips look that much better.
i got these a long time ago at watsons when it was on sale for $10 each. nifty little gems in my makeup stash i would say.