Canmake Cream Cheek 05 (Swatch and Review)
this has taken over the cream cheeks as the new number 1 (as of 8 aug 2014) in the
cosme ranking
, beating big brands like nars and ysl! surprise? not really, since canmake is known to have really good cheek products, plus their price and package is so on the point this time. i think they copied anna sui's blusher.. :P makes this thing a joy to look at when i'm not using it.
canmake is a drugstore brand in japan, and for their petite price (japanese way of saying really affordable price), they offer really good quality products. they cost 800yen in japan and HKD$96 in hongkong. in singapore, it retails for SGD$20.90. moral of the story is to buy this in japan in you can.
apart from the lovely design, this blusher seeks to give you a translucent and long wearing colour on your cheeks. honestly speaking, i didn't buy this because of its skin loving qualities (such as containing a slew of moisturizing agents like rose flower oil, hyaluronic acid and rosehip oil etc, you can see the entire list on their
official website
). it's great that the product doesn't contain paraben and fragrance, may be something that a person with sensitive skin will look out for! it also claims to contain silica to absorb excess sebum! hmm!
what got me into this product? the colour, packaging, and the price.
tick, tick and tick
! it fit my needs! welcome to my cosmetic family!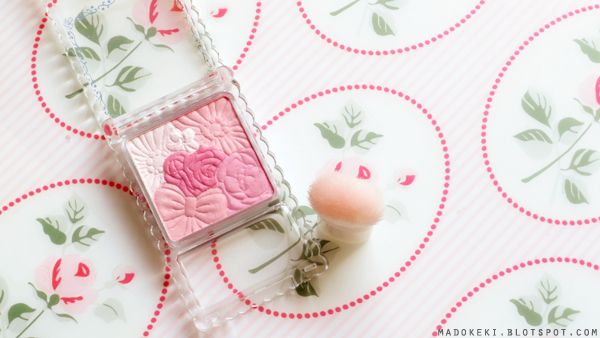 the brush that come along with the blusher was white initially but it got stained into a lovely sakura colour. the brush is slightly dome shaped and tightly packed with hair (it's plastic fibres)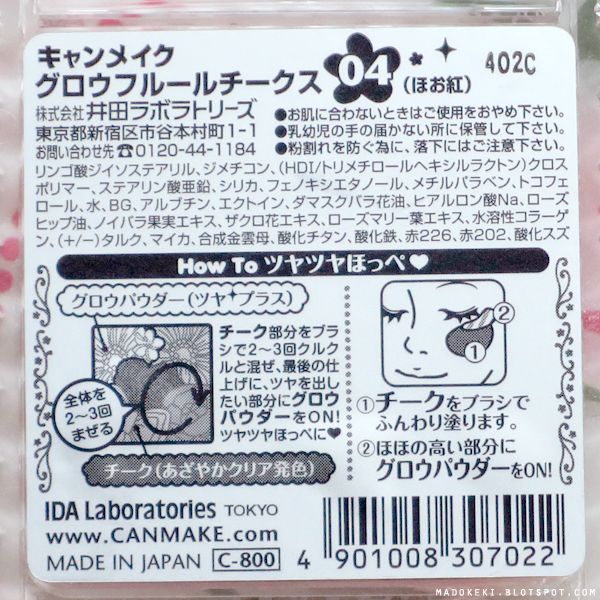 i got it in shade 04, strawberry fleur.
on the back of the packaging are simple instructions on how to use this product.
it says to swirl the brush about 2-3 times for application on the entire cheek, and then applying the glow powder on the highest part of your cheek.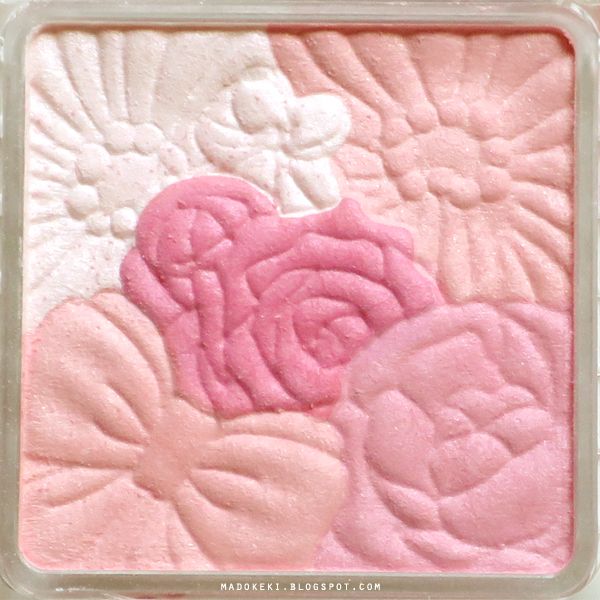 top left: glow powder, the remaining 4 are a selection of peach and pinks.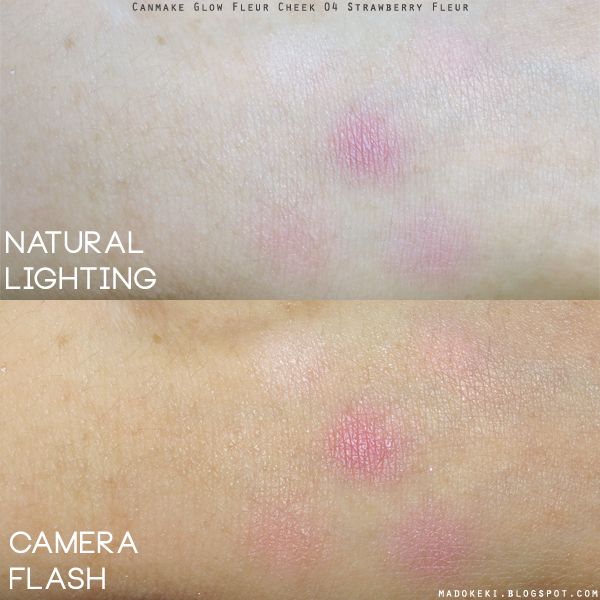 swatched individually on my hand in different lighting.
going from left to right, clockwise direction, ending at the center:
the glow powder
is a white colour (with a hint of pink) with a pearly finish, looks transparent on skin unless swatched heavily. it glows when flashed.
the 2nd shade (top right)
is a light peach, also has a pearly/satin finish.
the 3rd shade (bottom right)
is a blue base baby pink, pearly/satin finish.
the 4th shade (bottom left)
is a darker peach with a pearly/satin finish.
the 5th shade (center)
is a dark blue base pink, also has a pearly/satin finish.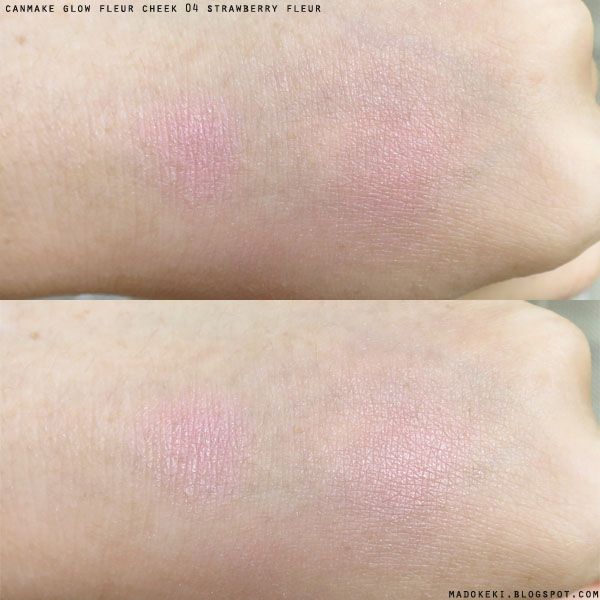 swatched after i blended all the colours (except the glow powder)
after being blended together
, it's a light blue based pink (almost like shade 3 above?). works really well for fair skinned peeps, not so well on darker skin sadly.
IMHO:
i can't stop raving over how pretty it looks. that aside, i must be more objective when it comes to sharing my opinion on this product.
the colour is lovely, it isn't as sheer as i thought (either that or i took too much products as suggested by the 2-3 swirls). the colour is a glowy translucent colour, perfect for the cheeks. it's a nifty little thing as it contains a highlighter shade, allowing you to carry one product for 2 needs - cheeks and highlighting.
i'm not sure if they formulated the highlighter differently from the single highlighter that i own from canmake as well, but this feels much more finely milled and subtle.
the powder is finely milled and soft, thankfully, due to the lower pigmentation, you won't risk getting too much product in just one single swipe (you tend to pick up more product if the powders are soft). and because they're so finely milled, they adhere to my skin like a second skin, i couldn't feel it on my skin at all.
i can't say much about its longevity as most cheek products stay on my face pretty well throughout the day, so this is just like the rest. i also can't vouch for the moisturizing capabilities as my skin is already well moisturized to begin with, but i believe having those skin loving ingredients in the product won't do any harm. just don't expect it to turn a desert into an amazon forest filled with life and moisture.
and did i mention how much i love the brush that came along with it? it's soft and fluffy and so full! the dome shape helps to push the product into the skin better, and the buffing motion helps impart some extra glow to the skin.
LOVING IT.
i bought this for HKD$96.
IN A NUTSHELL:
1. soft translucent colours, colour can be built up without feeling heavy or cakey
2. finely milled
3. not scented
4. comes with highlighting shade
5. affordable (in japan)
6. lovely packaging and brush
7. long lasting on my face
MAKEUP LOOK:
i prefer to use the corner shades as a base first (applied it over my entire cheeks) before adding the center colour on my cheeks for a smoother gradient and a more natural flush of colour. i applied it pretty high up my cheeks (as i'm going for the harajuku look), but you can put it on the apples of your cheeks, or across your cheeks, whichever way you want it :D
applied lightly.
applied lightly.
applied heavily.