Sonia Kashuk Hidden Agenda Concealer Palette 07 (Swatch and Review)
look at that concealer hitting pan and you know how much i use this concealer. well, to be fair, i only have one concealer palette that contains that much loved peachy colour that i really need (for my under eye circles), that's why it's the first to hit pan.
sonia kashuk is an american brand that's sold exclusively in target. i got this from an online seller. i think i saw this product on lisa elridge's video. looking at their price tag and packaging, i thought it suited my needs and wants very well!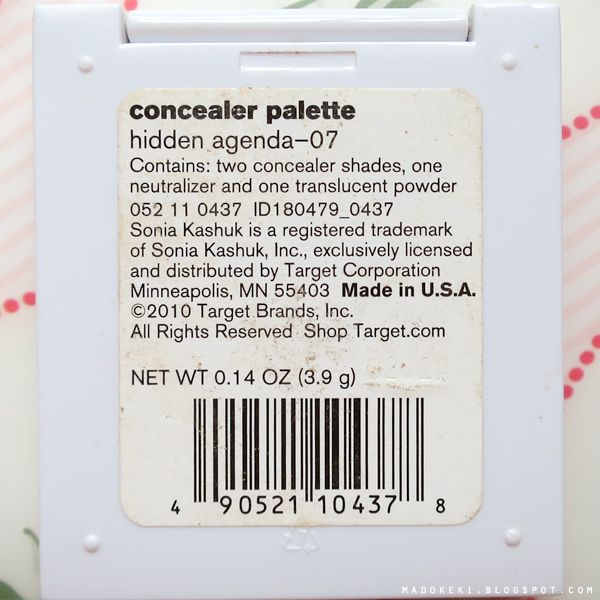 i got it in 07, it's the lighter palette out of the two (08 is darker) colour choices.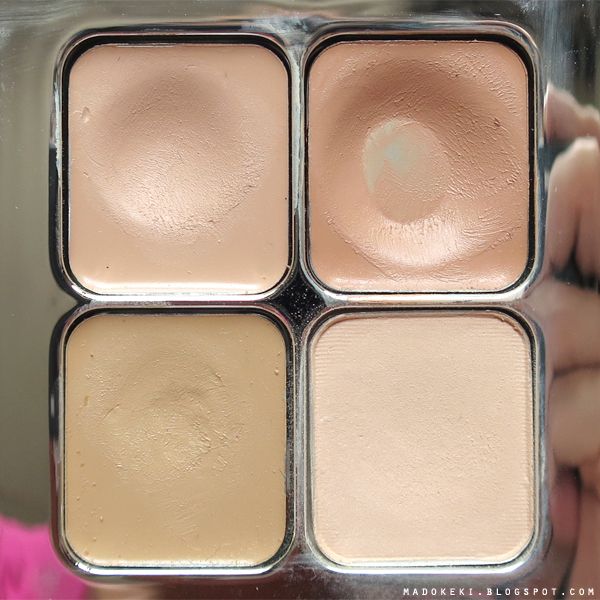 the top two are concealers, while the bottom left is the "neutralizer" shade (with a tinge of green), the bottom right is a translucent powder.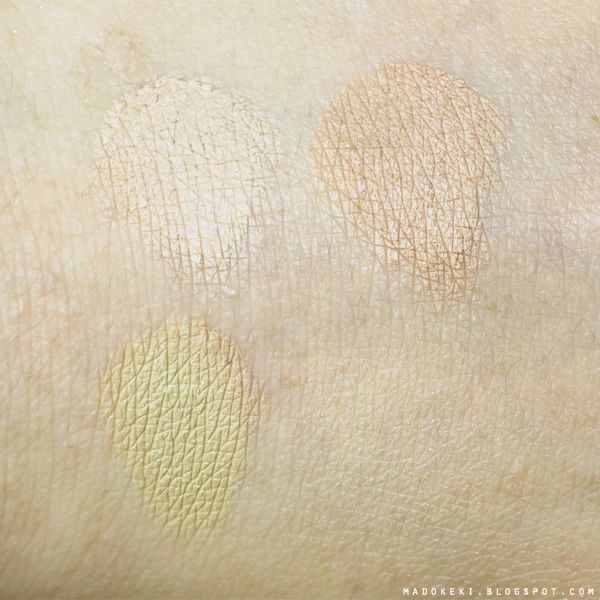 swatched on the back of my hand:
the
top left
is a very fair cream shade,
the
top right
is a darker peach colour,
the
bottom left
is a light greenish shade,
while the
bottom right
is indeed a translucent powder.
IMHO:
let's talk about the coverage first, since this is a concealer after all. the coverage is medium for a concealer - after blending out the product sheers out, so it's necessary for me to use about two layers of the darker peach to colour correct my dark circles before using the brightening shade (top left) to brighten my undereye area.
the formula is very creamy and blends very easily. it does crease, so it's important to not use too much products. i always set it with a thin layer of powder.
i find the green neutralizer shade (bottom left) very useful for covering red spots that i do have occasionally.
i seldom use the translucent powder because i don't have a fluffy brush that's small enough to fit the pan size yet.
i really enjoy using this concealer palette because it contains everything that i need - all in one place! i can't comment much on the lasting power since i don't usually pay attention to it, but i suppose it probably stays on my skin pretty well since i don't notice the case of the missing concealer after the entire day. just don't expect it to have magical staying powers considering it's a creamy product. it does crease under my eyes due to a case of lines, then again, what product doesn't? (actually, a thin layer of revlon colorstay foundation seem to be the only magical item i've tried so far).
the only draw back: it's hard to get hold of. it cost USD10 in america, but by the time it's in my hands it's SGD28. :( i've seen alternative concealer palettes before, i'll give them a try next time. actually, i just need that dark peach colour to cover my dark circles :P
IN A NUTSHELL:
1. medium coverage, can be built up
2. creamy formula, will crease.
3. convenient palette that can cover up any blemishes
4. not a long lasting formula, but stays put on my face after setting with a powder
5. crease lesser when used over colorstay foundation.