Biore Hydra-Clear Makeup Remover (Full Review)
emptied this product, but it's no wonder because i got this about 3 years ago.. but i didn't quite like using it that's why it took me soooo long to finish it.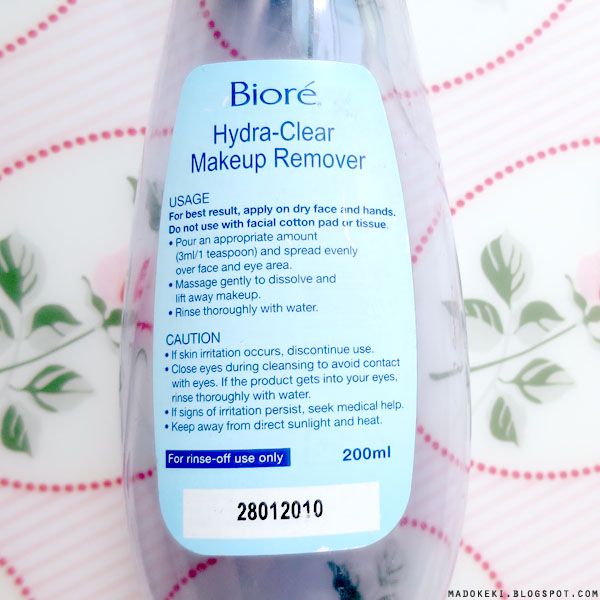 i don't know if that's the expiry date, or date of production. SHRUGS.
let me address all the features point by point. i stole them off the
official website
:
Suitable for both face and eye makeup removal.
definitely suitable for the face and non-waterproof eye makeup. i use waterproof mascara so it's quite a pain in my ass if i were to use this for eye makeup removal.


Specially formulated with high-grade cleansing ingredient that removes makeup effortlessly and gently with no rubbing or tugging at your skin.
does quite a decent job at lifting off facial makeup, but i don't wear that much on my face to begin with. needs to be rubbed in and massaged in though, so it's not like what they claimed "no rubbing". since it's an oil-like liquid, it's frictionless so it doesn't tug at my skin.


Instantly dissolves and lifts away all tough, waterproof makeup even at the delicate areas around the eyes.
hmm. not too sure about "instantly dissolving all tough, waterproof makeup". either the oil doesn't do what it claims, or my waterproof mascara is being an ass. but i doubt it's the latter because with an eye makeup remover, it comes off so easily.
Water-based formula leaves no greasy or tight feeling after use
definitely emulsifies well and doesn't leave my face greasy! amazing thing! HOWEVER, my face does feel tight after rinsing it off
.
Rinse-off formula- convenient and easy to use, no need for cotton facial pads or tissue
it's convenient in a sense that i can just pour it into my hand and rub it in directly, ridding the need of cotton pads. but the thing is.. i prefer using cotton pads because that way, the liquid doesn't drip down all over my hand when i massage.
IMHO
don't get me wrong, the makeup removing power of this remover is sufficient to get rid of my face makeup, just that i'm more into using cotton pads as it's less messy for me, that's why i gave it a little less love. i don't know why they make claims that they're able to lift off even waterproof eye makeup. are you kidding me? did they mean to soak that area in the makeup remover for a good 15s before rubbing and massage? that isn't the easiest thing to do with a palm full of liquid that's in a space that has gravity.
however, i think this makeup remover will be perfect for people who removes their makeup in the shower, as you will probably have no regards for dripping liquids, and it's easier for you to rinse everything off easily without worrying it'll dirty your clothes (since you don't have any on! DUH!).
i just don't enjoy the process of emulsifying the oil with water and having those liquid drip down my hands and arms. too messy for my liking. if you don't mind that, you'll probably quite like this product because i know i'll use this more often if i remove my makeup in the shower. what's easier than massaging your face and getting makeup off? it's as simple as washing your face with a cleanser.
i also feel that it strips away too much of my natural oils. not too fond of that.
i purchased this for.. SGD18. i believe this product is off the shelves by now.
IN A NUTSHELL
1. can't remove waterproof mascara that efficiently
2. removes facial makeup good enough
3. emulsifies with water pretty easily
4. no oily after feel
5. removes too much of my oils