Nature Republic Shine Blossom Blusher 05 Shading Beige (Swatch and Review)
another item i picked from nature republic from my
korean beauty haul
. i chose this colour as i was looking for a shading/contour powder. the colour looked promising on their official website.. but.. i was mentally prepared for some slight differences between the website and the actual product.
nature republic
is a lot like innisfree in my opinion, but they're packaging is a little more delicate and sweet. their price points are about the same, quality wise i can't compare much, but let's juts say the average korean cosmetic brand is already really good quality for the price i'm paying. each brand are about just as good as the their competitor.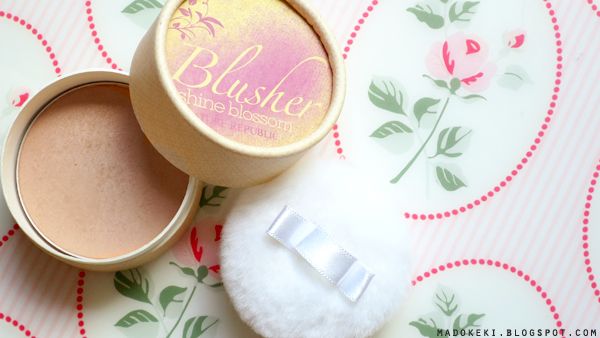 the blush comes in a papaer box packaging (reminds me so much of the benefit blushers) and it comes with a big puff that doesn't feel too soft or fluffy. it feels like a stuffed toy to me.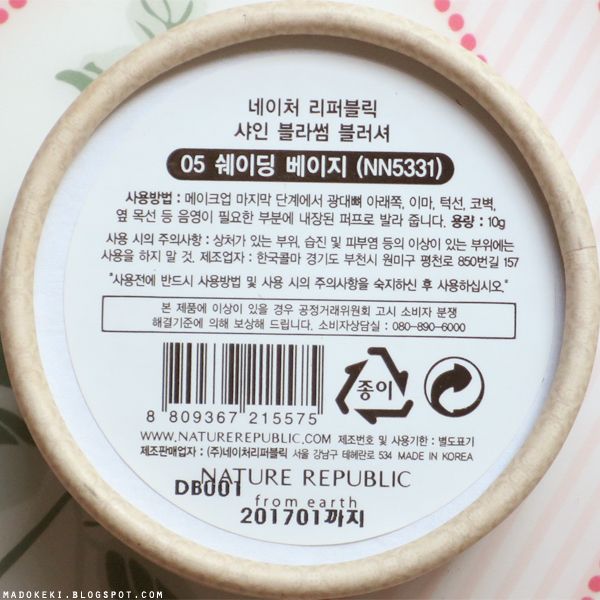 i got it in 05, shading beige. they have 5 colours for this series. the rest are a series of pink and corals.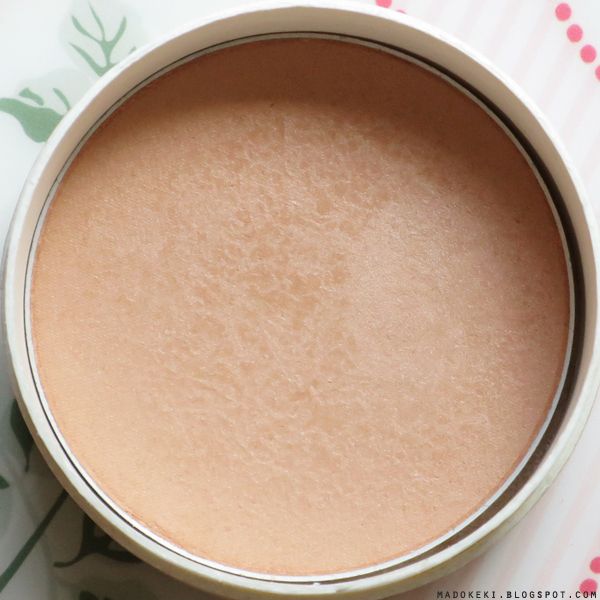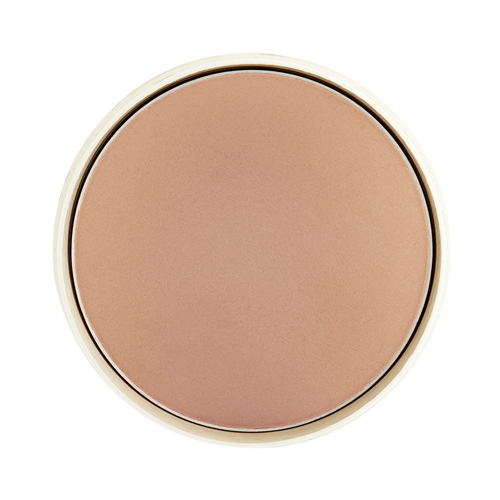 actual colour (left) compared to colour on official website (right).
from the pan, it looks like a light beige with a warm undertone (slight orange-y to me).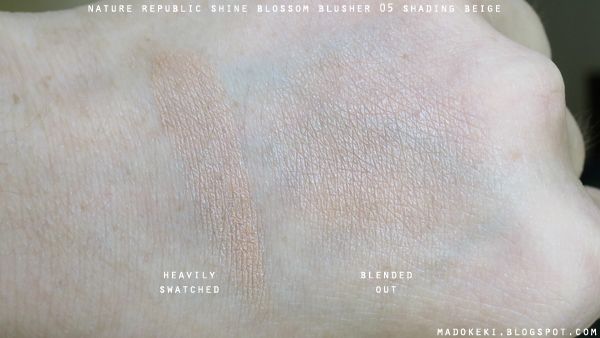 swatched on my hand: heavily swatched on the left and blended out on the right.
05 shading beige is a warm beige with pearly finish. the powder is very soft and smooth. blends out into the skin very well to give a slight hint of colour.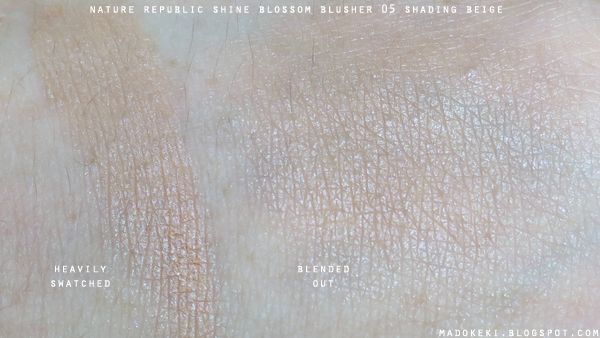 close up of swatch to show you its finish
the pearly finish is quite obvious, but not over bearing.
the product is strongly scented.
IMHO:
sadly, the colour is a little too light for my skintone to be used as a shading powder for me (unless i paint my face really fair before that, it won't work for me). i think this would be a really good item to fix any excessive whitening brought about by my foundation, but i can't depend on it to do some facial contouring normally.
i really like its texture though, the powder is extremely soft and smooth. running my brush over it will pick up a lot of product, so it'll be best to use a light hand when getting the product. the pigmentation level of this product is relatively low, i think it helps contribute to a natural look.
the fragrance is very lovely, it lingers for a while on my face before fading off.
i believe all the blusher from this line contains a pearly finish. i wish i got the other colours instead because i know i can get more use out of them. right now, i have to think of what to do with it because it's so similar to the essence sun club shimmery bronzing powder (which is also too light for me.. =_=), except this has no shimmery, just a pearlescent glow.
perhaps i can use this to create a very sunkissed look which i've attempted before!
other than that, i think this would be an amazing highlighting product for girls with darker skin tone as this won't give you that white cast that white based highlighter has.
i bought this for 6900 Korean Won.
IN A NUTSHELL:
1. soft and blendable powder
2. pearlescent finish
3. scented
4. low pigmentation level
MAKEUP LOOK:
i've used it to correct an overly fair face (due to overusing the cushion bb), as well as to use it as a blush.
applied on my forehead because i went a little too excited when applying the etude house any cushion. you can watch me turn into a ghost
here
.
used it as a blush and it actually resembles a bronzer! i look sun kissed :P