Etude House released a new collection at the start of November, it's theme - The mysterious Universe.
I'm so late to the party! I'll elaborate a little at the end of the post.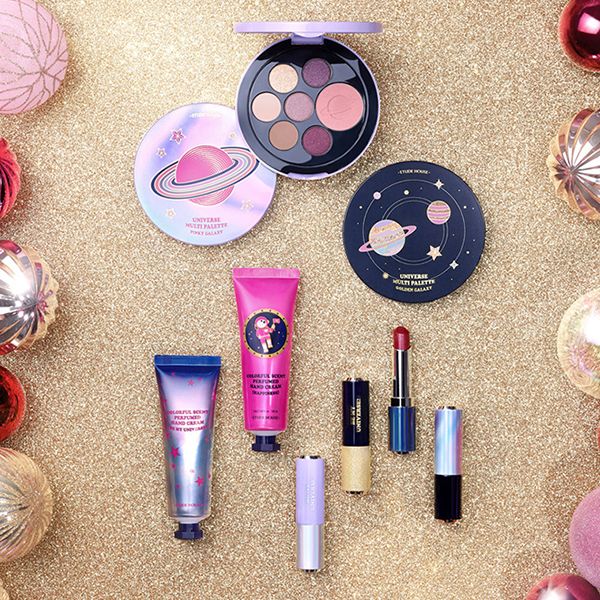 This collection is small, but varied. I think variety always gives an illusion of making things seem more interesting than it actually is.
Let's take a look, if you haven't already!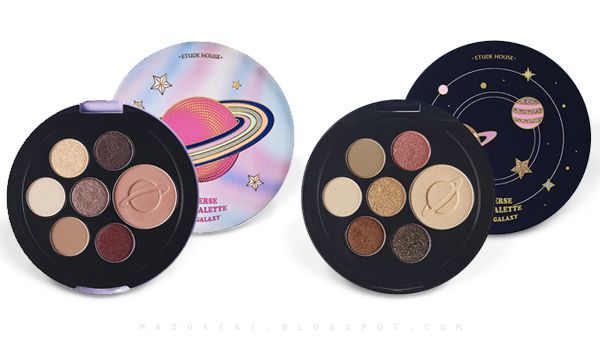 An eyes and cheeks palette containing 7 colours: 6 eye shadows (1g each), and 1 blusher/highlighter (1.8g).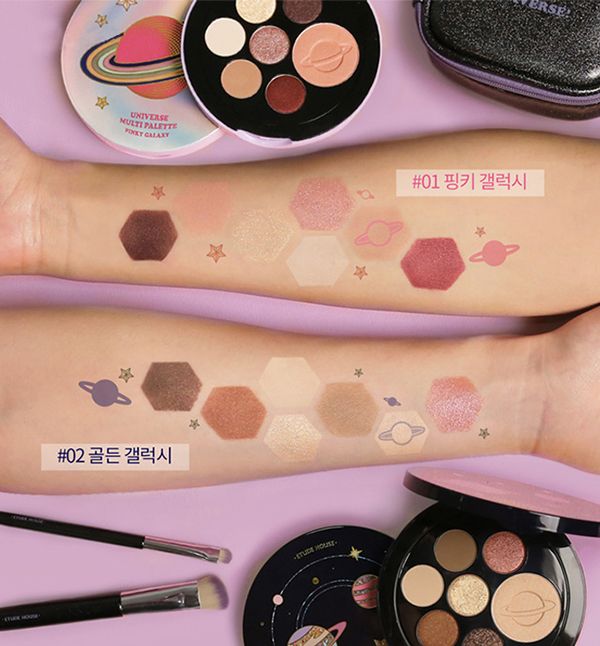 I love their creative swatching techniques! All of the different shades at a glance.
There are 2 palettes in this collection.
#01 PINK GALAXY
Reminiscent of the glittering galaxy, this palette has a variety of soft shades, pinkish toned point colours, and sparkling glitter. I believe the swatches are done in an anticlockwise spiral, starting from the blusher shade (the biggest pan), ending with the pan in the center.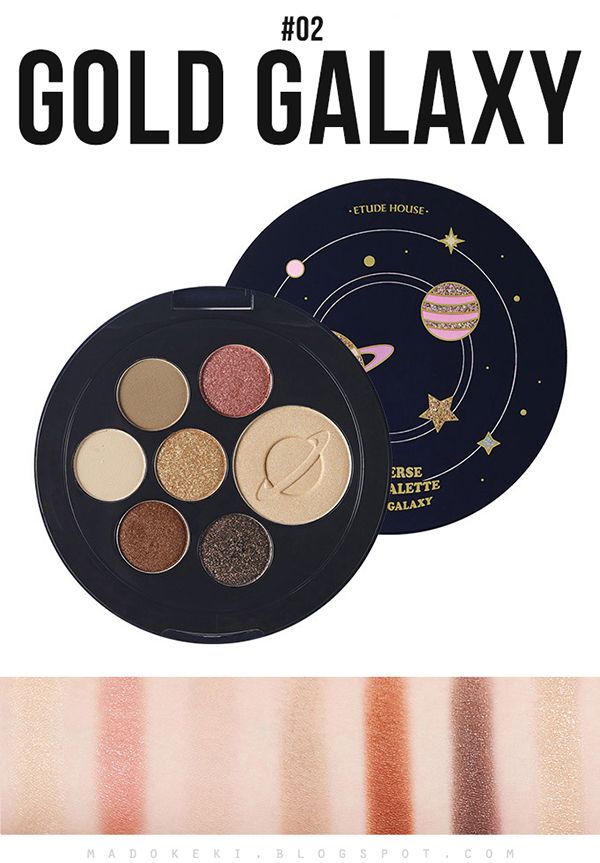 #02 GOLDEN GALAXY
A gold shift of the previous palette now gives us the same glittery shimmery splendid, but in gold tones instead of pink.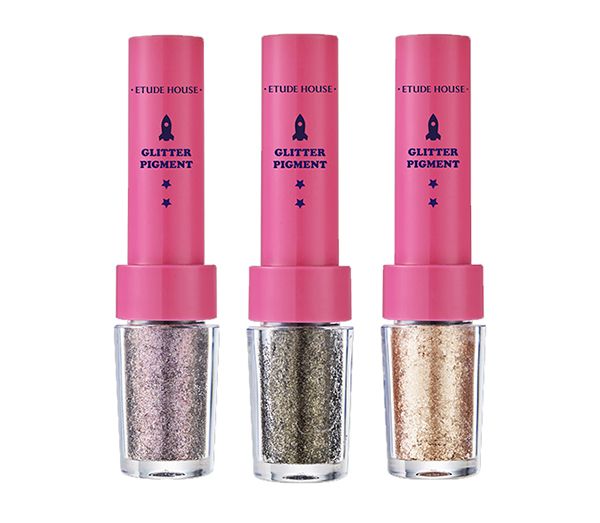 Made to look like a glittery firework spewed by a spaceship rocket, the oil binder gives you a high shine finish. The bullet shaped rubber tip reduces glittery fall out so you can use this without worrying it'll ruin the rest of your makeup!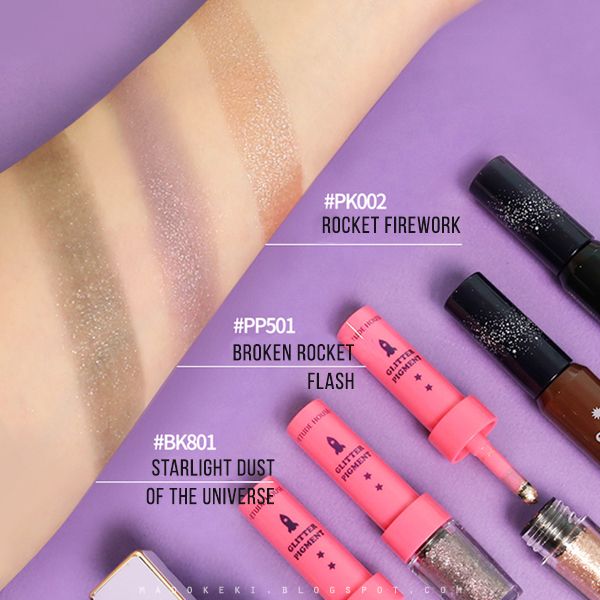 At a glance.
Available in 3 shades.
PP501 Broken Rocket Flash is a pinkish purple colour, just like the glare of the center of the universe.
BK801 Starlight Dust of the Universe is a gold black colour, just like the revealing sparkling presence in the dark space.
PK002 Rocket Firework is a rose gold colour, created in the image of a charming space goddess.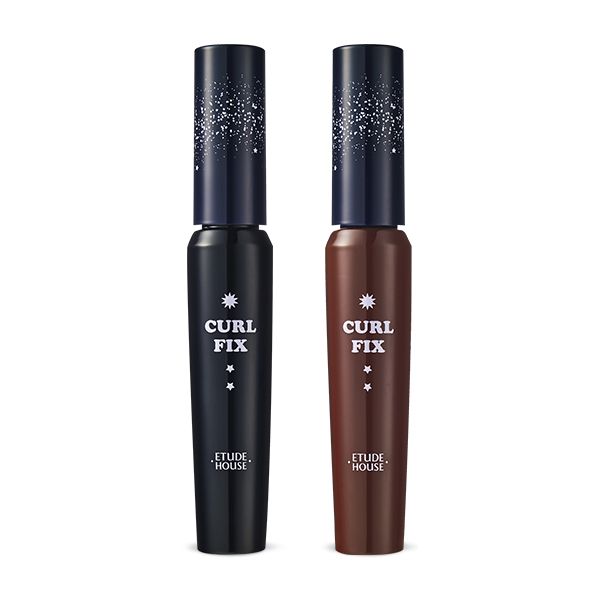 UNIVERSE LASH PERM CURL FIX MASCARA | US$ 15.60
The classic Lash Perm Curl Fix Mascara gets a small face lift with this Be My Universe collection. If you look really closely, then handle now has some metallic dust that looks like what I think star dust would look like. The formula is still the same, it gives you 24 hour curls that is water, sweat, and sebum resistant! The special C-curve brush will pull up your lashes to create clump-free curled lashes.
Available in 2 shades.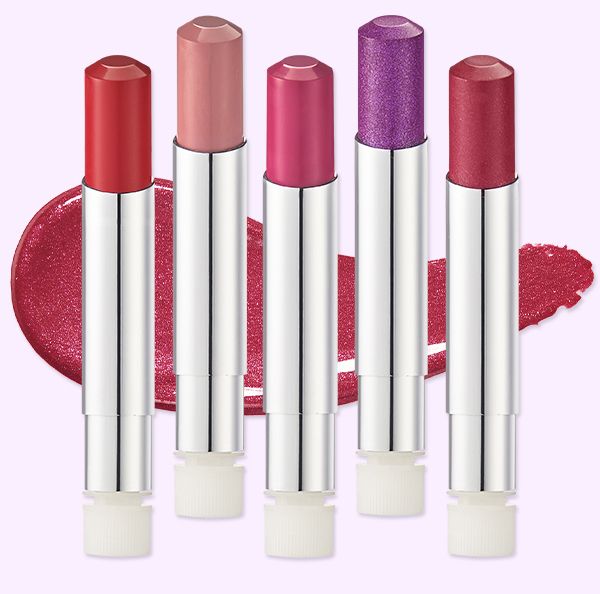 UNIVERSE DEAR MY TINT & GLOSS TINTING LIPSTICK | US$ 10.40
A small addition to their existing Dear my tint & gloss tinting lipstick (lipstick case sold separately), both the matte and glossy lipsticks glides on smoothly. The matte lipsticks delivers sharp and vibrant colours.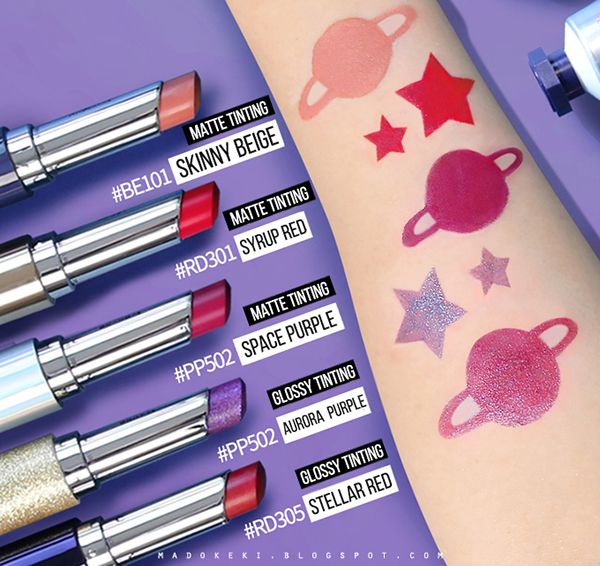 Again with the creative swatching! Lovely! Maximum effort!
Available in 5 different shades, of which 3 are limited colours.
The glossy shades seem to work well as top coats!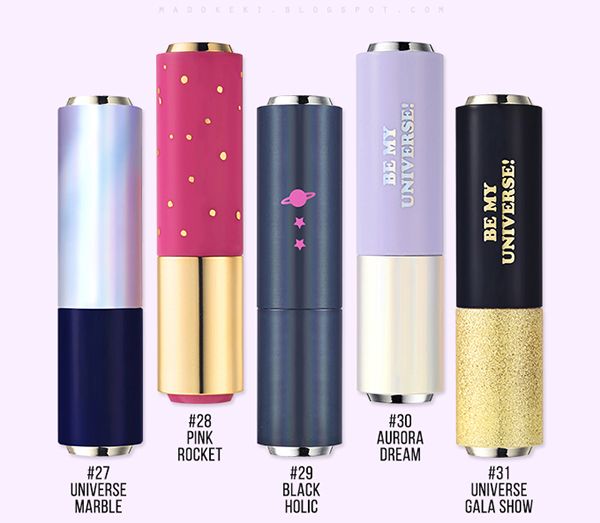 UNIVERSE DEAR MY LIPS TALK CASE | US$ 5.20
5 new limited edition lipstick cases for this festive season! These are extra sparkly and glittery. Holographic is trending now I suppose (wait a minute.. this is old news isn't it?).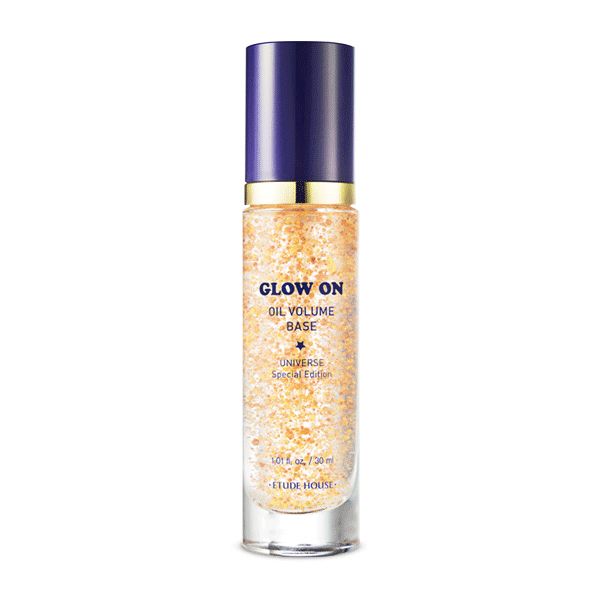 GLOW ON OIL VOLUME BASE (UNIVERSE SPECIAL EDITION) | US$ 20.80
Formulated with luminous oil and water, this base hydrates your skin and imparts a shiny finish. The gold ingredients and ruby powder creates a luxuriously radiant skin with its subtle red capsules. Using a thin layer of this glow up base before makeup helps increase the longevity of the make-up, with the added bonus of a gentle glow.
While it sounds extremely lovely, due to its potentially sticky nature, use only if you're in a very dry country like Korea. The bottle contains 30ml of product.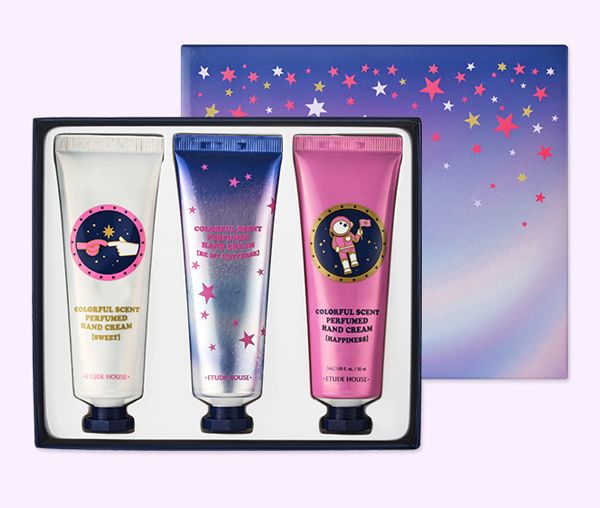 COLOURFUL SCENT PERFUMED HAND CREAM UNIVERSE TRIO | US$ 19.50
This set of scented hand cream is made up of 3 different scents, each with its own unique personality.
Each tube contains 50ml of hand cream.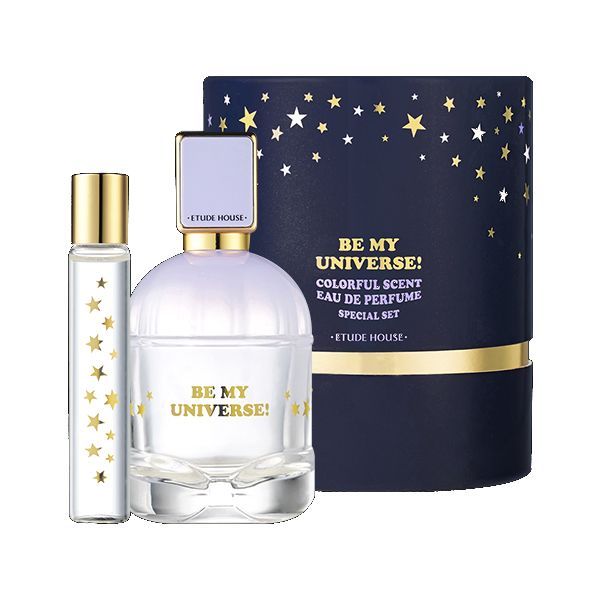 COLOURFUL SCENT EAU DE PARFUM SPECIAL SCENT (BE MY UNIVERSE) | 23000 WON
Inspired by the mysterious universe, this is Etude House's take on what it will feel like to fall into outer space - a charming and alluring scent. The blend of Neroli and Musk creates a charming harmony that warms and softly envelop the entire body.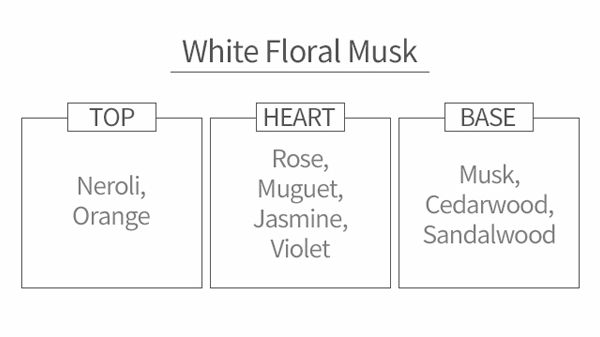 A look at its different notes.
This set contains a perfume spray (50m) and a roll on (7ml). How convenient! On a side note, the perfume isn't available on the International site.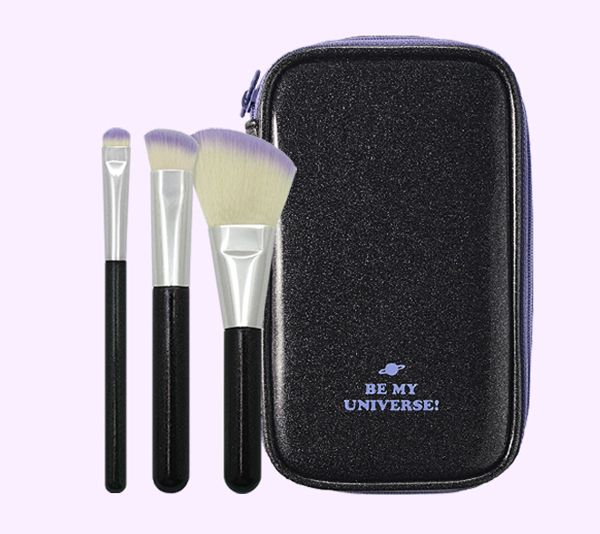 The limited edition brush set and pouch is inspired by the emotions of the universe, with its glittery pouch and pastel coloured brushes.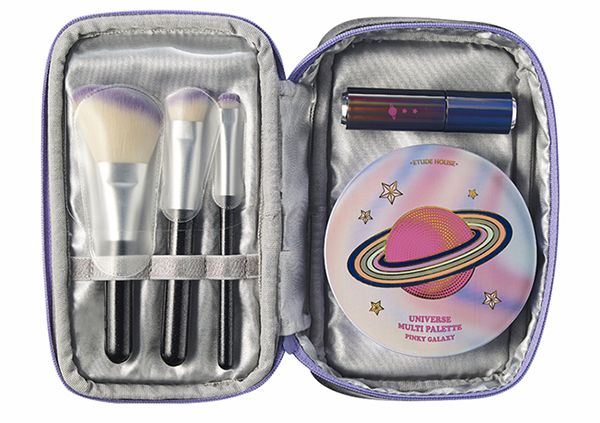 The pouch allows you to carry a variety of makeup products within, including the 3 brushes that make it easy to apply your eyes makeup, contouring, and blusher/highlighter.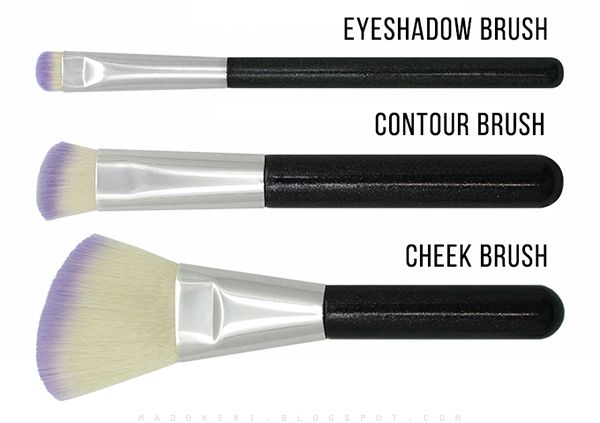 Etude House is running a launching promotion now, where everything is 20% off! Prices shown above are before discount.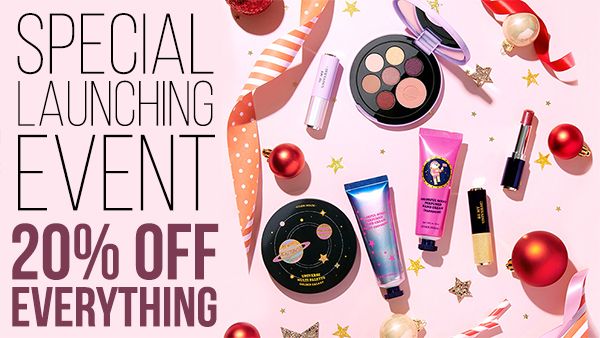 The International site
says the promotional period is from 6 November to 23 November, but it's still showing discounted prices now. If you're in Korea, lucky you because the promotion runs till 27 December!
Ending Note:
I actually quite like this small collection. Even though I may sound like I'm underwhelmed, it's actually quite the opposite! I am surprised how big this collection feels despite the small number of items!
Now, the eye shadow and cheek palette looks like a really convenient product, and might benefit those who don't already have massive amounts of separate eye shadow palette and blushers. But who're we kidding? If you're reading this entry, you probably are a makeup addict :P I think what might be better is if it allows you to change up that blusher shade with other blush pans. The current selection is just too narrow, don't you think? You either get a blush or a highlighter. Granted, you could use one of the shimmery/metallic eye shadows as a highlighter, but then again, you do kinda need that huge of a surface area to coat your blush brush to make sure you get a diffused and blended look.
The glossy lipsticks was a pleasant surprise too. I've seen topcoats similar to the 2 above released by mostly western brands. Seeing Etude House take the lead in the Asian market is rather nice. Now these can transform any existing lipstick you have, that's quite exciting isn't it?
Also excited about the glow on volume base, something I would love to use but probably won't because Singapore's climate is too humid for one to wear that base comfortably. The only shiny skin you get here is because you're sweating a lot, and your oils and sebum gets secreted due to the warmer weather.
That's all I have to say about this collection!
As for my extremely lateness to this entry, I feel like I'm in some sort of a ditch lately. I don't really feel like doing anything more than status quo, so blogging just went to the very back of my mind when I'm in such a state. Hoping that this storm passes soon so I can find that vitality back. If you're still reading on, thank you for your concern!