New eyeshadow but not really?
Etude House is introducing a new line of eyeshadows - aptly named the Prism In Eyes. They are designed to sparkle in a wide range of enchanting colours hidden in light. Get ready for fascinating glimmer and vivid colours.
This type of cream to powder, high intensity metallic eyeshadow isn't exactly new - Kiko released their Water Eyeshadow years ago. Catrice had the Liquid Metal Eyeshadow a few years back too. I'm sure there are other products just like these, but those 2 are what I heard of.
ETUDE HOUSE | PRISM IN EYES | 1.8G | 9800 WON
It's not available on their
global site
yet, so here are some details about the eyeshadow, translated from the official website:
Prism colour captures light from all angles with its glitter and colour pigments.
The innovative Prisma Shine texture reproduces colour and shimmer gorgeously.
The HD finish makes the eyeshadow glide on smoothly, adhering tightly to your skin to give you long lasting wear.
Prisma Shine has a special texture thanks to its manufacturing process. Unlike powder eyeshadows which are pressed dry, the Prisma Shine starts off as a moist gel dough. Powder, colour pigments, and pearl pigments are then added into the mix. It's then poured into molds, and left to set in a warm chamber.
Here are the swatches!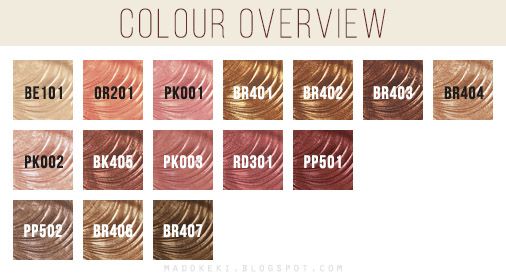 An overview of all 15 shades. Coded them for easy reference.
The colour selection consists of browns and pinks. Most of them are either yellowish or reddish, with the exception of PP502, which appears a little less yellow compared to the rest. Boy, are those pinkish/reddish shades lovely. URGH!!! (that's the sound of me trying to stop myself from buying beautiful but unnecessary things)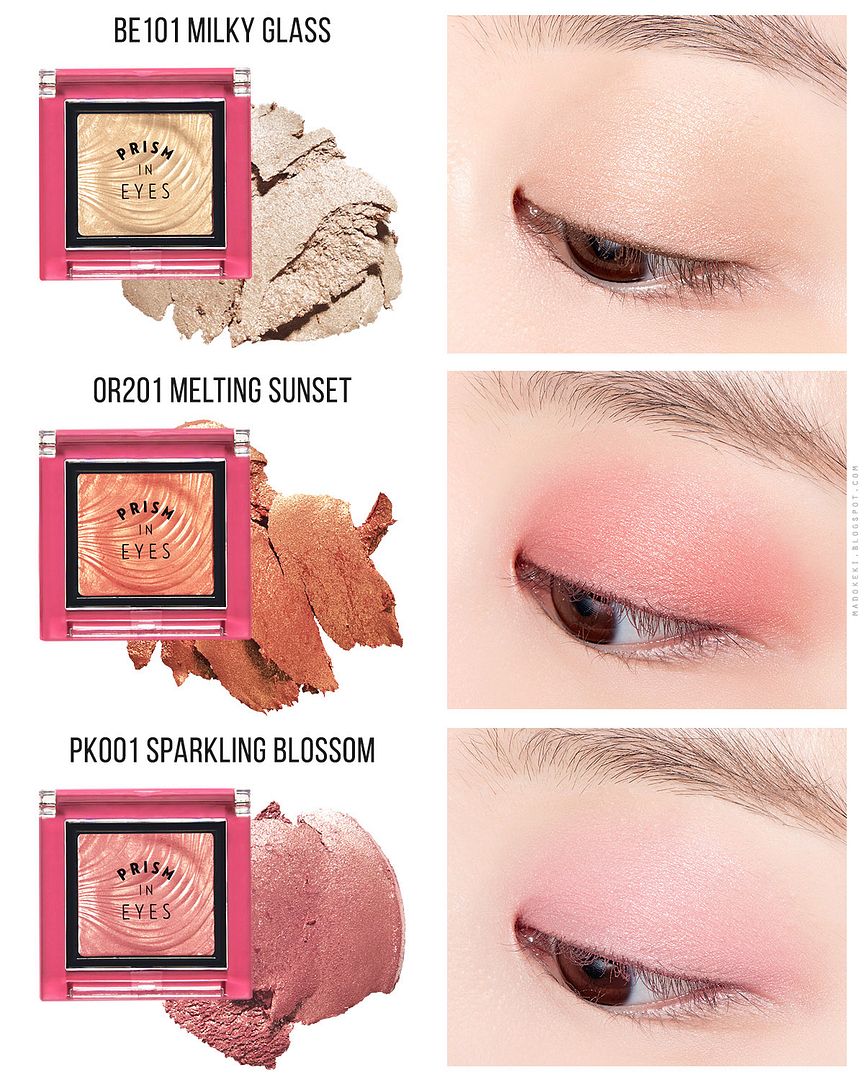 Click to enlarge!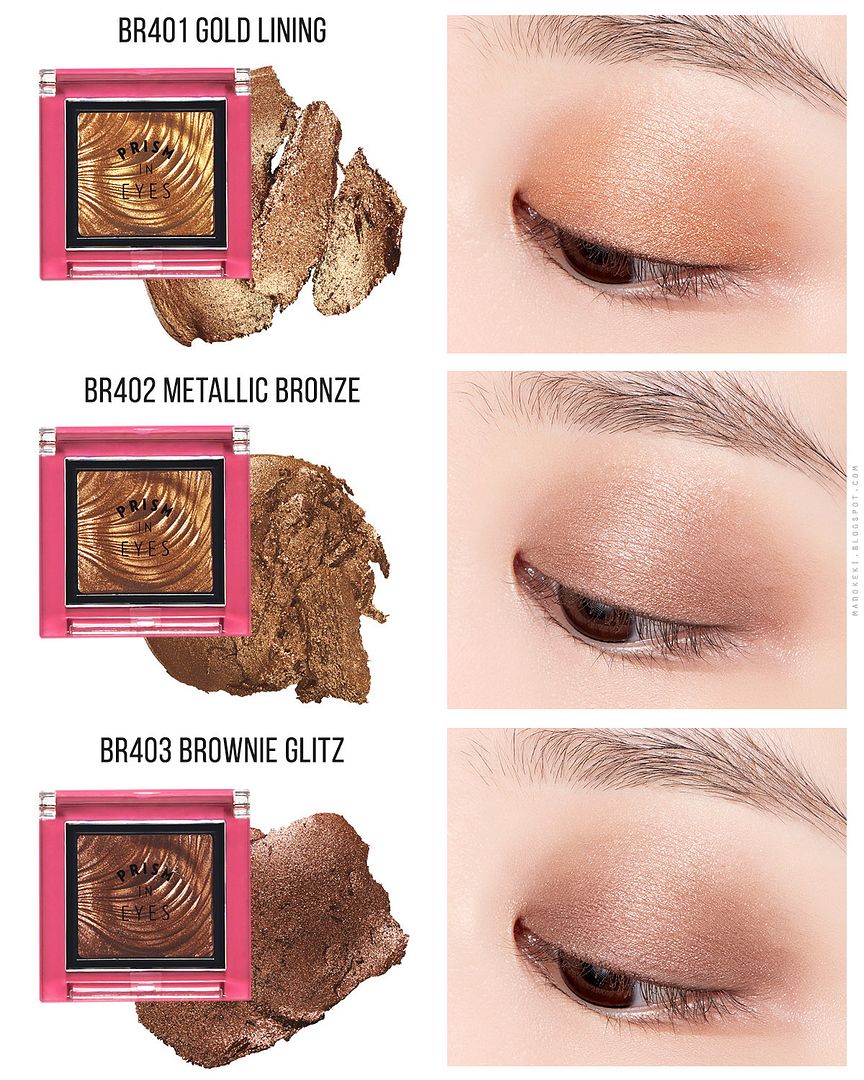 Click to enlarge!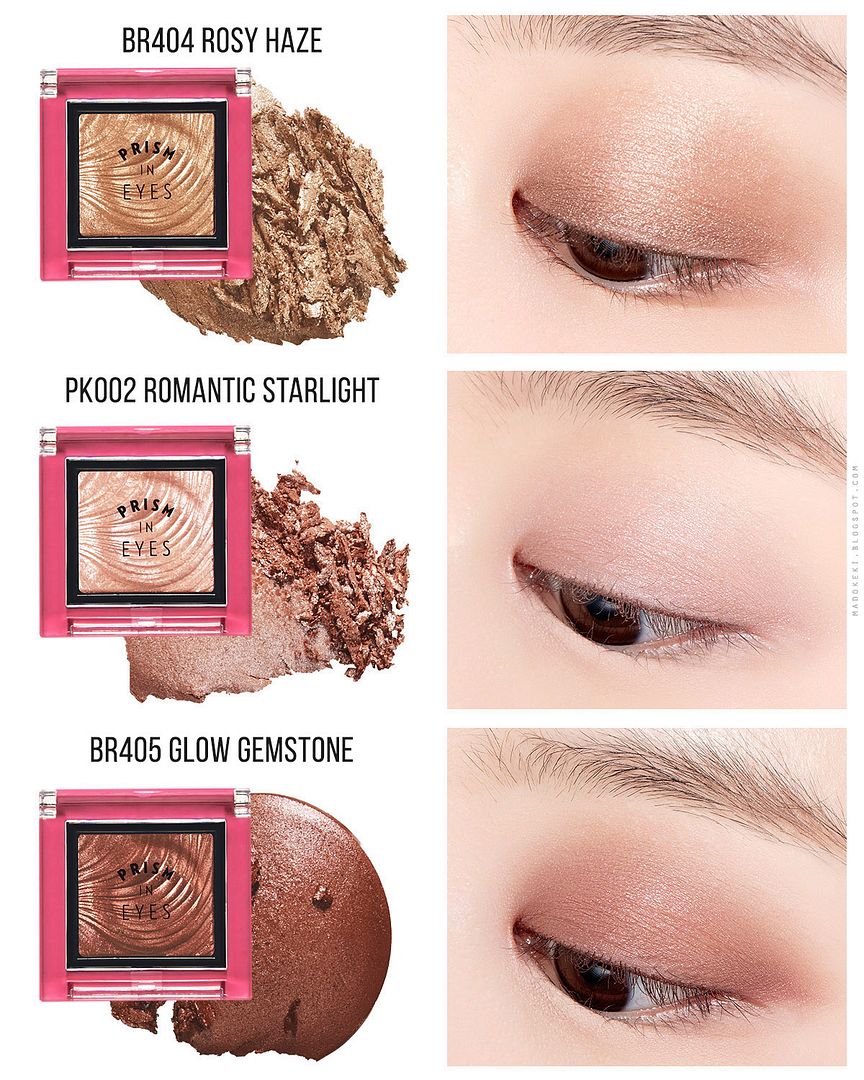 Click to enlarge!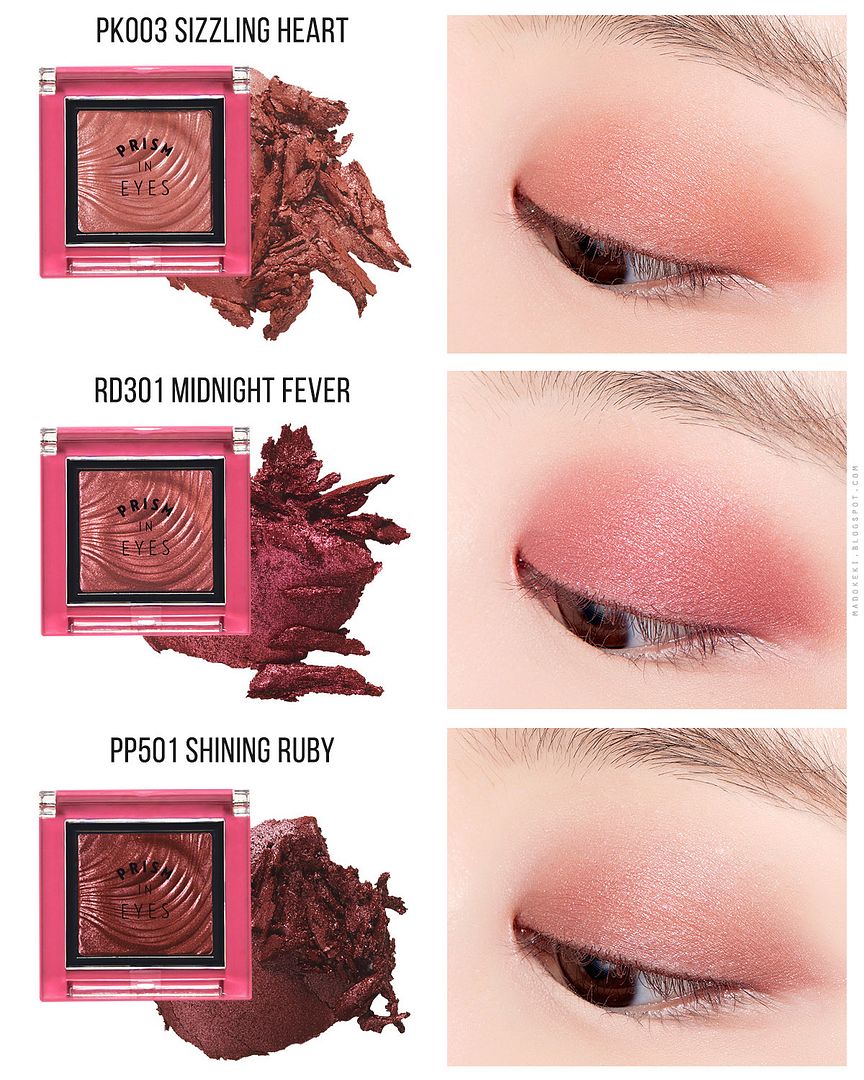 Click to enlarge!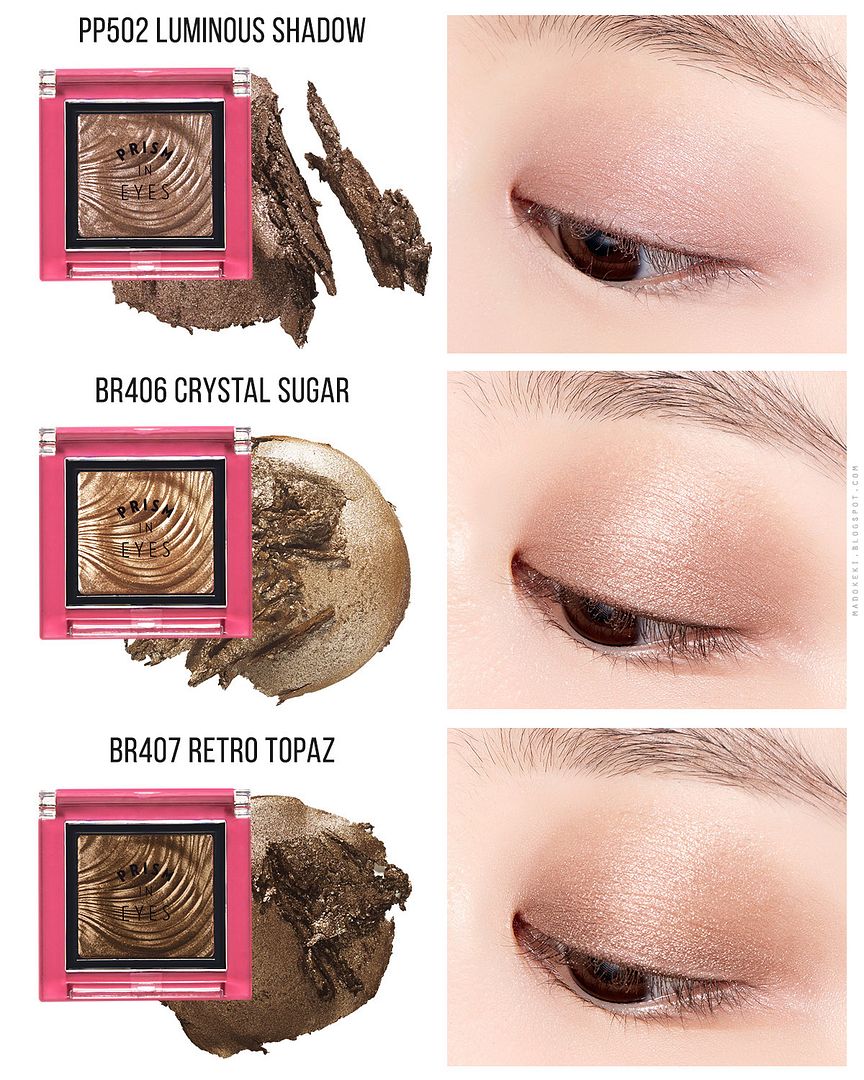 Click to enlarge!
From the official swatches, the product appears to apply thinly and evenly. Most of them have a pearly sheen to it instead of a frosty/metallic finish (save for BR406, crystal sugar). The pigmentation is that but not that outstanding, to be honest. The promo pictures got my expectations too high - I was expecting more shimmer and metallics.
What can I say? To each their own! Some people like subtle sheen like that. I think the only reason why one person who already has a lot of eyeshadows would want to buy this is if they want to be able to quickly apply eyeshadows with their finger evenly. A creamy product has that advantage over powder eyeshadows.
The eyeshadow can be applied with fingers, or with an eyeshadow brush. Nothing else is mentioned about using it wet or dry, so I think it's really up to you to explore how you want to play around with the product. If it's anything like the
Kiko Water Eyeshadow
, then do expect amazing colour payoff when used wet. In fact, I think the pearly sheen of the Prism In Eyes will complement the frosty/metallic finish of the Water Eyeshadow!
Also comes with a case where you can store trios.
This entry is clearly a case of "I got sucked into the beautiful reddish shades".
I'll update the links once it's available on the global site!